MENU WATCH
Try S'more Duck S'mores
Don't miss your chance to try Metrovino Chef Gregory Denton's winning dish from Wild About Game.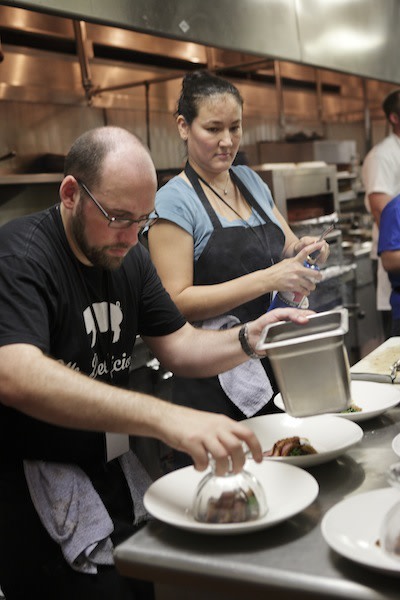 Yes, you read that correctly! Executive Chef Gregory Denton and Chef De Cuisine Gabrielle Quiñónez Denton of Metrovino will be serving up their winning Duck S'Mores from Wild About Game at the Pearl District restaurant this Saturday, Sunday, and Monday (October 1-3). The decadent dish is a savory spin on the classic campfire treat—with seared duck breast, foie gras marshmallows, cocoa nib sauce, and graham cracker streusel.
I had the chance to chat with the culinary couple before judging at Nicky USA's Wild About Game, and they were tickled pink by their decision to have fun with the cooking competition. Each chef received a mysterious black box containing a Nicky USA-sourced ingredient just before the showdown—and when the Dentons opened up their box of duck, they knew they could play up the sweet and savory sides of the bird and have a blast doing it.
The Duck S'more dish impressed the judges—Saveur Executive Editor Dana Bowen, Eater.com National Editor Raphael Brion, and Game Expert and Cookbook Author Janie Hibler—with their use of every part of the animal, turning the hearts into fresh giblet sausage and using duck bones in the cocoa sauce. Their win highlights the success of fun and creative cuisine using the whole animal—certainly a Portland trademark.
Stop into Metrovino (1139 NW 11th Ave; 503.517.7778) this Saturday, Sunday, and Monday to sample the dish for yourself. You'll certainly be asking for s'more!