FOOD AND DRINK EVENTS
Wild About Game is BACK
Everyone's favorite food festival highlighting the best of Oregon game meats is back for another year…and we're giving away two tickets!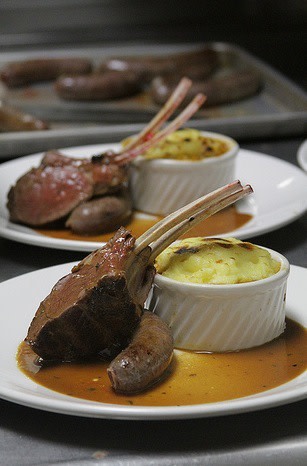 What better place to celebrate the state's top game producers and distributors than in the wilds of Oregon? Well, the Resort at the Mountain might not be "the wilds" per se, but it's certainly far enough from Portland to feel like a venture to game country.
This September 18th, Nicky USA's 11th annual Wild About Game is returning to the Mt. Hood village of Welches for a full day of culinary demos, cookbook signings, and memorable tastings chock full of Oregon's best wild boar, rabbit, pheasant, elk, squab, venison, and much more. You'll also be able to sample wines, beers, spirits, and artisan food products from around the Northwest all afternoon.
Celebrity Chef Competition: The highlight of the Wild About Game event is the chef cook-off, where each chef receives a mysterious black box containing a Nicky USA-sourced ingredient just before the showdown. Last year, Gabriel Rucker of Le Pigeon took top honors at cook-off using Nicky Farms Quail in a dish with foie gras gnocchi, chanterelles, leeks and pickled peaches. This year's competitors include Naomi Pomeroy (Beast), Erik Van Kley (Little Bird Bistro), Gregory Denton (Metrovino), Ben Bettinger (Beaker & Flask), Chris Carriker (Gilt Club), Michael Stanton (The Heathman), Paul Bosch (Resort at the Mountain), Jason Stoller Smith (Timberline Lodge), Matt Christianson (Urban Farmer), and Philippe Thomelin (Olivar in Seattle).
Foodie Freebie: Tickets to the September 18th event (taking over Resort at the Mountain from 11 am to 4 pm) are just $35. You can buy tickets here, but Eat Beat snagged two tickets to give away to our awesome readers. For a chance to win, simply email me at [email protected] with "Free WAG Tickets" in the subject line before 5 pm on Friday, September 9th. I'll pick two winners to join me in Welches for some good eats and a wild time.
For more information, call 503-234-4263, email [email protected], or visit the Wild About Game website.