SHAKE IT UP
2011 Iron Bartender
Nine local bartenders compete for your votes and the title of Iron Bartender on Thursday, October 13.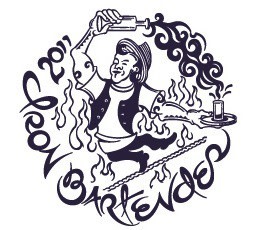 Time to put your judging hats on, Portland cocktail connoisseurs: The fourth annual Iron Bartender Competition needs your strong livers and even stronger opinions.
Nine local bartenders—including Adam Ho from Pho PDX, Angel Teta from Three Degrees, Ariana Vitale from Kask, Daniel Jacobson from Irving Street Kitchen, Emily Baker from Rum Club, Jeanette Adames-Napier from aloft Hotel, Jen Steimer from Trader Vic's, Jordan Felix from Clyde Common, and Nathan Gerdes from Thatch Tiki Bar —will be shaking up their best cocktails on Thursday, October 13th to benefit Children's Relief Nursery, a non-profit organization dedicated to protecting kids from child abuse.
The shaker's showdown will take place in three themed bar areas—Tiki, Portlandia, Prohibition and Saké—and attendees will sip all the offerings and vote for their favorites. Winners from each group will move on to the battle royale where they'll mix up some sips for a panel of celebrity judges. All cocktails will be made with local craft spirits, including New Deal Distillery, Deco Distilling, Sake One, Organic Nation Vodka, and Big Bottom Whiskey.
What: 2011 Iron Bartender
Why: Benefit the Children's Relief Nursery; Bartender bragging rights.
When: Thursday, October 13; Doors open at 5:30
Where: Leftbank Annex (101 North Weidler St.)
How Much: $75 general admission (including all cocktails and nibbles), $125 VIP tickets, including all drinks, access to bartenders VIP lounge, reserved competition seating, exclusive food service and cocktails crafted by Dave Shenaut, President of the Oregon Bartenders Guild.
Get your tickets here!