FOOD AND WINE EVENTS
Beaujolais Nouveau Fêtes in Portland
Pick your spot for the annual celebration of the newest harvest of bright and berry-hued Beaujolais.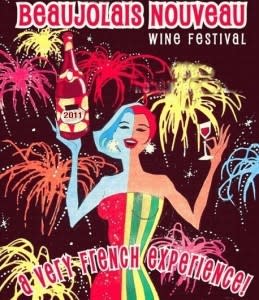 Le Beaujolais Nouveau Est Arrivé!—well, almost. Every year, at midnight on the third Thursday of November, restaurants, wine bars, and bistros around the world open the first of 65 million bottles of fresh and fruity Beaujolais Nouveau—and Portland hosts one of America's largest parties.
On Friday, November 18, the Heathman Restaurant & Bar will host the 10th Annual Portland Beaujolais Nouveau Fête, a collaboration between the French-American Chamber of Commerce and the Alliance Française of Portland. The event will feature a wine auction, food from the Heathman's James Beard award-winning chef Philippe Boulot, and five stations pouring Beaujolais Nouveau flown in from France just days earlier.
Featured wines include the latest releases from Joseph Drouhin and Georges Duboeuf, and guests will also be able to sample some of Oregon's top wineries, including WillaKenzie Estate Winery and Evening Land.
The Heathman festival sells out every year, so get your tickets while they last. General admission tickets are $70, and patron tickets are $100.
Can't spring for the Heathman fête? Beaujolais Nouveau parties are happening all around Portland this year:
The third annual Beaujolais Nouveau festival at Bar Avignon (2138 SE Division St.) will feature flights of Beaujolias and chef Jeremy Eckel's cassoulet on Thursday, November 17th.
St. Honoré Boulangerie (2335 NW Thurman St.) will host a Beaujolais Nouveau party on Thursday, November 17th, where you can grab a glass of the fresh wine and a plate of Rillette de Porc, St. Honoré's original pork paté for just $9.95. The event will also feature live French music from vocalist Heather Keizer and pianist Vince Frates.
Stay tuned for more!