BRAGGING RIGHTS
Jordan Felix is Iron Bartender 2011
Clyde Common's Aussie mixologist took home the top honors at the fourth annual Children's Relief Nursery benefit and silent auction.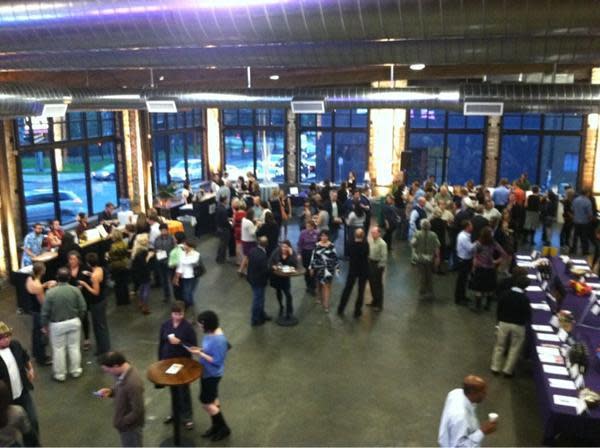 Almost three hundred people filled the industrial chic Leftbank Annex for the fourth annual Iron Bartender event to raise money for the Children's Relief Nursery—and drink some truly creative concoctions. Nine top bartenders competed for four spots on the Iron Bartender stage, but only one would claim the Iron Bartender title and bragging rights for a whole year.
For the first round of the competition, bartenders mixed up drinks for the entire crowd, and attendees voted via text message for their favorite in four categories—Tiki Bar, Portlandia, Prohibition, and Saké—with one shaker from each group moving on to the main event.
The four finalists had just ten minutes to shake up a winning cocktail using Big Bottom Whiskey and the mystery ingredient, Sage and Sea Farms drinking vinegars, for judges Byron Beck (from our friendly rival Eater PDX), Sheryl Stewart (from The Buzz),
Brandon Wise (last year's Iron Bartender from Beaker & Flask), and me (from here!). The show was emceed by KPTV's Chloe Houser and top bartender Dave Shenaut, and the contenders were delicious—Thatch Tiki Bar and H5O Bistro's Nathan Gerdes brought the holiday spirit with a chai spiced sipper, Clyde Common's Jordan Felix shook up a raspberry whiskey sour, Rum Club's Emily Baker added egg whites for a frothy and fruity cocktail, and Three Degrees Angel Teta poured a clementine-hued drink she dubbed the Port of Call. The winner was Felix by a landslide, with his balanced, refreshing cocktail that I hope to see on Clyde's menu soon.
The event and silent auction (which wasn't very silent after the crowd tasted a dozen cocktails) raised over $40,000 for the Children's Relief Nursery, an amazing organization that provides family support and counseling for victims of child abuse and neglect. A truly worthy cause, and a great event to boot. For more cocktail fun, check out all of the Portland Cocktail Week events shaking up Portland October 20th through 23rd. Cheers!