Eat Beat Foodie Fright Week
DIY Portland Chef Costumes
Still looking for a last-minute Halloween costume? Grab a few household items and dress up as your favorite iconic Portland chef!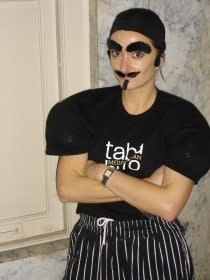 A bunch of restaurants are offering dining and drink discounts this weekend to patrons who show up in full costume. If you're tired of the same pirate, vampire, and witch get-ups, why not celebrate your favorite Portland chef with a Halloween homage to their signature style?
We've selected some of Portland's most recognizable chefs and broken down their public image into easy to duplicate clothing, grooming, and accessory tips. If any of you wonderful readers actually attempt one these costumes, send me a photo at [email protected] and you'll win a restaurant gift certificate for your spirited dedication to our local food scene.
Chef Naomi Pomeroy of Beast on Top Chef
Attire: Red dress under a white chef's jacket. Black kitten heels.
Grooming: Classy brunette French twist, red lipstick.
Accessories: Dead pig slung over your shoulder (stuffed animal will do). Never-say-die attitude.
Chef Jason French of Ned Ludd
Attire: Plaid button-down shirt, black-and-white striped apron.
Grooming: Forearms covered in culinary tattoos (temporary tats acceptable).
Accessories: Horn-rimmed glasses, smell of wood-fire smoke.
Chef Adam Sappington of The Country Cat
Attire: Overalls, gray T-shirt (preferrably with the Country Cat logo), bloody apron.
Grooming: Shaggy short hair with a touch of gray.
Accessories: Cleaver. Pig parts. Big ol' grin.
Chef Anthony Cafiero of Tabla
Attire: Black Tabla T-shirt with the sleeves rolled up. Black chef pants.
Grooming: Slicked-back black hair, trademark facial hair (or skip the grooming and slap on a Guy Fawkes mask).
Accessories: Crossed arms. Handmade pasta. Inflatable biceps. (See above for example.)
Chef Gregory Gourdet of Departure
Attire: Chef whites or low-cut neon tank top with dog tags and gold chains.
Grooming: Bishop's advertisement-worthy hair.
Accessories: Clear aviator eyeglasses. Killer abs. Marathon entry number optional.
Chief Salumist Elias Cairo of Olympic Provisions
Attire: Olympic Provisions T-shirt, white apron.
Grooming: Latex Bald Cap.
Accessories: Strings of sausage links. Plenty of "sausage fest" and "watching sausage being made" jokes.
Chef Cathy Whims of Nostrana
Attire: Olive green T-shirt over a darker long-sleeved t-shirt, white wrap apron.
Grooming: Red bob wig with bangs cut short.
Accessories: Pizza dough. A bottle of Olio Nuovo.