NEIGHBORHOOD NEWS
Eat Beat Neighborhood News
Top food news stories from around Portland, including two restaurant openings, seasonal cart closures, and the Willamette Week's saucy restaurant of the year pick.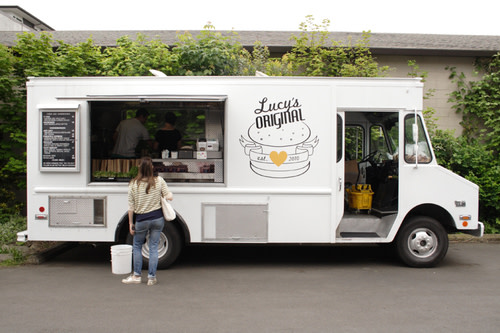 Southeast
Stumptown founder Duane Sorenson's neighborhood eatery Woodsman Tavern opened to the public on Monday. Check out our photos from the Woodsman's Opening Night here on Eat Beat.
Northeast
The Willamette Week has revealed their pick for 2011 Restaurant of the Year, and it's a saucy one. The 5 year old Podnah's Pit—Rodney Muirhead's BBQ joint specializing in brisket, ribs, and biscuits—moved to a new location on NE Killingsworth earlier this year. Head over to the Willamette Week to read the full article.
The Official Timbers ice cream has been selected: Salt & Straw's Lumberjack Stack (maple syrup ice cream and housemade blueberry pancakes) was selected by a panel of Timbers celebrities, including chief operating officer Mike Golub, former Timbers defender Scot Thompson, and the one and only Timber Joey.
North…and elsewhere
The popular hamburger cart Lucy's Original has closed for season, though Eat Beat spies have reported that owner Evan Dohrmann is working at Stumptown Coffee on Division.
Southwest
Downtown's Pho PDX is moving into the space next door to their current location on SW 2nd Avenue. Along with the move: a change of name (Luc Lac Vietnamese Kitchen), a new menu, and new cocktails from bartender Adam Ho. Opening is slated for mid-November.
Northwest
Southern pizza joint Mellow Mushroom has opened a location in Northwest Portland, bringing "munchies, pizza, calzones, and hoagies" to the stoner crowd. The eatery also offers 50 beers on tap, and an additional 50 by the bottle. (Flash warning: MM's over-the-top website animation may cause seizures, which are so not mellow.)
A fourth Blitz sports bar will be filling the former Indish/Temple Bar space on Northwest 21st Avenue, as reported by Eater PDX. The new pub will join current Blitz locations in Ladd's Addition, the Pearl District, and Tigard.
Got a food news tip? Send it my way at [email protected]!