FOOD AND DRINK EVENTS
Eat Beat Weekly Planner
Our digest of Portland's top upcoming food and drink events, including cocktail pairing dinners, wine country harvest celebrations, and Beer Camp at Sunshine Tavern.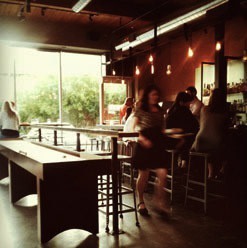 After your doorbell stops ringing and the bowl of trick-or-treat candy is empty, it's time to pencil in all of your November food plans! Here's this week's list of upcoming food, beer, and wine events to help you stay in the know.
Castagna and House Spirits Distillery Pairing Dinner
What: A seasonal pairing dinner from Castagna chef Justin Woodward, sommelier Jack Hott, and House Spirits Matt Mount. Dishes are set to include Woodward's creative modernist "snacks" paired with the Bitter Pilgrim Cocktail (Aviation Gin, Campari, St Germain and grapefruit), hot and cold winter squash with wild char roe, nasturtium and arugula paired with chilled Krogstad Aquavit, and pork roast with turnips and allspice paired with House Spirits' aged rum.
When: Thursday, November 3 at 6:30 pm
Where: Castagna 1752 SE Hawthorne Blvd.
How Much: $75, including four courses—plus "snacks"—and cocktails. Seating is limited, call 503-231-7373 for reservations.
Northwest Collaborative Chef Dinner with Ned Ludd's Jason French (Seattle)
What: First in a series of special chef collaborations between Portland and Seattle chefs, this dinner—prepared by Matthew Dillon of Seattle?s Sitka & Spruce and Jason French of Ned Ludd —will attempt to "bridge" the two cities that share the best of the Pacific Northwest's autumn harvest. The dinner will feature fresh lamb, wild pheasant, and foraged produce from around the host farm on Vashon Island.
When: Friday November 4th,
Where: The Old Chaser Farm, Vashon Island, Washington; 10308 SW 204th St.
How Much: $125 per person, all inclusive. Seating is limited to 18 Seattle guests and 18 Portland guests. To reserve your spot, email [email protected]
Big Bottom Whiskey Pairing Dinner at Caprial+John
What: A four-course supper club event featuring Big Bottom Whiskey cocktails from bartender-about-town Jacob Grier and a fall feast from Caprial and John Pence of Caprial and John Kitchen. The comforting menu is set to include mini grilled cheese sandwiches with fontina and wild mushrooms, white bean and roasted butternut squash soup with duck, and porchetta filled with caramelized onions and bourbon.
Paired Cocktail:
When: Saturday, November 5 at 6:30 pm.
Where: Caprial and John Kitchen 609 SE Ankeny
How Much: $65 per person including four courses and cocktails. For reservations, call 503-239-8771 or email [email protected]
Northwest Food and Wine Festival
What: The sixth annual food and wine (and beer and spirits) festival is returning to Portland, including a Grand Tasting event (with hundreds of wines and fifty restaurants), live music, and the Paté in Portland cook-off (featuring charcuterie submissions from 25 local chefs).
When: Saturday, November 5th from 4 pm to 8 pm.
Where: DoubleTree Hotel Lloyd Center; 1000 NE Multnomah Street
How Much: General Admission (5 to 8 pm) $75 or Preferred Admission (4 to 8 pm) $95. Buy your tickets here.
6th Annual Scott Paul La Paulée de Carlton Dinner
What: Scott Paul Wines will host over 60 Pinot-philes—passionate Pinot Noir lovers—for a truly bacchanalian feast at the Olive Mill at Red Ridge Farms prepared by chef Paul Bachand of Newberg's Recipe. Check out the full Eat Beat details here.
When: Saturday, November 5
Where: The Olive Mill at Red Ridge Farms; 5510 Northeast Breyman Orchards Road in Dayton, OR.
How Much: Tickets are $125 each, and can be purchased by emailing [email protected] or by calling 503-852-7300.
Beer Camp at Sunshine Tavern
What: Join Sunshine Tavern's David Welch and Steve Dresler, brewmaster at Sierra Nevada Brewing, for an afternoon of truly educational drinking. The afternoon will include an hour-long tasting of Sierra Nevada beers (including several brews not available in Oregon) and a full lunch (plus beer pairings, naturally).
When: Saturday, November 5th at 4 pm
Where: Sunshine Tavern; 3111 SE Division St
How Much: $60 including all beer and food. For reservations, call 503-288-6200.
Third Annual EaT: An Oyster Bar Gumbo Cook-Off
What: Portland chefs compete with their best gumbo recipes, and guests are invited to sample and vote for their favorites (and wash them down with $2 Trumer Pilsners all day long).
When: Saturday, November 5, from 2 to 5 pm.
Where: EaT: An Oyster Bar 3803 North Williams
How Much: $5 tasting fee (benefits the Pacific Coast Shellfish Growers Association)
Know about a great event coming up that should be on our radar? Shoot me an email at [email protected] or give me a shout over on Twitter at @allisonejones. Now get out there and start eating!