FOOD AND DRINK EVENTS
Eat Beat Weekly Planner
Our digest of Portland's top upcoming food and drink events, including a wine harvest tour, Italian comfort food, and plenty of cheese.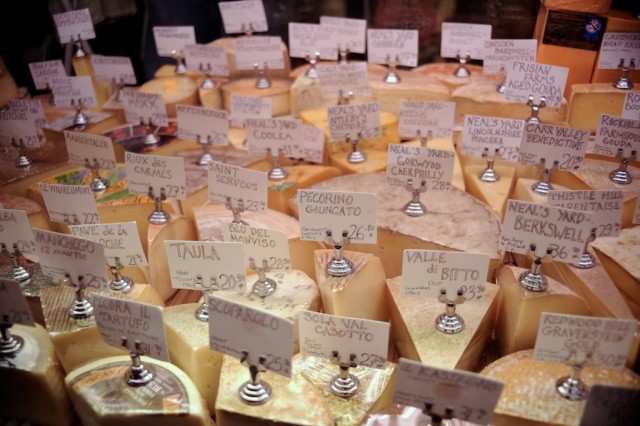 Get out your calenders! It's time for this week's list of upcoming food, beer, and wine events to help you stay in the know.
Cheese Bar's October American Cheese Discount
What: In celebration of the first annual American Cheese Month, all American cheeses are 10% off at Cheese Bar through October 31. American Cheese Month is raising awareness of the quality and diversity often-maligned American cheeses, with events throughout the country.
When: Throughout the Month of October
Where: Cheese Bar (6031 SE Belmont)
H5O Bistro & Bar Winemaker Dinner
What: Join H5O chef Nick Yanes for a fall hued dinner paired with wines from Johan Vineyards of Rickreall, Oregon. Menu highlights are set to include roasted heirloom tomato with cucumber "spaghetti" and yogurt ice cream, Dungeness crab salad with brown butter cake and red curry, and Oregon venison with wild mushrooms.
When: Thursday, October 6, 6 pm.
Where: H5O Bistro & Bar 50 SW Morrison Street
How Much: $79 per person. For reservations, call 503-484-1415 or e-mail [email protected].
North Willamette Harvest Trail and Grand Tasting
What: Spend the day with the North Willamette Vintners as they prepare for the 2011 harvest, including a guided bus tour to three wineries for complimentary tastings, nibbles and harvest preparation activities. The day will conclude with a Grand Tasting event at Garden Vineyards.
When: Saturday, October 8. Buses depart at 10am, rain or shine. After the tour, buses will return to Garden Vineyards for the Grand Tasting event at 4 pm.
Where: Garden Vineyards (12960 NW Dick Road in Hillsboro)
How Much: $79 for Harvest Trail and Grand Tasting. Grand Tasting only tickets are available for $30. More info here.
The Wedge: Portland Celebrates Cheese Festival
What: Portland's cheesiest block party hosted by the Oregon Cheese Guild featuring over 35 cheesemakers from the Pacific Northwest. Full Eat Beat Details here.
When: October 8th from 10 am to 4 pm
Where: The Green Dragon (928 SE 9th Ave)
How Much: Free, with $5 suggested donation.
Genoa Sommelier Dinner with Richard Betts
What: An evening with Richard Betts, Aspen Master Sommelier, featuring the alpine Nebbiolo wines of ArPePe from Valtellina, Italy, a winery known as the "Romanee Conti of the Valtellina". Indulge in five fall-hued courses from chefs David Anderson and Daniel Mondok paired with four Valtellina wines and one Champagne from Billecart Salmon for good measure.
Where: Genoa Restaurant (2832 SE Belmont)
When: Sunday, October 9th at 6 pm
How much: $120 will cover all food and wine. Contact Michael at [email protected] for more information.
Apolloni Vineyards Pasta and Pinot at Tabla
What: Join chef Anthony Cafiero of Tabla Mediterranean Bistro and Alfredo Apolloni of Apolloni Vineyards for a night of artisan pastas and classic Oregon Pinot Noir. Diners will feast on Delicata squash with apples and apple cider chicken, duck confit agnolotti, and fettucini with roasted Chantarelles and sample selections from the Apolloni library while chatting with the winemaker about the upcoming harvest.
When: Monday, October 10th at 6:30 pm
Where: Tabla Mediterranean Bistro 200 NE 28th Ave
How Much: $50 per person. Reservations required, call 503.238.3777 or email [email protected].
Olympic Provisions Portland Food Adventure
What: Next up in the popular Chef's Choice dinner series from Portland Food Adventures interactive multi-course meal for meat lovers with Chef Alex Yoder of Olympic Provisions. Diners will enjoy the charcuterie outpost's signature flavors and chat with the chef about his favorite Portland eateries.
When: Tuesday, October 11th at 6:30 pm
Where: Olympic Provisions 107 SE Washington St.
How Much: $125 per person, Including all food, drinks, and gift certificates to The Driftwood Room, Bar Avignon, Kir Wine Bar, little t baker, and Alma Chocolate. More information and tickets available here.
Know about a great event coming up that should be on our radar? Shoot me an email at [email protected] or give me a shout over on Twitter at @allisonejones. Now get out there and start eating!