FOOD AND DRINK EVENTS
Eat Beat Weekly Planner
Our digest of Portland's top upcoming food and drink events, including a celebration of pumpkin beers, farm-to-table dinners, and Portland Cocktail week.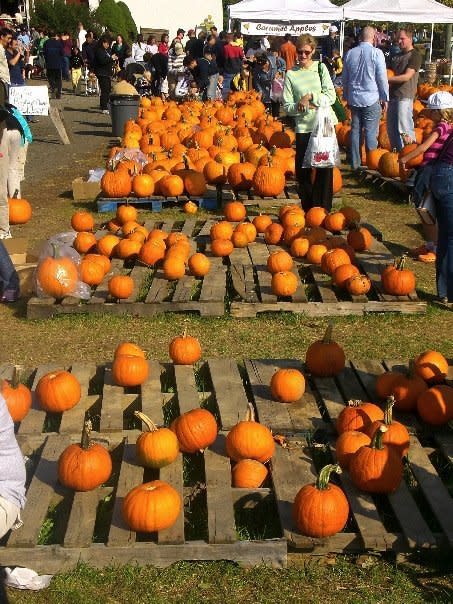 The leaves have started falling and the sun's setting earlier, which means more nighttime for your culinary nightlife. Here's this week's list of upcoming food, beer, and wine events to help you stay in the know.
Killer Pumpkin Festival at the Green Dragon
What: A tasting event, pumpkin smashing contest, and autumn kick-off rolled into one. Over 15 pumpkin beers will be on tap, including two from a pair of hollowed-out pumpkin kegs. Participating breweries include Laurelwood, Rogue, Hopworks, Breakside and plenty more. Squashy suds will be paired with pumpkin snacks, including pumpkin pie, toasted pumpkin seeds, and pumpkin cookies. Get your gourd on!
When: Monday, October 17 at 5 pm
Where: The Green Dragon
928 SE 9th St.
How Much: Free!
Maker's Mark Tasting at Morton's
What: Join Maker's Mark ambassadors for an old-school tasting at one of Portland's old school eateries, complete with nibbles from the steakhouse kitchen. Learn about the production process from barrel to bottle, the effects of aging on Bourbon, and the best way to hold your glass to make you look truly sophisticated.
When: Wednesday, October 19, 7 to 8:30 pm
Where: Morton's Steakhouse 213 S.W. Clay Street
How Much: $45 per person. For more information, call 503-248-2100 or visit Morton's Website.
Zenger Farm's farm-to-table Dinner and Auction
What: A four-course meal featuring Zenger Farm's field-fresh produce, along with wine and beer from local producers. Proceeds from the dinner and silent auction will benefit Zenger Farm's youth and adult healthy food and agriculture education programs. Foodie-centric auction items include spending a day with Chef Jason French at Ned Ludd, a mixology class at House Spirits Distillery, and organic, free-range turkeys raised Zenger's urban farm in southeast Portland.
When: Friday, October 21, at 6 pm
Where: University of Portland's Bauccio Commons
How Much: Single tickets, $100. Tables of eight, $800. Purchase tickets at the Zenger Farm website.
Albertina's Chefs' Harvest Tasting Dinner
What: Indulge in dishes from some of Portland's most celebrated chefs at this all volunteer-run Northeast Portland restaurant for a great cause. Join Bamboo Sushi's Brian Landry, Albertina's Alex Diomis, The Heathman's Christina Chambers, Whole Foods pastry chef Charles Mason, and Arleta Library Bakery Café's baker McRae Freeman for an eight-course meal packed with spinach and acorn squash salad with brown butter vinaigrette, slow-cooked rabbit with chorizo, and pork belly pumpkin with caramelized Brussles sprouts.
When: Thursday, October 20 at 7 pm.
Where: Albertina's Restaurant, 424 NE 22nd Ave.
How Much: $55 per person. Proceeds and tips from the chefs' dinner help support the work of Albertina Kerr, helping kids, adults and families living with developmental disabilities and mental health challenges. For reservations, please visit KerrShops.org or call 503-231-0216.
Portland Cocktail Week
What: Four days of craft spirit seminars from the nation's top mixologists, non-stop liquor-fueled parties, and the Great American Distillers Festival, the annual gathering of indie distillers from across the country in Portland, the "Mecca of craft distilling". Full Portland Cocktail Week details on Portland Monthly's Bar Pilot.
When: October 20th through 23rd.
Where: Throughout Portland, with most seminars taking place at Left Bank Annex (101 North Weidler Street)
How Much: Tickets are available for individual events, prices vary. Find all event info and ticket information here.
Wildwood's Oakshire Brewery Dinner
What: Join Wildwood sous chef Paul Kasten and Oakshire's Matt Van Wyk for six courses of autumn dishes paired with Oakshire Brewery's seasonal selections. Pairings are set to include pork rilletes with spent grain crostone, pickled calabrian chiles and micro greens paired with Harvest Ale, and Carlton Farms beef and chanterelle Pot Pie with bourbon jus paired with Hellshire (Bourbon Barrel-Aged Barleywine).
When: October 21st at 6:30 pm
Where: Wildwood 1221 NW 21st Avenue
How Much: $65 per person, including six courses and beer pairings. For reservations, call 503-225-0130 or email [email protected]
Chehalem Wines Harvest Getaway Package
What: Celebrate Chehalem Wines' 25th anniversary with the chance to participate in this year's harvest and crush—a great way to immerse yourself in the winemaking process. The Chehalem Harvest Package includes overnight lodging in wine country (the Brookside Inn Bed and Breakfast in Carlton), harvest work, lunch with the Chehalem crew, and plenty of wine all weekend long.
When: October 21st to 22nd
Where: Chehalem Winery, 31190 NE Veritas Lane in Newberg, OR
How Much: 20% off hotel rates, full package starts at $150 a night. For lodging details, head to Chehalem's website.
Know about a great event coming up that should be on our radar? Shoot me an email at [email protected] or give me a shout over on Twitter at @allisonejones. Now get out there and start eating!