OPENING WATCH
First Impressions: Luce
John Taboada's casual Italian eateries brings our guest blogger back to memories of Florence and the best meals of her life.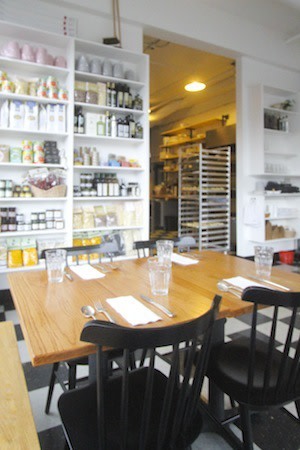 When Navarre's John Taboada launched his second eatery, Luce (pronounced loo-chay), in early September, his goal was to avoid photos, blog posts, and Yelp reviews for two weeks. A month later, the silence of Luce's opening is giving way to a steady hum of activity, now that East Burnside neighbors and hungry souls around town are stopping in to the black-and-white checkered eatery to sample Taboada's contemporary Italian fare.
As we crossed Burnside in the pouring rain, we almost missed Luce's entrance. From the street, the nondescript room with sparse tables and minimal decor looked more like a dimly-lit general store than a restaurant. But when we entered, the antique soup spoons, the smell of sage—not garlic—coming from the open kitchen, and Odetta's voice playing over the speakers quickly reminded me that ambiance is never skin deep. It took me days to feel at ease in Italy and only minutes to feel at ease at Luce.
As I browsed the wine list, our server lit candles on shelves filled with imported goods. Luce is not only a restaurant, but a connoisseur of European wares worth having. From goat's milk caramels to handmade Swedish pastry brushes to authentic cotton kitchen towels displayed in baskets behind a glass counter, I already wanted to take home more than leftovers. It was the first time I'd seen salted capers, jars of pomodori secchi, fennel pollen, or millefiori honey since I'd been in Mercato Centrale, Florence's biggest indoor market.
The well-curated wine list offered up refreshingly familiar selections—the Castel del Monte from Puglia (served in a small drinking glass, as is custom in all casual eateries in Tuscany) took me back to Tuesday nights spent sharing liters of vino rosso de la casa during apertivo in Piazza della Republica.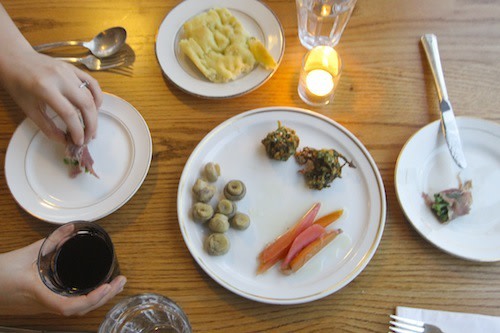 A glance at the menu brought on more reminiscing. It lacked the gnocchi, bruschetta, pizza, and panna cotta seen at most Italian restaurants in Portland, and included dishes I haven't seen since I returned to the States. Luce's selection of antipasti dishes is spot on, and at just $2 each, you can load up on the authentic flavors: the raisin foccacia, warm green beans wrapped in proscuitto, mushrooms marinated with a hint of clove, chicken involtini and lightly battered (but heavily addictive) borage fritters had me closing my eyes with each bite.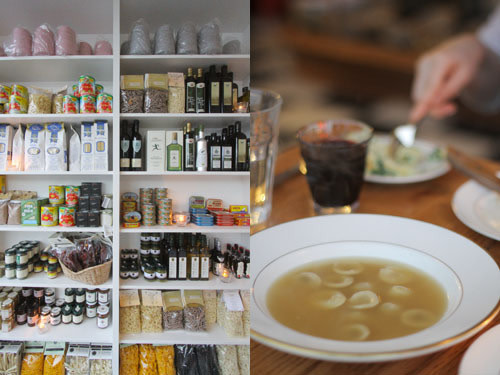 The deceptively simple-looking cappelletti in brodo is a distinguished soup dotted with rounds of pasta filled with cheese and bread crumbs in a broth that held a day's work in its flavor ($8). The spaghetti with garlic, hot pepper, and clams is warming but not too spicy ($7), and the hanger steak scented with rosemary was so tender I was tempted to eat it with my fingers ($9).
It was no surprise to find the man behind the establishment to be as true as his food. Taboada and I chatted about agriturismo and olio nuovo, and shared experiences of casual restaurants throughout Italy that allowed us to escape from the bustle of everyday life—restaurants very much like the one he had opened a month ago.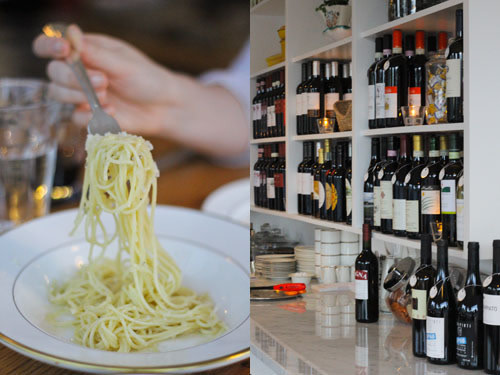 In Italy, whenever I asked Valentina, the house cook, how she prepared such delicate meals, she'd laugh and say it was simple. I watched her time after time, and still have trouble recreating the flavors I've come to crave. Clearly, John Taboada knows her secrets.
Luce 2138-2140 E Burnside St; 503.236.7195
Wednesday through Sunday, 11 am to 10 pm.
__________________________
Sana Goldberg studied Italian cinema and photography at Villa La Pietra in Florence, and spent her lunch hours at casual restaurants throughout the city learning Italian from the regulars. (All photos by Allison Jones)