FOOD CART WATCH
Garden State's Last Stand
The pioneering food cart will close out its stellar four-year food run this Sunday at Mississippi Marketplace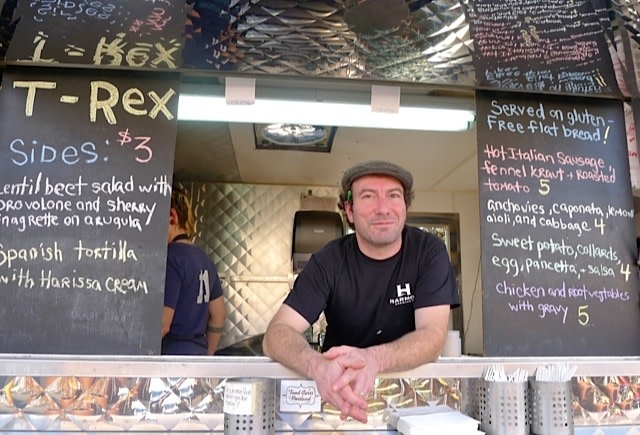 On Sunday, Garden State's Kevin Sandri will hoist the last of his crispy arancini, ecstatic chicken-and-cured lemon combos, and heroic meatball sandwiches through the window of his cart at North Portland's Mississippi Marketplace (on the corner of N Mississippi & Skidmore). Then, the inspired talent behind one of Portland's iconic food carts will bid farewell—for now—to a scene he helped thrust into national spotlight with high-level craft cooking and personal attitude.
Last week, Sandri put his trademark quilted silver cart on the market. But he plans to retain the rights to the name and the recipes that connected his Sicilian roots with small-scale farmers, the source of small-batch lettuce and organic chickens that quietly fed Garden State's outstanding sandwiches and specials over the years.
Burgatroyd, Sandi's beloved burger mobile just steps away from Garden State, will carry on under longtime employee and new owner Jamie Anderson. Opened last spring following Sandri's short-lived T-Rex cart, Burgatroyd quickly emerged as one Portland's essential food finds: burgers hand-patted from high-end primal cuts, mounted on a fresh brioche bun, and finished with chef-level condiments like morel mushrooms and homemade sunchoke relish.
Why is it ending? Despite critical acclaim and what he terms "a good living," Sandri says he's tried of running a business —the hours, the headaches, the break-ins. Sandri's high food cost, essential to his philosophy, did not leave enough margin for hiring out sufficient staff support. "You have to pull the burden yourself, that's the margin," he says. Sandri's new (as yet unannounced) day job involves food but not restaurants, and will allow him to spend quality time with his family.
But Sandri also worries about the sustainability of the cart scene. When he opened in Sellwood in 2008, he helped pioneer a new cart movement led by DIY restaurants on wheels. A year later, encouraged by block-long communal cart "pods" that transformed downtown asphalt and forgotten neighborhood plots into street-food destinations, Multnomah County boasted a whopping 450 carts, a 20 percent jump from a year earlier. This summer, more than 600 carts vied for customers.
Even at his home base at Mississippi Marketplace, where he relocated from Sellwood in 2010, Sandri finds unexpected competition. Early on, his menu stood far apart from his neighbors, three of them vegan-focused. Now, with turnover in the upmarket lot, meat and mainstream comforts stand a burger-slip away.
"The market is saturated," says Sandri. "Summer was bad weather-wise. The tourist attraction went to Good Food Here (a pod on Southeast Belmont). Food carts are like restaurants. It's all about the new buzz."
It has been a stellar run. Garden State shows how far passion can go in a space smaller than Thomas Keller's closet. But don't count him out, he says. His new project, according to Sandri, could swim or sink, and maybe, come spring, he'll be back.
That would make a lot of eaters very happy.
Garden State
Mississippi Marketplace
503-962-9265
Wed–Sat, 11:30–8