DAY TRIPPER
Get Outta Town for Beer
Head out east this weekend for the Skamania Lodge Celebration of Beer Festival, featuring over 30 craft brews and a beer-centric buffet.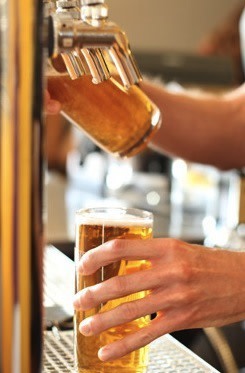 Forecast got you down? Head out to Skamania Lodge this weekend for the Celebration of Beer Weekend to taste more than 30 brews from 11 Northwest craft breweries, rain or shine. This Saturday and Sunday, October 8th and 9th, the third annual beer festival will feature an afternoon of beer tasting, "beer school" lectures and activites, and a beer-centric Oktoberfest dinner (think cheesy ale soup, beer-brined pork loin, and beer bacon cheddar dumplings with chicken).
Located about an hour east along Interstate-84 on the Washington side, Skamania Lodge's Celebration of Beer festival will host Amnesia Brewing, Full Sail Brewing, Laht Neppur Brewing Company, Lompoc Brewing, Prodigal Son, Salmon Creek Brewery, Snipes Mountain, and Yakima Craft Brewing. Brewers will be pouring their most popular products as well as seasonal and unreleased beers, many for the first time this year.
Tasting tickets—for beer and food—are $1 each, $20 for 20 tickets and a mug, or $40 for 50 tickets and two mugs. The Oktoberfest Dinner buffet is just $34.95, and overnight guests get even more discounts. For lodging rates and reservations, call 866-399-7980 or visit the Skamania Lodge website.