Halloween, Portland parties
Halloween Happenings Part I
All dressed up? Here's some places to go!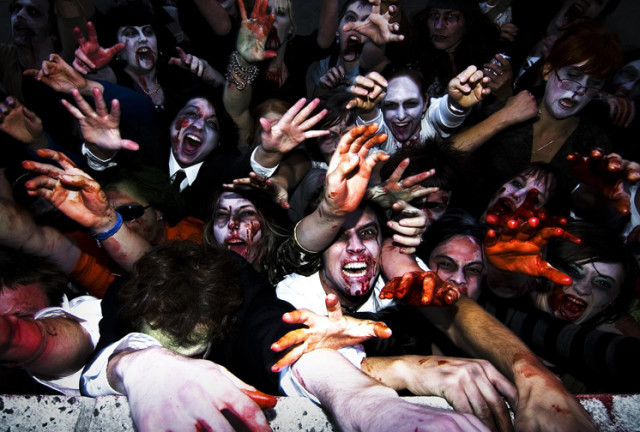 If you're anything like me, you probably just rolled groggily out of bed to realize that Halloween, the best, most decadent, and darkest of holidays is less than two weeks away. Initiate freak-out sequence! Once again, the surreal changing beauty of October foliage has allowed the days to creep right past us like mischievous black cats, and all of a sudden, the stores are packed with candy and cheesy orange-and-black decor, and your neighbor's place looks like the house from Texas Chainsaw Massacre.
So, what on earth are you going to wear?! Do you go for topical (e.g., dress as an oil spill? A sinking ship painted with the word "economy"? An "Occupy" protester?), or desperately throw together a conceptual costume salvaged from discount bins that you'll have to explain to everyone? ("I'm the ghost of Andre the Giant, you cretin!") Most importantly, you don't want to be all dressed up (especially as a juggalo) with nowhere to go. So what's a weirdo to do on the weirdest night of the year in a town so regularly preoccupied with its own weirdness? Furthermore, where's the spirits to match the spirits, the booze to match the boo's? Though Halloween itself falls on a Monday this year, not to worry. We've assembled a handy go-to-guide of more "adult" events, as well as concerts and dance parties to keep you busy and scaring up trouble all over town. So get out your calendar and throw on your wackiest threads to keep Portland haunted well past the witching hour. Bonus! We've got so many recommendations we have to split them into two posts, this being the first. If you know of any other crucial Halloween parties on the horizon, just leave the info in the Comments section.
Massacre: Curves of the Damned
Friday, Oct 21
Booze, sex-positivity, edgy performances (fire, contortion, aerial, burlesque) and a big 'ol dance party? This lust-fest is decidedly not for the kiddies.
Bossanova Ballroom, 722 E Burnside. 9pm. $12-15.
A Big Zombie Variety Show
Saturday, Oct 22
How much awesome can you cram into one room? And by "awesome", we mean "zombies". You might wanna sit down for this one: Grammy-nominated recording artist Amanda Richards will be on hand to sing about zombies. Mini Marilyn Manson will be vamping up a storm while lip-synching the hits. Plus, burlesque (probably zombie-themed), and stand-up comedy from local faves Whitney Streed and Jon Washington. This event is also the setting for The Official PDX Zombie & Monster Pub Crawl Awards, which is apparently a thing. You'll want to have all your fake wounds looking particularly disgusting for this undead soiree of frightening proportions.
Someday Lounge, 125 NW Fifth Ave. 8pm. Free.
Zombies & Monsters
Saturday, Oct 22
Live bands, movies, scary treats.
Star Theater, 13 NW Sixth Ave. 5pm. Free!
Trader Vic's Trick or Tiki Party
Saturday, Oct 29
With exotic music from Sneaky Tiki and The Lava Lounge Orchestra to set the scene, Trader Vic's should be a most desirable drinking and dancing destination. Among the specials are $2 off "Nelson's Blood", the signature tiki cocktail invented for the event, as well as $6 off the group-sized Blood Bowl version. There's also a costume contest for the following categories: Best Embodiment of "Keep Portland Weird", Best Tiki, and Most Original. Trader Vic's, 1203 NW Glisan. Doors open at 3pm, costume judging at 7. For reservations, 503-467-2277.
Night of the Living Ales
Saturday, Oct 29
A celebration of spirits should not exclude our own beloved beer contingent. For the second year in a row, Night of the Living Ales provides a party for folks more interested in brews than Bit O' Honeys. It takes place at Burnside Brewing Company and includes live music from Ascetic Junkies and Boy Eats Drum machine, as well as spooky burlesque from Meghan Mayhem and Hai Fleisch. Oh yeah, and you can sample from eight special Halloween-inspired beers brewed for the occasion by Widmer, Oakshire, Ninkasi, Fort George, Old Lompoc, 10 Barrel, and host Burnside Brewing.
Burnside Brewing Company, 701 E Burnside, 8pm. $8 cover.