NEIGHBORHOOD NEWS
Eat Beat Neighborhood News
Top food news stories from around Portland, including a food cart from Timbers' midfielder Sal Zizzo and Nick Zukin's Tacos de Guisados.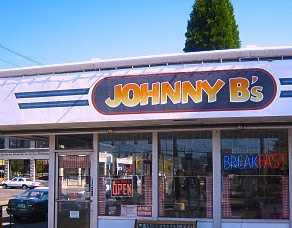 Southeast
Johnny B's, the breakfast only spot on SE Hawthorne known for its no-nonsense hash browns and chicken-fried steaks has closed. The restaurant's departing voicemail message has this to say: "Sorry to inform you that we have gone out of business and we will not be reopening. We want to thank you all for you business for the last 11 years, but it has come time to move on." No word yet on what will take over the space (where SE Hawthorne transitions from a one-way eastbound boulevard to a two way street). (Eater PDX)
Portland food know-it-all and tweeter supreme Nick Zukin's SE Division restaurant Mi Mero Mole is aiming for a November 2 opening. The eatery will be serving up Mexico City-style Tacos de Guisados—with plenty of drinks featuring tequila, mezcal, and rum—at 49th and Division. (PortlandFood.org)
The former Globe space at 2045 SE Belmont has a new tenant: the Conquistador Lounge, a full service restaurant and bar owned by The Matador's Casey Maxwell. Early liquor license application info reveals hours from 3 pm to 2:30 am, seven days a week. (Eater PDX)
Northwest
Bluehour, the posh Pearl District eatery undergoing a major overhaul from new chef Thomas Boyce, is ending Sunday Brunch this weekend, October 16 (according to a message on their Facebook page). The message also dropped a hint that the restaurant will be offering Sunday Supper specials, adding their name to a growing list of cozy weekend dinners. (Facebook)
Southwest
Portland TImbers' midfielder Sal Zizzo is opening an Italian inspired food cart— Zizzo's FC —at the SW 10th and Alder pod. The cart boasts the colors of the Italian national football team jersey, and is set to serve up "authentic Italian food". Menu details to come. (Portland Mercury)
Got a food news tip? Send it my way at [email protected]!