NEIGHBORHOOD NEWS
Eat Beat Neighborhood News
Top stories from around Portland, including the first winter market from PFM and Aviary's reopening.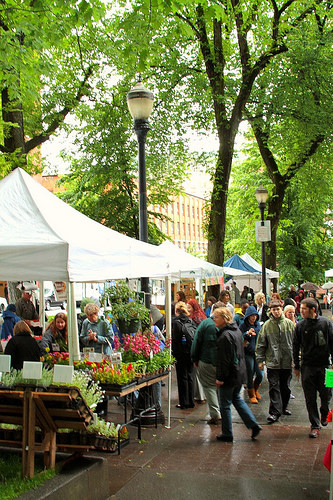 Southeast
Eater PDX reports that The Globe has closed. The Belmont cafe known for its pizza, upscale bar snacks, and live music was open for just over a year (previous restaurants including a waffle diner and Lebanese spot also had short-lived runs in the space, located along the one-way stretch of Belmont). According to the eatery's Twitter, new owners are currently in rebuild mode.
East Burnside
Luce, the new Italian restaurant from Navarre's John Taboada is officially open (2138-2140 E Burnside St; 503.236.7195). The cozy black and white checker-floored eatery is offering home-style Italian fare for eat in and take out, along with artisan pantry goods. PortlandFood.org has the menu and first impressions.
Northeast:
The Oregonian has the first word on Aviary's reopening plans. The fire-damaged Northeast Alberta eatery is slated for an early November relaunch, pending an agreement between the building's landlord and insurance companies. According to chef Sarah Pliner, rebuilding is set to begin this week.
Southwest:
Attention Portland Farmers' Market fans: PFM has announced their first winter market, to take place Saturdays in January and February 2012. Though several Portland-area markets are open year-round—including Hillsdale and People's new Shemanski Park market (in the South Park Blocks between SW Salmon and SW Main Streets) is the first winter market from the largest farmers' market organization in the region. In addition to winter produce, the market will offer shoppers meats, fish, baked goods, cheeses, pickled products, and hot foods—as well as covered spaces to shield market goers from the elements. Stay tuned for the vendor list, coming in November.
Got a food news tip? Send it my way at [email protected]!