OPINIONS NEEDED
Official Timbers Ice Cream
Help select the official Portland Timbers ice cream flavor this week at Salt & Straw, with an all-star flavor launch on Saturday.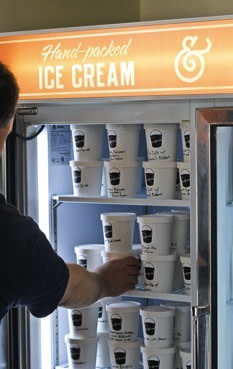 The good men and women of the Timbers Army have spread their infectious blend of green and gold enthusiasm across the city, and their ranks have reached even the freezers of our ice cream scoop shops. That's right—Salt & Straw Ice Cream needs your help to select the official Portland Timbers ice cream flavor!
Stop into the shop at 2035 NE Alberta Street this week—October 12, 13, and 14—to sample the three flavors vying for the top title. The contenders:
Bury Me In Green and Gold: Oregon mint ice cream with shaved chocolate from Woodblock Chocolate and candied lemon zest.
Rose City Riot: Rose water ice cream with saffron infused cream chips and crushed pistachios.
Lumberjack Stack: Maple syrup ice cream and housemade blueberry pancakes.
Once Portland's ice cream fans have submitted their opinions, the votes will be tallied and added to the scores from a panel of celebrity judges—including Timbers chief operating officer, Mike Golub, former Timbers defender Scot Thompson, and the one and only Timber Joey—at the flavor's launch party on Saturday, October 15 from 12:30 to 1 pm. A percentage of proceeds from scoops of the official Timbers flavor will be donated to the Portland Timbers Community Fund, benefiting youth education in Portland.
Bonus points go to the Timbers fans who can incorporate the words "ice cream" into Timbers chants and songs. Get scooping!
For more Timbers foodie facts, check out our scoop on Timbers players' favorite Portland restaurants.