OPENING NIGHT
Opening Night: The Woodsman Tavern
Welcome to SE Division's latest hangout, The Woodsman Tavern—a new world eatery with old school charm featuring home-style cooking, craft cocktails, and an All-Star cast.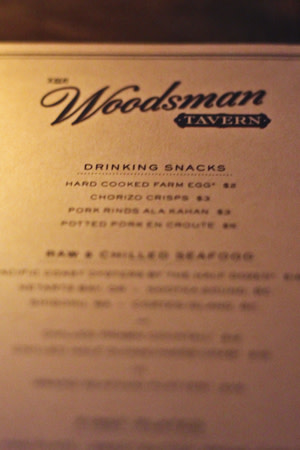 The Woodsman Tavern is the kind of place where you'd expect to find regulars of forty years sitting in their long-ago claimed bar stools—despite the fact that it opened this week. Part hunting lodge, part English pub, part seaside shanty, Portland's newest restaurant feels anything but new. The old school feel of the Southeast Division eatery perched next to the flagship Stumptown Coffee is a result of the collaboration of three modern Portland thinkers—Stumptown founder Duane Sorenson, former Olympic Provisions chef Jason Barwikowski, and bartender Evan Zimmerman—with truly delicious results.
The eclectic menu focuses on American ham producers with a bountiful ham plate perfect for sharing ($18), casual bar snacks like chorizo chips and pork rinds ($2-$5), catch-of-the-day seafood offerings and raw bar ($12-$16), and rib-sticking Northwest tavern food (think lightly-charred pork loin over corn and bean ragout with sweet and savory tomato sauce, Cornish game hens with savory bread pudding and chanterelles, and skirt steak with French fries; $18-$26). Tack on a few vegetable dishes and salads, and there's something for everyone. On the liquid side of things, Zimmerman brings the classic cocktail to new heights, with balanced and brooding concoctions reminiscent of his former drink program at Laurelhurst Market. Standouts include the Gold Rush with Bourbon, lemon juice, and honey, the Listening Post with rum, grapefruit peel, Punt e Mes, Campari, and bitters, and the Kentucky Special with Bourbon, lapsang souchong smoked tea, Cherry Heering, and bitters, ranging from $6 to $10.
Every so often you catch a whiff of smoke in the air and look around for the old man smoking a pipe, but the aroma is coming out of the kitchen, where Barwikowski is churning out comfort food in the über-rare charcoal fire Josper Oven. The aroma of smokiness is infused throughout the menu and is complemented by the warm ambiance and low lighting of Edison bulbs and candles throughout the dark wood-accented room. Though the Woodsman is currently only open for dinner service, brunch is on the way, as are cold-weather Toddies and even heartier winter fare. If Opening Night is any indication, the Woodsman will be the go-to spot of the winter, so get there early and claim your bar stool.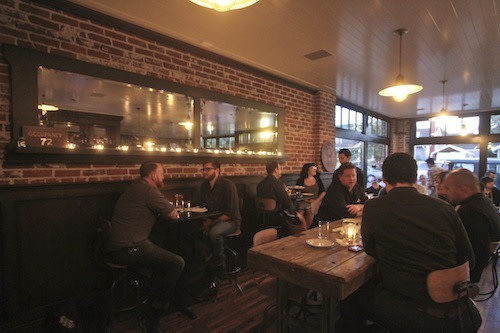 The Woodsman Tavern
4537 Southeast Division Street; 971-373-8264
Monday through Sunday, 5 pm to 10 pm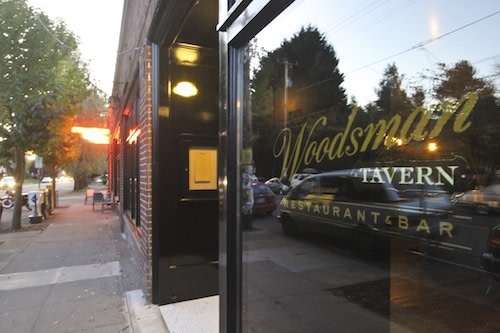 The Woodsman Tavern sits two doors down from the flagship Stumptown Coffee location. The space in between the restaurant and the coffee house will be home to the Woodsman Market, a small neighborhood grocery selling beer and wine, flowers, sandwiches, cheese, and other specialty items.
The first thing diners see when entering the Woodsman is the raw bar station at the end of the bar, where Pacific coast oysters are shucked, crab legs are snapped, and shrimp are nestled into ice for an old-school prawn cocktail. The menu features a $75 Grand Seafood Platter stocked with Dungeoness crab, prawns, oysters, and more for sharing.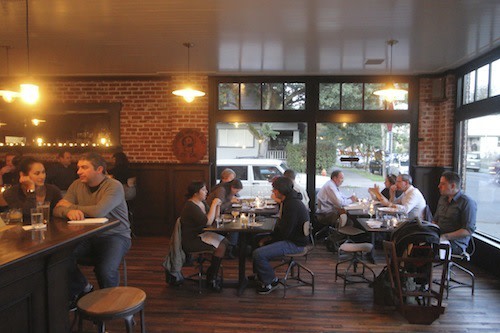 The tavern features several distinct dining areas, most of which are family friendly. Opening night brought out plenty of Portland's culinary celebs (and their small children), including Le Pigeon's Gabriel Rucker, Luce's John Taboada, Lucy's Original's Evan Dohrmann, Bunk's Tommy Habetz, and Ned Ludd's Jason French and Jess Pierce.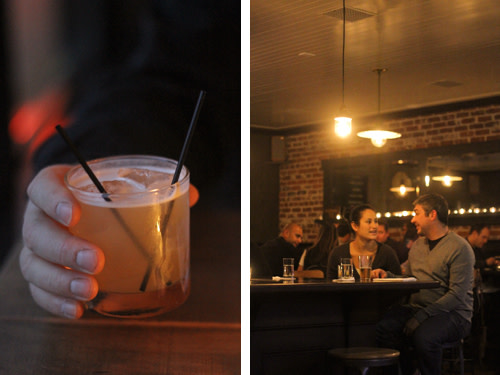 The Gold Rush cocktail is much more that the sum of its parts—Bourbon, honey, and whiskey—making it the kind of drink you could sip all night long. The house cocktail menu features 14 original drinks, the wine list is heavy on affordable European options, and, yes, you can get Stumptown coffee, hot or cold brewed.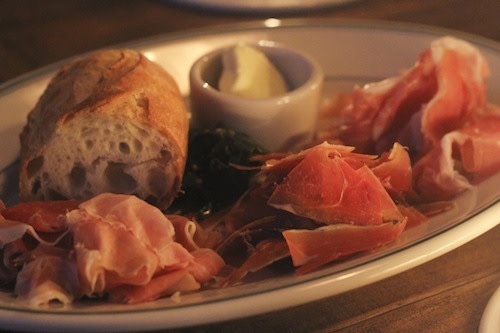 The domestic ham plate features three healthy piles of American ham, bread and sweet cream butter, and house pickled collard greens. Ham selections will rotate often; current pork picks include Benton's from Madisonville, Tennessee, Broadbent Ham from Kuttawa, Kentucky, and La Quercia from Norwalk, Iowa.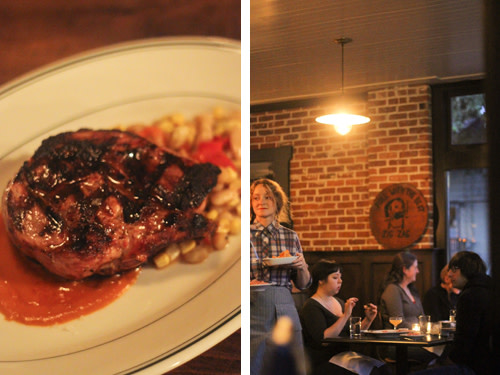 The charred pork loin sits on a bed of corn and shellbean ragout with chili sauce—and it's definitely big enough for two. Add a side of grilled cauliflower with country ham, lemon, and pistachios, and you've got yourself a classic fall meal.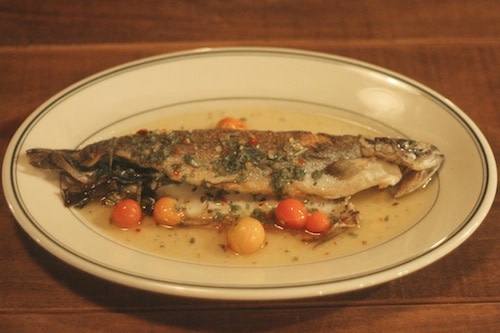 The whole roasted trout is served with toybox tomatoes and "crazy water," the "Sicilian or Spanish or Moroccan technique of cooking a broth with tons of flavor, "according to the chef who will from now on be referred to as Jason "Crazy Water" Barwikowski.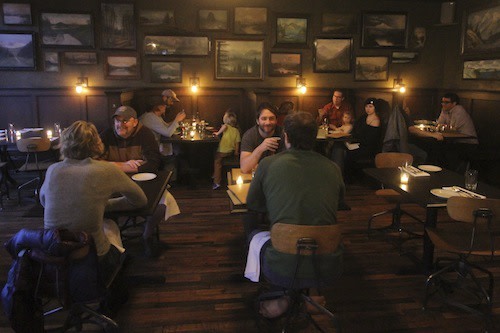 The western wall of the restaurant features a collection of American landscape paintings, giving the tavern an "end of the trail" ambiance fitting for its Pacific Northwest location and locally-inspired menu.