BEST OF PDX
Portland's Best Cheese Plates
Your cheat sheet for the top spots to get your cheese on, packed with suggestions for every budget, style, and fromage fancy.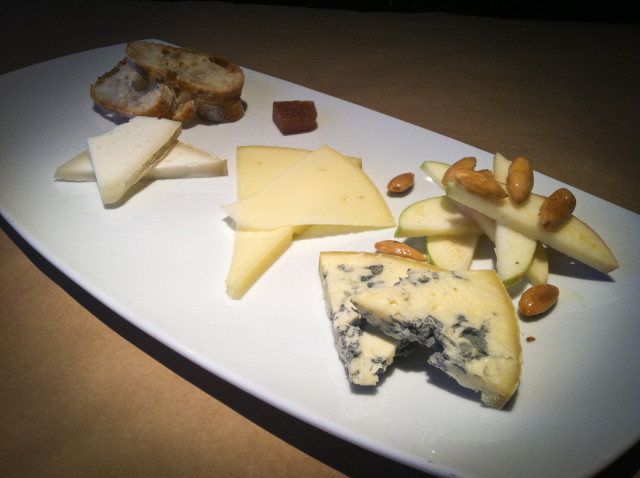 There's a lot to love about cheese, but one of its most endearing qualities is its ability to bridge the gap between sweet and savory palates. For those who prefer to dine on the salty side, cheese can be nutty and briny atop savory crackers and salads, and it'd be hard to find something that pairs better with charcuterie. For those with a sweet tooth, cheese goes remarkable well with fruit compote, jam, graham cracker crusts, and, of course, chocolate.
In short, cheese could be Ms. Universe if the competition were open to food. But all too often, this universal equalizer is relegated to a melted topping, a sprinkling atop a salad, or stringed trade-fodder for grade school lunchtimes. Cheese deserves some more respect, and luckily, a lot of places in Portland are willing to give the good stuff its due.
Here are our picks for the best cheese plates in Portland (and beyond), where the cheese stands alone.
Cheese Bar (6031 Southeast Belmont St.; 503-222-6014) No list of Portland's best cheese plates would be complete without a mention of Steve Jones' dairy dreamland on SE Belmont. If there's a good cheese selection anywhere in the city, there's a good chance Jones had his hands on the wedges before they arrived at the restaurant. This summer, Cheese Bar's Big Cheese took home top honors at the second annual Cheesemonger Invitational, competing against 40 cheese shops around the globe for the title of Best Cheesemonger in the World. Stop into Cheese Bar for the best cheese selection in Portland, and stick around to enjoy a composed cheese plate and a pint of beer or three. Let Jones or one of his helpful cheesistants pick out a few choice selections for a memorable meal—everyone in the shop has their favorites, and they're more than happy to listen to your own preferences to help you put together a top-notch plate with three sizable slices of cheese, chutney, and crostini ($9.50).
Metrovino (1139 NW 11th Ave.; 503-517-7778) What goes better with cheese than a sleek, computerized wine-tap system that uses argon gas to keep open wine bottles fresh for months, allowing Metrovino to pour 100 wines by the glass? Maybe chef Gregory Denton's roasted fig puree or dark chocolate ganache. Indulge your desires for cheese and vino at this Pearl District eatery, where the bar menu highlights that magical sweet and savoriness of some truly delicious cheeses. Current plated offerings include Crémeux de Bourgogne with candied cherries and truffle-salted pistachios ($9), Humbolt Fog with figs two ways and toasted walnuts ($8), and Fourme d Ambert (a french bleu) with cashews, dates, and the aforementioned dark chocolate ganache ($7).
Bluehour (250 NW 13th Ave.; 503-226-3394) The kitchen menu isn't the only thing that's changed since Chef Thomas Boyce took over the culinary helm of this Pearl District perch—the restaurant's legendary cheese list has been shaken up as well. Fromager Jesse Seratt's list still rotates often and features his personal picks from domestic and international creameries, but he now offers table-side consultation and service to the dining room and the bar. The add-ons have also benefited from the kitchen shuffle, with seasonal condiments like pickled pears, quince paste, and dates rounding out the daily selection. What will you get if you let Seratt pick your plate? Likely something "moldy or stinky", according to the cheese expert himself, so fans of the bleu should run not walk to snag a table. Pick one ($6), three ($16), or five ($28) cheeses for a chic fromage feast, or stop in for happy hour (4:00 to 6:30 Sunday to Friday, Saturdays from 5:00 to 6:30) for a $4 daily selection.
Roots (19215 SE 34th St. Suite 110, Vancouver, WA; 360.260.3001) The artisan cheese plate at Brad Root's unassuming Vancouver restaurant nestled in the Riverstone Marketplace is small but mighty. Three rotating selections of hard-to-find cheeses (like the bright orange-hued Mimolette or ultra-creamy French chevre) are paired with a slice of almond date cake and plenty of apples for $9.50. At Happy Hour (Sunday through Saturday, 3:00 to 6:00 pm, Friday and Saturday Evenings, 9:00 to 11:00 pm) the handcrafted cheese plate is just $6.
Urban Farmer (525 SW Morrison St.; 503-222-4900) Which two words have PDX cheese lovers singing the praises of this restaurant on the 8th floor of the Nine's Hotel? Cheese Cart! Fromager Lindsey Walton has curated a top-notch list of a dozen cheese selections, complete with her accessible and engaging table-side service. Diners receive an ounce of each cheese for $6, along with housemade accoutrement like local huckleberries, honey infused with pink peppercorns, pear butter, or savory caramelized onions. Walton's current favorites are the Midnight Moon from California's Cypress Grove, Beecher's Flagship Reserve cheddar, and the Sunset Bay pimentón-spiked chevre from Rivers Edge.
Oliver's at the Camas Hotel (401 NE 4th Ave., Camas, WA; 360-210-4037) While chefs Morris Fenton and Gwyn Manney may be known for their carefully crafted tasting menus at this Camas eatery—one of Food & Wine Magazine's 2011 Best New Suburban Restaurants —they certainly love their cheese, too. The rotating Cheese and Olive plate includes three daily cheese selections and five kinds of olives for $12. For diners who favor cheese more than sweets, guests can sub fromage selections for dessert in the four, five, and six course prix fixe dinners.
Paley's Place (1204 Northwest 21st Ave.; 503-243-2403) For one of the best selections of local cheeses, head to this Northwest Portland institution for chef de cuisine Patrick McKee's regional cheese picks. Standouts include Ancient Heritage Dairy's Adele sheep's milk cheese from the Willamette Valley, Queso de Oveja from Black Sheep Creamery in Washington, Rivers Edge's Astraea Chèvre, and Rogue Creamery's Echo Mountain. Diners can choose any three cheeses for $15, or indulge in the "Chef's Selection" plate for $23, accompanied by Paley's famous handmade fruit and nut bar.
clarklewis (1001 SE Water Ave.; 503-235-2294) While brucecarey may have a thing against spaces and capital letters, his restaurants certainly don't skimp on the amazing cheese selection. The second Carey restaurant on the list, clarklewis offers an artisan cheese plate with three large portions of daily cheese selections, Queener Farm redfree apples, fried almonds, quince paste and plenty of tasty Grand Central baguette ($13). A recent trip to the industrial southeast eatery resulted in the discovery of a new favorite bleu, the Bayley Hazen from Jasper Hill Creamery. This delicious cheese is drier and more crumbly than creamy, and offered up a perfect bite of cheese plus apple plus view of the Downtown Portland skyline. Does it get any cheesier than that?
Now it's your turn: Where's your favorite spot for a healthy helping of cheese? Are you a fan of the French fromage? A devotee of domestic dairy? Continue the list in the comments below!