Eat Beat Foodie Fright Week
Portland's Haunted Restaurants and Bars
We dug up some hauntings among a few of Portland's popular eateries, just in time for Halloween Weekend.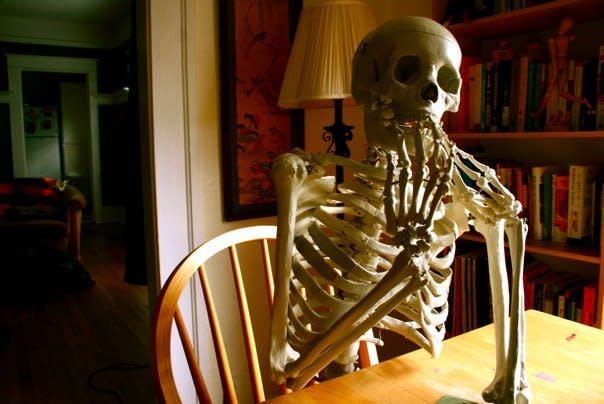 Portland frequently makes it onto lists of America's most haunted places, and the following tales could be evidence that those spooky spirits are hungry.
Old Town Pizza (226 Northwest Davis St.; oldtownpizza.com) – This pie-slinging eatery—located in the lobby of the old Merchant Hotel, which catered to Portland's poshest in the late 1800's—boasts its own "resident ghost," Nina, who is "often seen in a black dress observing diners". Some say she was a victim of Portland's notorious Shanghai Tunnels, or a prostitute from Old Town's shady past who met an untimely end in the hotel's elevator shaft (now a cozy booth in the restaurant's rear), but we say it's probable she just really likes pepperoni.
The White Eagle Saloon (836 North Russell St.; White Eagle Website) – Built in 1905, this McMenamin's pub is home to quite the sordid past. Once a brothel and opium den, the tavern boasts countless reports of paranormal activity (including broomsticks unexpectedly launching into the air, chairs shifting across the floor, and a spectral visitor to the men's bathroom). The eleven upstairs bedrooms—which once concealed a cadre of courtesans—are now rented out nightly, and guests may expect a visit from Rose, who was supposedly murdered upstairs in the 1920's. Some say she's moaning due to her unavenged death, but it's probable she just doesn't like the music of the local kids that show up for Open Mic night.
(Personally, I'm surprised that every McMenamin's location doesn't boast its own roster of ghostly residents. Given the list of buildings that have been converted into the local chain's playhouses, pubs, and performance halls—including a county poor farm, a church chapel, and a defunct elementary school seems they should all be home to a few not-so-departed spirits. A lot of people agree, and you can read their stories on the Ghost Log Blog.)
Mother's Bistro and Bar and Mama Mia Trattoria (212 Southwest Stark St. and 439 Southwest 2nd Ave.) – Possibly not only haunts for the hungry downtown crowd, these storied eateries were the site of some paranormal investigation earlier this year. The Portland Mercury's Sarah Mirk detailed chef/owner Lisa Schroeder's account of hauntings in her family-friendly eateries situated, again, above the Shanghai Tunnels. She left out food for her restaurant roommates, that purportedly caused "weird mechanical problems in the neighborhood". Schroeder—who has since sold Mama Mia, in a transaction not driven by the hauntings—had several altars for the spirits in her cellar, and I'm not talking about vodka and whiskey.
Got a frightening foodie story? Share your tales in the comments!