Market Watch
Pure Pear Pleasure
Pears don't get the press that apples do, but they're in season and deserve their fair share of attention in the kitchen.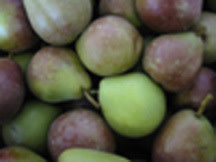 While raving in last week's columns about apples (the fruit, and the computers designed by the recently departed Steve Jobs), I realized I was dismissing pears, well, out of hand. I should instead be eating them. And baking them, slicing them into pies, clafouti, tarts and salads with hazelnuts and blue cheese. I wasn't playing fair, ignoring the poor pear.
It's actually quite a versatile fruit, in season in Oregon right now, with several varieties available offering a range of color, flavor and texture. The trouble with pears is they're not quite as easy-going as apples; you can't knock them around so much. They ripen off the tree (more quickly in a paper bag at room temperature, especially if accompanied by an apple or a banana). Rarely is a pear ready and ripe right from the grocery store. But at the farmers' market, or the orchards out near Hood River, it's another matter.
The Pacific Northwest is the source of about 80% of the pears produced in the US. And not far from Portland, the orchards surrounding Mt. Adams and Mt. Hood are especially fruitful thanks to the ideal combination of glacial snowmelt plus volcanic soils. Kiyokawa Family Orchards (located in Parkdale, OR, south of Hood River), is having a pear festival the weekend of October 22-23. They grow about twenty varieties of pears, including more than a dozen crispy Asian types not found in the average grocery store. 20th Century and Kosui are ready now; Hosui, Kawa and Shinseiki are coming soon.
Once you've harvested your fair share of pears, here's a recipe to try, from my fave cookbook, Simply in Season (by Mary Beth Lind and Cathleen Hockman-Wert; recipe contributed by Bernita Boyts of Shawnee Mission, KS):
Upside-Down Pear Gingerbread
¼ cup brown sugar
2 T. sugar
1 T. butter
1 T. water
Combine in an ovenproof, microwaveable casserole dish. Microwave on low until butter melts; stir.
2 ripe pears (peeled, cored, and sliced)
Arrange on top of syrup.
1 cup unbleached white flour
½ cup whole wheat flour 
1 t. baking soda
1 t. ground ginger
½ t. ground cinnamon
¼ t. each ground nutmeg, ground allspice, salt 
Bit of grated fresh ginger root (optional)
Stir together and set aside.
1/3 cup butter (softened)
½ cup brown sugar
1 egg
In a mixing bowl, beat together butter and brown sugar with an electric mixer until light and fluffy. Add egg and beat another minute.
½ cup molasses or honey
½ cup buttermilk
Alternately add molasses and buttermilk with dry ingredients to creamed butter mixture. Spoon over pears in casserole dish. Bake in preheated oven at 350 degrees F. until toothpick inserted in cake comes out clean – about 30-35 minutes. Remove from oven and cool about 3 minutes. Turn onto a platter. Serve warm or cold (whipped cream optional).