FOOD NEWS
Rising Star Chefs Announced
StarChefs.com's Rising Star Portland winners include the food cart owners, salami pros, Top Chefs, and James Beard Award winners that make Portland the foodiest town in America.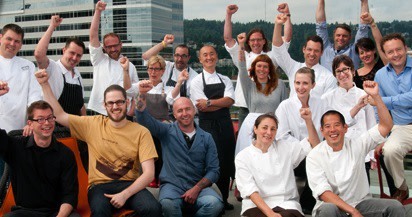 Representing a truly all-star line-up of Portland culinary talent, StarChef.com's "Rising Star" chefs were announced this morning in the Oregonian. When we interviewed StarChef's Editor and CEO Antoinette Bruno in June, she gushed that "Portland is a shining example of the kind of locally-sourced, do-it-yourself cuisine that chefs (of all stripes) are focusing on. It's not just pockets of DIY, it's a city full of it. And it's an inspiration."
So who are our most "inspiring" chefs? Each of the 17 chefs, pastry chefs, sommeliers, and bartenders that were selected via a year-long process of secret dinners and return trips to the City of Roses. Bruno and her secret agents of taste sampled five-course menus from dozens of peer-nominated restaurants, and the winners—each distinguished by their "stand-out" dish, cocktail, or wine pairing—include some familiar faces and a few under-the-radar talents. The talented lineup: St. Jack's Aaron Barnett, June's Greg Perrault, Beast's Naomi Pomeroy, Jory's Sunny Jin, Olympic Provisions' Elias Cairo, Lincoln's Jenn Louis, Little T's Tim Healea, Aquariva's Andy Arndt, Bent Brick's William Preisch, Chefstable's Kurt Huffman, Le Pigeon's Gabriel Rucker, Castagna's Jack Hott, Sugar Cube's Kir Jensen, Paley's Place's Kristen Murray, Clyde Common's Jeffrey Morgenthaler, and Aviary's Sarah Pliner, Kat Whitehead, and Jasper Shen.
Want to party with the pros? The StarChefs Rising Star Portland gala is taking over the Nines Hotel on December 5. The $85 tasting party will feature the dish that earned each chef their win, including Naomi Pomeroy's glazed pork belly with rhubarb chutney, Gabriel Rucker's foie gras profiteroles with caramel sauce, Kristen Murray's black pepper cheesecake with green strawberries, and Aviary's coconut rice with crispy pig ear and Chinese sausage. Get your tickets for the gala here, and head over to StarChefs.com for full chef bios, photos of the featured dishes, and glamour shots of all the winners.