Market Watch
Smashing Pumpkins and Pecans
The life of pie gets a little more exciting when you pair pecan and pumpkin in a thoroughly modern mash-up.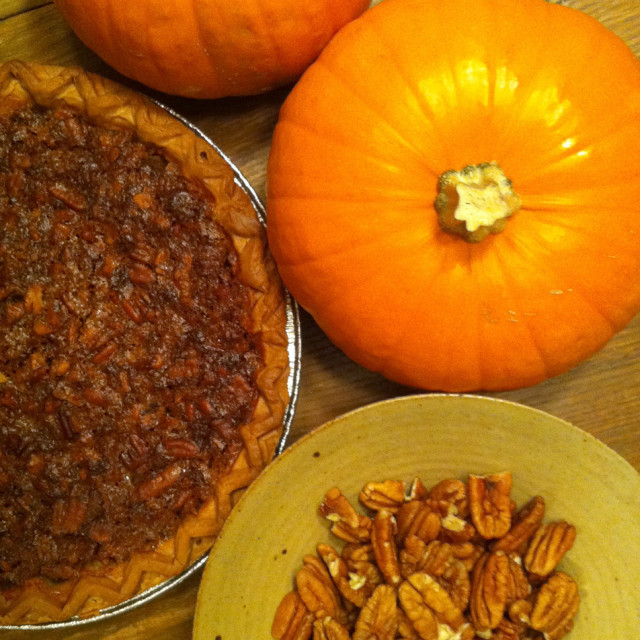 In my neighborhood, people don't usually store their food on their front porch. But during October, this is exactly what happens with pumpkins. How many vegetables (actually, they are fruits) are so amenable to posing on the porch in one fashion or another, perhaps having been carved, spooked up or otherwise altered, than our friend the plump pumpkin?
I always associate pumpkins with Charlie Brown – humble, round-faced and a little bit misunderstood. They are used as decorative items, as props in our fall fantasies of ghosts and goblins, but really they are food. And yet, the typical giant pumpkins that show up everywhere in Halloween season are not the best for cooking.
Better to look for a smaller pumpkin such as the Sweet Pie variety (guess what that's best for?). These top out at about 8" diameter, and aren't so imposing to cut, especially if you use a sawing motion with a serrated knife. There is also an endless array of heirloom varieties whose odd shapes and skins remind you that the pumpkin is in fact a gourd.
Heirloom pumpkins tend to have better flavor and texture than the typical supermarket giants do. Sun Gold Farms, in Forest Grove, sells a selection at local farmers markets including PSU, Hollywood, and Hillsdale. But even with the big jack-o-lantern you're going to carve to scare the neighbor kids on Halloween night, don't forget to harvest the iron rich seeds and roast them. Just rinse, toss with vegetable oil, and bake on a cookie sheet at about 300 degrees for 10-20 minutes.
And when it gets time to bake the pies, the pumpkin-pecan mash-up is a brilliant way to avoid choosing between those two favorite fall pies. This recipe really is easy as the proverbial pie is supposed to be (especially if you go for canned pumpkin instead of fresh) and produces a straightforward yet unexpected flavor combo, not cloyingly sweet as pecan pies often are.
Pumpkin Pecan Pie
1 cup pumpkin (cooked, pureed)
3/4 cup light corn syrup
1 cup pecans (chopped)
3 eggs (beaten)
1/3 cup brown sugar
1/4 cup butter (softened)
1 teaspoon vanilla
1/2 teaspoon salt
Beat together with an electric mixer.
Pour into 9 inch pie shell. Bake in preheated oven at 350 degrees F until set, about 45-55 minutes.
Recipe courtesy of Florence Zehr, Lois Mason and Donald Frederick, Simply in Season by M.B. Lind and Cathleen Hockman-West.