DIY
The Catch with Ketchup
Making ketchup is a worthy experiment yielding spicy results.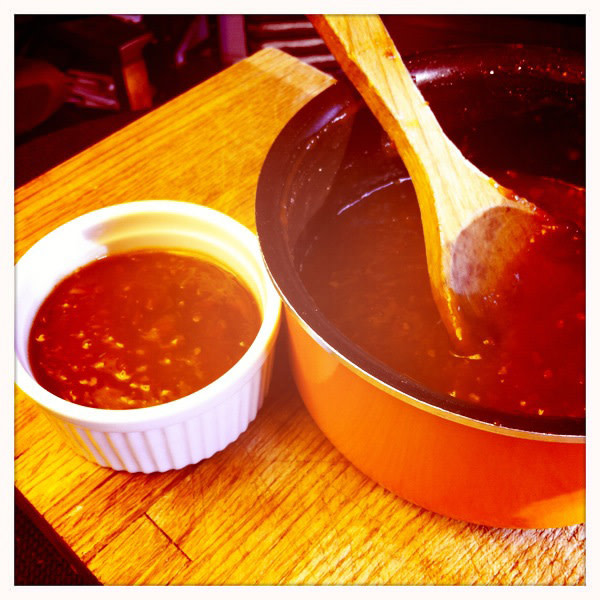 Being inspired to try to do something yourself. And it entails experimentation: experiments sometimes fail; they wouldn't be experiments if you always knew you'd succeed in doing what you set out to do.
I set out to make ketchup. I was inspired by an article that made it sound so easy. (Don't worry; this article won't do that to you.) I knew homemade ketchup was an entirely different animal from Heinz or even the nouveau organic gourmet brands. (I'm dying to try Dulcet Foods' Mild Indian Curry Ketchup.)
I'd enjoyed homegrown varieties at various restaurants boasting their own blends instead of the Heinz 57. (Heinz never had 57 varieties anyway; they just picked that number as a marketing slogan back in the late 19th century, because it sounded good.) So Kelly Alexander's simple recipe in the New York Times kicked me over the edge into the DIY try. You didn't have to cook it; it didn't take three hours or a million ingredients. And I was especially attracted to her promise that it would "impress your friends and family."
Results? Not a total failure, but a learning experience. Following the recipe, I threw 3 small fresh tomatoes, 1/3 cup water, 2 tablespoons vinegar, spices (1/4 teaspoon each of ground cloves and salt, 1 teaspoon cayenne pepper), 1/3 cup sugar, 1 tablespoon maple syrup, and 1 tablespoon corn starch into a food processor and pressed pulse. I pureed away and… there it was, a watery cold spicy tomato soup.
No matter how you spell ketchup, this was not it. By the way, the "catsup" spelling comes from the condiment's Far Eastern origins; the Chinese word for the spicy, briny sauce was "ke-tsiap," the Malaysian was "ke-chap." These tasty mixes were brought back to Britain in the late 1600s, and transformed into today's quintessential red stuff by New Englanders adding newly discovered tomatoes in the 1700s.
My version in Portland in 2011 needed to be thickened. I decided to try to cook it down, so into a saucepan it went. The result, an hour or so later, really was good – thick and very spicy. It just took more time than the food-processor 1-2-3 I thought it'd be. But that's how DIY works, and it's not a bad thing. Plus, I learned that ketchup really does have vegetables in it.