FOOD NEWS
Trader Vic's Weekend Brunch
This Pearl District's tiki-tastic destination is set to open its doors for Saturday and Sunday morning brunch.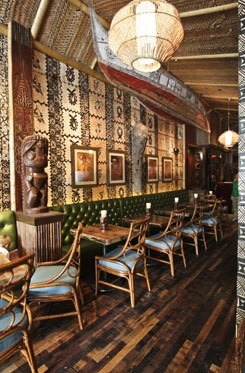 Attention brunch fanatics: time to welcome a new player to the Saturday and Sunday hair-of-the-dog game! Trader Vic's will be opening for weekend brunch (10 am to 2 pm) on Saturday, November 5th, bringing chef Michael Broderick's take on island classics to the a.m. crowds.
Brunch options are set to include Trader Vic's signature burger—topped with crisp pork belly, Tillamook white aged cheddar, and Vic's mayonnaise—as well as more traditional morning fare, like the macadamia nut and banana-covered Pancake Stack, pork belly and eggs, and Bird & Waffles plate with fried quail and local maple syrup.
Looking for the really Trader-y dishes? There's a Pacific Northwest take on old school Egg Fu Yung, with eggs, bean sprouts, local chanterelles, spinach, and onion gravy, and the meaty Char Sui Pork Hash with yukon gold potatoes, poached eggs, and Sriracha hollandaise. As always, you can dive into the Trader's full drink menu—plus Tahitian Coffees—to get your weekend off on the right foot.
Trader Vic's Portland 1203 NW Glisan St. 503-467-2277
Brunch: Saturdays and Sundays, 10 am to 2 pm.
Dinner: Monday through Thursday 3 pm to midnight; Friday and Saturday 3 pm to 1 am; Sunday: 10 am to Midnight.
Happy Hour: 3 to 7 pm and 10 pm until closing, every day.