FOOD AND DRINK EVENTS
Weekly Planner: Halloween Edition
We're kicking off Eat Beat's Foodie Fright Week with a round-up of Portland's tastiest Halloween events including a beer fest, spooky brunch, and a Day of the Dead tequila tasting.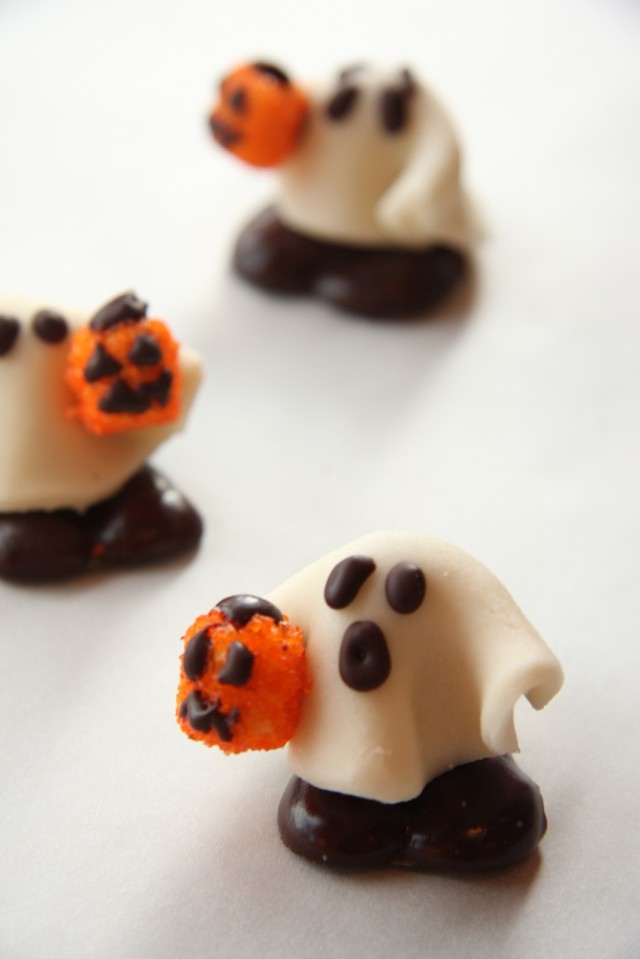 Yes, we know Halloween isn't hitting town until next Monday, but you don't have to wait until the 31st to get your candy and costume fix.
2nd Annual Night of the Living Ales Halloween Fest –
What: A night of craft beers—featuring 8 seasonal beers from Oregon breweries—as well as live music from The Ascetic Junkies and Boy Eats Drum Machine, burlesque performances, costume contests, fire dancers, and more. Sample beers including Burnside Brewing's peanut butter cup-infused German-style Alt beer, Oakshire Brewing's Big Black Jack imperial chocolate pumpkin porter, and Fort George Brewery's fruitcake-inspired North V. It's all going down in the decked-out Burnside Brewing warehouse space and (covered) outdoor beer garden. Costumes are strongly encouraged, 21+.
When: Saturday October 29th, from 8 pm to 1am
Where: Burnside Brewing Co. 701 E. Burnside
How Much: $8 at the door, $9.50 advanced tickets to avoid the line. Tickets can be purchased here.
Trader Vic's Trick-or-Tiki
What: A tiki-themed Halloween party complete with food specials, candy, "Nelson's Blood" cocktails, and island music from Sneaky Tiki and The Lava Lounge Orchestra. Costumes encouraged for the 7 pm costume contest with prizes for best takes on these three categories: Best Embodiment of "Keep Portland Weird", Best Tiki, and Most Original. Family friendly, but not recommended for very young children.
When: Saturday, October 29, from 3 pm to close
Where: Trader Vic's 1203 Northwest Glisan St.; 503-467-2277
How Much: No entry fee, though reservations are recommended for dining room seating.
Pix Patisserie Trick-or-Treating
What: Head to Pix for halloween-themed treats all week (think ghostly chocolate ganache-covered pecans draped in marzipan) and stop by after 5 pm on October 31st for free treats to anyone in costume (all ages welcome).
When: Halloween treats available through October 31, Free trick or treating on October 31st.
Where: Both Pix locations: 3402 SE Division St. and 3901 N Williams Ave.
How Much: Seasonal treat prices vary; Free candy on Halloween.
Pink Rose Dia de los Muertos Tequila Dinner
What: A 21+ three-course dinner and Day of the Dead celebration featuring organic 123 Tequila pairings and Latin-inspired DJ. Dishes are set to include Northwest seafood salad, a meaty entree, and chocolate lava cake for dessert. Costumes are encouraged.
When: Saturday, October 29th from 6:30 to 7:30 pm
Where: Pink Rose Restaurant 1300 NW Lovejoy
How Much: Pre-sale tickets are $35 until Monday, October 24, and $50 after. Call 503-482-2165 for tickets.
Torta-landia Halloween Party
What: A family-friendly Halloween party from Foster/Powell's newest Mexican restaurant, featuring pumpkin carving and costume contests, scary movies, food and drink specials, live music, and a real-deal piñata.
When: Saturday, October 29th from 6 pm to midnight.
Where: Torta-Landia 4144 SE 60th
How Much: Free entry for all ages.
The Last Montavilla Market and Halloween Harvest Celebration
What: Join the farmers and friends of the Montavilla Farmers' Market for the last regular market of the year and some great family-friendly Halloween fun. Stock up on pumpkins for last-minute carving, participate in hands-on cooking demos, and dress up the little ones for the kids costume contest and "door-to-door" trick-or-treating at market stalls (and businesses along Stark!).
When: Sunday, October 30, 10 am to 2 pm.
Where: Montavilla Farmers' Market 7600 Block, SE Stark St.
How Much: Free, all ages.
Brasserie's Halloween Brunch
What: A spooky costumed brunch at Brasserie Montmartre, including full brunch menu, a Bloody Mary bar, and a separate kid's menu. Those in full Halloween costumes will receive 20% off their brunch bill!
When: Sunday, October 30, 10:00 a.m. to 2:00 p.m.
Where: Brasserie Montmartre 626 Southwest Park Ave
How Much: Normal menu prices, costumed guests get 20% off.
And now this week's non-spooky events, for those who'd rather eat dinner in normal clothes than dressed as a giant squid:
India's Festival of Lights and New Year Celebration at East India Co. Grill & Bar
What: A Diwali celebration full of traditional dishes honoring the Hindu New Year and Festival of Lights at downtown's East India Co. For just $22, indulge in a bountiful tasting menu full of authentic tastes, including Paneer Tikka, Garlic-Methi Naan, creamy pot roasted chicken with caramelized onions, and homemade Kulfi, Indian Ice Cream. Vegan and vegetarian options always available at this downtown eatery featured in Portland Monthly's Best Restaurants issue.
When: Dinner only, Tuesday, October 25 through Saturday, October 29
Where: East India Co. Grill & Bar; 821 SW 11th Ave.
How Much: $22 per person for five courses.
Burnside Brewing Jamaican-style Brewers Dinner at Simpatica
What: Join Burnside Brewing and Simpatica Catering and Laurelhurst Market executive chef David Kriefels for a four course Jamaican-inspired beer dinner. Dishes are set to include beef hand pies with jicama slaw (paired with Gratzer Ale), curried shrimp and snapper stew (paired with Burnside Sweet Heat Ale), jerk poussin with rice and peas (paired with Oatmeal Pale Ale), and sweet potato pie with ginger snap crust (paired with Bourbon stout).
When: Friday, October 28th at 7:30 pm
Where: Simpatica Dining Hall; 828 SE Ash Street
How Much: $50 per person, including all food and beer. For reservations, call 503-235-160 or email [email protected].