Market Watch
Celebrating Celeriac
Not yet a celebrity, celeriac is ready for its kitchen close-up.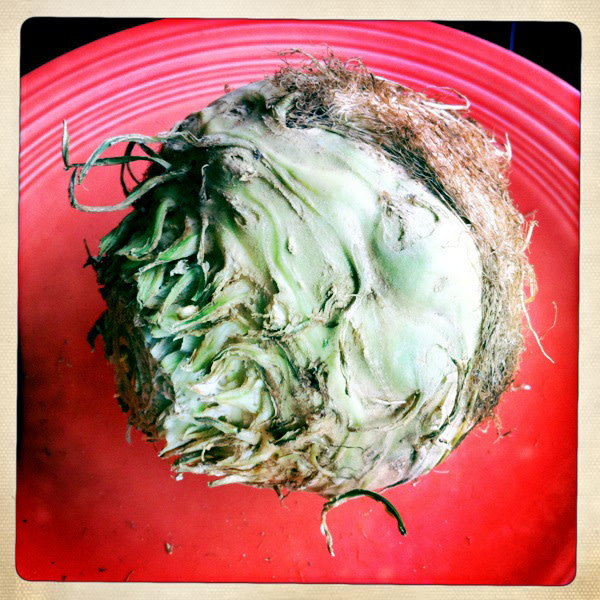 Very much an unsung root vegetable, celeriac actually does sing, if you can get past its naturally gnarly looks. The knobby-skinned root vegetable is related to common celery, but is a type grown to produce a large edible bulb rather than the smooth pale green stalks we know so well.
Celeriac is in season now at Portland's local farmers' markets. It's something you might not really see, though, since it's so unfamiliar; plus, the many varieties of colorful and crazy-looking squashes are so much more eye-catching than this beigey bumpy bulb. Oh, and when you hear the name, celeriac – well, it does sound a bit like a disease. (Maybe that's why it's also known as celery root.)
But celeriac is imminently healthful, tasty and versatile. It can be eaten raw or cooked, pureed into a soup, mixed with mashed potatoes, or baked in a casserole or gratin. All are delicious ways to get its benefits, which range from digestive to aphrodisiac, not to mention speeding up your metabolism.
To enjoy it raw, you might follow the French fashion and make it into a remoulade: grate it and mix with mayo and seedy mustard. (Be sure to store chopped or grated raw pieces in cold water with a bit of lemon juice or vinegar, though, as the flesh will discolor when exposed to air.) Raw chunks of peeled celeriac are also a good substitute for (or addition to) cooked potatoes in whatever your favorite potato salad recipe is.
For a warm and winter-friendly meal, try glazing celeriac. This technique essentially entails cooking the celeriac (or any other veggie) on the stove in a bit of butter and half-immersed in water, slowly simmering it until the magic moment when the water is evaporated and the flesh is tender and ready to eat.
James Peterson in his aptly titled book Vegetables has a detailed description of how to glaze celeriac, summarized in the steps below.
1. Peel 1 large celeriac (with paring knife; it's too tough for a vegetable peeler)
2. Cut into chunks (2" long, 1" wide at their thickest point)
3. Place in single layer in sauté pan
4. Add to pan: 1 tablespoon butter, 1 teaspoon sugar, salt to taste
5. Into pan, pour enough water to cover halfway up the sides of the celeriac chunks
6. Bring to simmer over high heat, then turn heat to medium and loosely place parchment paper or aluminum foil over the chunks
7. Simmer about 15 minutes – until the celeriac is done, i.e. can be poked with a skewer or paring knife but still offers resistance; if it's tender, but water remains in the pan, remove the paper or foil top and turn up the heat until water evaporates. By the same token, if the celeriac is not done but no water remains, add a bit of water.
8. Finally, the glazing part: when the water has evaporated and the celeriac sections start to brown on one side, toss them or gently stir until lightly browned on all sides and a layer of caramelized sugar has attached to the bottom of the pan.
9. Pour about 2 tablespoons of water into the pan and quickly toss, or use a spoon to gently turn, the celeriac over high heat; this dissolves the sugar caramelized on the bottom of the pan and gets it to coat the celeriac in an even layer. When the water has evaporated, grind on some pepper and serve immediately.
If you want to know more, Jack Staub also has a good rundown on the low-cal, high-fiber, non-starchy potato substitute, which he suggests can even be fried up like French – I mean Freedom – fries.