FOODIE FREEBIES
Cooking My Way Back Home
Score a free signed copy of the new cookbook, Cooking My Way Back Home, from Irving Street Kitchen owner Mitchell Rosenthal.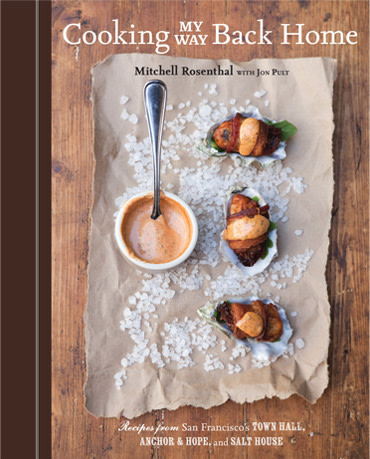 Chef and restaurateur Mitchell Rosenthal, a New Jersey native who has spent time behind the scenes at the Four Seasons in New York City and Wolfgang Puck's Postrio in San Francisco, has put together a compendium of Southern-inspired recipes and kitchen tips for the homesick cook in all of us.
Written with his brother-in-law Jon Pult, Cooking My Way Back Home is part restaurant recipe resource, part memoir, and part manifesto calling for a return to communal food preparation and family meals.
Rosenthal owns and manages three San Francisco restaurants along with Portland's own Irving Street Kitchen, and his cookbook reveals his deep love of Southern cuisine that shines through on each of his eatery's menus.
The book is broken down into Small Bites (like Pickled Vegetables and Grandma's Chopped Chicken Liver), Big Bites (like spicy Harissa Haricots Verts and smoky Chicken-Hock Gumbo), Sandwiches (including a Vegetarian Muffaletta and an Old Bay-seasoned Lobster Roll), Slowed Cooking (think slow-braised Pork Pozole and Chicken and Andouille Jambalaya), Grilled Roasted and Fried (home to Bacon-Wrapped Quail and Ale-Battered Fish and Chips), and Desserts (like the decadent Butterscotch-Chocolate Pot de Créme). There's even a chapter devoted to Smoke and Fire, with recipes like Tea-Smoked Duck, Pecan-Smoked Pulled Pork, and Coriander Crusted Pastrami.
The stunning cookbook (retailing at $35.00) brings together over one hundred recipes from three of his current restaurants, San Francisco's Town Hall, Anchor & Hope, and Salt House.
So, why isn't Irving St. Kitchen on that list? The Pearl District eatery opened after the cookbook was planned and outlined, but many of the specialty dishes from Irving Street Kitchen are found in the book, including their top-notch buttermilk biscuits, fried chicken, and cheddar grits.
Foodie Freebie: Eat Beat scored a signed copy of the new cookbook, and we want to give it to YOU! Simply send me an email at [email protected] with "Cooking My Way Back Home" in the subject line. I'll pick a winner at random at 5 pm on Friday, November 18th to receive their very own FREE copy.
Don't want to wait? Cooking My Way Back Home is available at Powell's, Amazon, and at CookingMyWayBackHome.com.