Drinks for Dogs
Paws That Refreshes
Bowser Beer and Bark Vineyards provide line of pet-friendly potables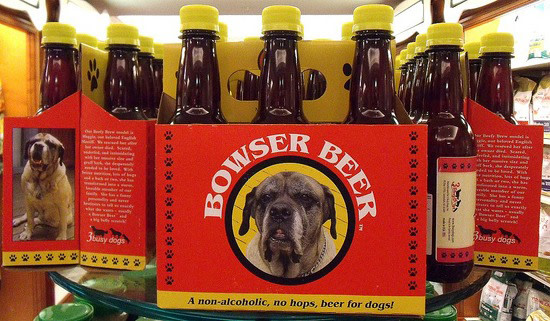 As the holidays start rolling in like a patch of bad weather, we like to remind ourselves that these are the moments to gather family and friends in celebration of another year of misfortune and dismal prospects. It's a proven scientific fact that suicide rates go through the roof right about now, so in order to counteract the effects of family proximity, it's likely we'll get good and soused to drown out Uncle Henry's yearly tirades about liberals poisoning the drinking water, or Aunt Bessie's blow-by-blow description of her gastric bypass. Yet while we sit happily sedated, oblivious to all the maddening chatter, certain precious family members end up sadly neglected—and stone-cold sober. No, not the children, we're talking about Rover and Rags. We're not monsters, people.
As we all know, the lives of our devoted dogs are exhausting enough! What with all those balls to be chased, bones to be gnawed on, rugs that need soiling—not to mention the constant napping. They really are selfless creatures, and it's damn well time someone fixed them a decent drink, for those gatherings that call for something a little more upscale than toilet water.
A few days ago, some peculiar news caught our attention here at Bar Pilot HQ: according to the Guinness Book of World Records, Bowser Beer is the first beery beverage that is 100 percent safe for dogs. These pooch-approved pilsners are free of hops (which can be toxic for animals), carbonation, and alcohol. To simulate that great beer taste and color, Bowser Beer contains B-vitamin rich malted barley.
Bowser Beers come in two distinct styles, the Beefy Brown Ale and the chicken-infused Cock-A-Doodle Brew. Rest assured that these quaffs are fit for human consumption for those occasions when you might mistake an Airedale Ale for that Chocolate Stout you've been waiting to crack open.
But what about our more refined companions, who wouldn't dare sip such bourgeois brew? For those pampered pets who spend their days dozing on down pillows, and chewing up the New York Times Review of Books, Bark Vineyards has got you covered. So the next time you and Woofy Allen are about to sit down by the fireplace for an evening of All Things Considered, uncork a fine bottle of Pinot Leasheo, Sauvignon Bark, or a flavorful Barkundy, all of which are described as "an alcohol free au-jus which is poured over furry friends' meals". You'll know Fido's had enough when he starts going off about the subtle hints of sawdust and orange zest. He may seem like a sophisticated drinking buddy in that smoking jacket, but just remember all those times you've caught him eating out of the garbage. By the by, cats too can enjoy a wee nip of these vinos.
Be advised that classy canine cocktails sell for a pretty penny though, with a six pack of Bowser Beer or a nice bottle of Bark Vineyards running around $19.99. You can find one or both of these products at all All for Paws, LexiDog Boutique & Social Club, Dog Gone Clean and at various Zephyr Farm locations.
DISCLAIMER: While this exciting news may have you and Barkimedes ready to paint the town, we here at Bar Pilot still advise that you to take proper precautions so that you and the pup get home safe and sound. Always secure a reliable DD (Designated Dogwalker) and keep a big bowl of water bedside to stay hydrated and prevent pesky hangovers. Talk about a ruff night.