NEIGHBORHOOD NEWS
Eat Beat Neighborhood News
Top food news stories from around Portland, including food cart closures, a new General Manager for Wildwood, and "healthy" chocolates in Northeast Portland.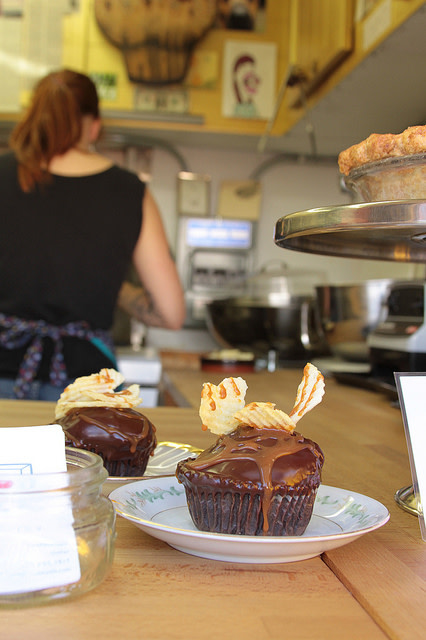 Southeast
Dessert food cart The Sugar Cube (part of the Good Food Here cart pod at 4262 SE Belmont St) is closed for the winter. (Food Carts Portland)
Northeast
The first Missionary Chocolates retail store is opening this weekend. Naturopathic Doctor Melissa Berry's vegan, gluten free, and allergy-friendly truffles can soon be found at 2712 NE Glisan St. The coconut milk truffles come in flavors like Meyer Lemon Explosion, Trailhead Espresso, and Spicy Cinnamon Chipotle. (Eat Beat Neighborhood News)
Northwest
Pok Pok and Ping's Andy Ricker will be headed to Brooklyn to open the first Pok Pok location in New York City, Pok Pok Ny (a second Ricker outpost, Pok Pok Wing, is coming to the Lower East Side). Due to the demands of East Coast expansion, Ricker has announced that he will minimize his role as owner/operator at Chinatown's Ping. Ricker will remain "executive chef and advisor" but has handed over day-to-day operations to partners Kurt Huffman and John and Janet Jay. (Eater PDX)
Cana Flug—owner of the popular Northwest 23rd eatery Besaw's be the new general manager at Northwest 21st farm-to-fork institution Wildwood. Flug—known for her commitment to seasonal, local, and comforting food and drink—will continue as Besaw's owner as she oversees Wildwood's front of the house activities, including including the drink program (along with Sommelier Savanna Ray). (Eater PDX)
North
Nuevo Mexico — the New Mexican food cart at North Portland's Mississippi Marketplace pod – has closed. The cart, owned by Jesse Sandoval (former drummer for The Shins), served up sopapillas and chile verde for two years. (Food Carts Portland)
'Burbs
Bo Kwon— owner of Korean taco empire KOi Fusion — has opened a brick-and-mortar spot at Bridgeport Village. In addition to his signature bugolgi and short rib tacos and burritos, the new food court find features rice bowls and sliders, directly in front of the Village's movie theater. (KOi Fusion)
Got a food news tip? Send it my way at [email protected]!