NEIGHBORHOOD NEWS
Eat Beat Neighborhood News
Top food news stories from around Portland, including a new Heart Coffee location downtown, The Guild Pub's rebirth, and an official opening date for Aviary.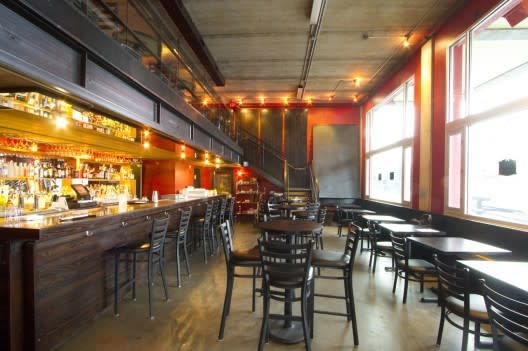 Southeast
Division – Mi Mero Mole, Nick Zukin's new eatery specializing in Mexican guisados is opening on Tuesday, November 29 at 5026 SE Division Street. Get more details on the Mexico City-style stews and stir-fries from our recent interview with Zukin.
Division – Double Dragon, the new banh mi shop from Rob Walls (formerly of Bunk Sandwiches and Momofuku), is opening today at 1235 SE Division St (formerly home to Artemis Cafe). The dine in/take out spot will feature "Portland versions" of the traditional Vietnamese sandwich (translation: local produce and plenty of bacon).
Division – The Woodsman Tavern (4537 Southeast Division St) is opening for brunch on Saturday, November 26. Full details (including a sneak peek of the country-style menu) can be found here on Eat Beat.
Northeast
E. Burnside – The recently-shuttered Guild Public House will be re-opening in December, as reported by the Willamette Week (1101 East Burnside St). The new owners—Bartender Justin Atkins (of Vintage Cocktail Lounge), Chef Kenny Hill (of Trebol), and beer program director Daniel Roy—will keep the name and update the interior and concept (think pinball machines and a sportier vibe along with beer/spirit pairings and beer flights).
Alberta The long-awaited return of Aviary (1733 NE Alberta St.) is set for Tuesday, December 6, and a full bar is set to debut 2-3 weeks later in an adjoining space (a former salon that was also damaged in the infamous 4th of July fire). The bar program will be managed by Ross Hunsinger, formerly of McMenamins' Kennedy School.
Southwest
Stark – According to the Willamette Week, a new Heart Coffee Roasters location is set to open at West End Bikes this week (1111 SW Stark St). This will be the coffee roaster's second location.
North
Mississippi – Interurban, the new tavern from John Gorham (of Toro Bravo and Tasty N' Sons), Dan Hart (of Prost!) and Kurt Huffman (the powerhouse restaurateur behind Portland hot spots Grüner, St. Jack, Wafu, Oven & Shaker and more) is set to open December 1st at 4057 N. Mississippi Ave (formerly home to Lovely Hula Hands). According to the Oregonian, the "new American saloon" is set to serve rotisserie meats, fish and chips, and shepherd's pie with an extensive beer selection and on-tap wines daily from 4 pm to 2 am.
'Burbs
Newberg – One of wine country's top dining destinations, the Painted Lady in Newberg (201 S. College Street), has just received 4 AAA diamonds. The designation makes the fine-dining establishment—owned by husband and wife team Chef Allen Routt and Jessica Bagley—AAA's highest rated restaurant in Oregon.
Got a food news tip? Send it my way at [email protected]!