FOOD AND DRINK EVENTS
Eat Beat Weekly Planner
Our digest of Portland's top upcoming food and drink events, including beer pairing dinners, cookie and cocktail class overlooking the Columbia River, and an all-day celebration of the macaron.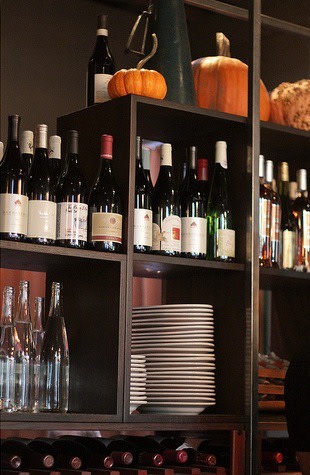 Here's this week's list of upcoming food, beer, and wine events to help you stay in the know.
Portland Food Adventures at Cocotte
What: Next up in the popular Chef's Choice dinner series from Portland Food Adventures, an interactive six-course meal with chefs Kat Liebman and Zoe Hackett of NE Killingsworth's Cocotte. Diners will enjoy the modern and cozy French eatery's signature flavors and chat with the chefs about their favorite Portland eateries.
When: Wednesday, November 16 at 6:30.
Where: Cocotte 2930 NE Killingsworth St.
How Much: $125 per person, including all food, drinks, and gift certificates to DOC, Yakuza Lounge, Brasserie Montmartre, Grain & Gristle, and Broder. More information and tickets available here
Bar Avignon End of the Year Wine Sale
What: Taste and purchase bottles of this year's Beaujolais Nouveau, and find outrageous deals on ten cases of wines that have been featured on the Bar Avignon wine list, hand-picked by owner and wine director Randy Goodman. Find the perfect bottle for Thanksgiving dinner and holiday gifts at steep discounts.
When: Saturday, November 19th, 4 to 6 pm.
Where: Bar Avignon 2138 SE Division Street; 503.517.0808
Salty's Cocktails and Cookies Class
What: A fall event for kids and "big kids" overlooking the Columbia River. Kids will make and decorate five holiday cookies, and kids-at-heart (21+) will learn to make three creative holiday cocktails, including the Almond Joy, the Raspberry Beret and a classic Ginger Hot Toddy.
When: Saturday, November 19th, from 3 to 4 pm.
Where: Salty's on the Columbia 3839 N.E. Marine Drive
How Much: $5 for kid's cookie class, $25 for adult cocktail class (including snacks, cocktails, and a souvenir shot glass). For reservations call 503.288.4444.
Olympic Provisions' Spanish Harvest Wine Dinner
What: A five-course Spanish meal at Olympic Provisions' flagship location paired with Spanish wines from Penedes, Rioja, and Rias Baixas. Dishes are set to include a salchichon board with warm goat cheese and pickled quince, beef carpaccio with sunchoke and anchovy, paella with seafood, chicken, and chorizo, and churros—yes, churros—with drinking chocolate.
When: Sunday, November 20 at 6 pm
Where: Olympic Provisions Southeast 107 SE Washington
How Much: $55 dinner, $35 optional Spanish wine pairing. For reservations, email [email protected]
Burnisde Brewing Harvest Beer Dinner at Paragon
What: A five course harvest menu from the Pearl District's Paragon Restaurant, paired with seasonal ales from Burnside Brewing. Dishes will include butterscotch bacon with Hama Hama oysters (paired with Oyster Ale), squash and apple tart with Rogue blue cheese and wort buerre (paired with Burnside Alt), pickled salad with cucumber, carrots, beets, kohlrabi, and farro (paired with Sweet Heat), smoked and beer-brined turkey breast with hop stuffing and beer-braised green bean casserole (paired with Gratzer), and pumpkin cheese cake with wort caramel (paired with Permafrost winter ale).
When: Tuesday, November 22 at 6:30 pm.
Where: Paragon Restaurant 1309 NW Hoyt
How Much: $65 per person, all inclusive. To make a reservation, call 503-833-5060 or email [email protected]
Pix Pâtisserie's La Fête du Macaron
What: An all-day (and night!) celebration of the French macaron, including more than thirty macaron flavors (including chocolate, pistachio, fleur de sel caramel, and creative flavors like 10-year Tawny Port, coconut curry and apple pie), a contest to pick the next Pix macaron flavor, and a "Cupcake Stomp" to inspire America to "move on from the cupcake craze."
When: Saturday, November 26th from 10 am to 2 am.
Where: Both Pix Pâtisserie locations: 3901 N. Williams Avenue and 3402 SE Division St.
How Much: Free macaron for cupcake stompers, all day food and drink specials. For more information, call 503-232-4407.
Dishcrawl's Sandwich Showdown in Nob Hill
What: A progressive dinner issuing a challenge to three Northwest Portland sandwich shops, including Kenny & Zukes Sandwichworks (dishing up Reuben sliders with Pastrami, swiss, kraut and russian grilled on rye), PBJ's Grilled (offing the Oregonian with challah, Marionberry jam, Rogue Creamery blue cheese, and hazelnut butter and the Spicy Thai with challah, orange marmalade, sriracha, fresh basil, curry, and peanut butter), and Lela's Bistro (serving a Beef Bulgogi Banh Mi with housemade Kim Chi). Dessert will be ice cream sandwiches from What's The Scoop? (scheduled to open a brick & mortar location summer 2012).
When: Tuesday, November 29 at 7 pm.
Where: Northwest Portland
How Much: $26 per person, tickets can be purchased online.
Know about a great event coming up that should be on our radar? Shoot me an email at [email protected] or give me a shout over on Twitter at @allisonejones. Now get out there and start eating!