FOOD AND DRINK EVENTS
Eat Beat Weekly Planner
Our digest of Portland's top upcoming food and drink events, including "Portland Tacos", multi-course feasts, and a one-of-a-kind job fair for foodies like you.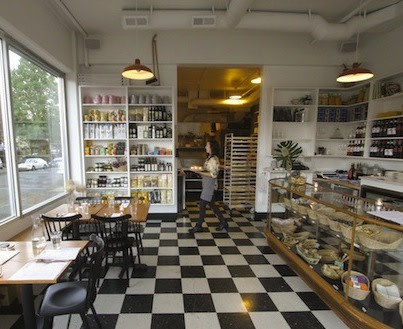 Sure, now that the time has changed the sun goes down as soon as it rises, but that doesn't mean these autumn days should be boring! Here's this week's list of upcoming food, beer, and wine events to help you stay in the know.
Modi?ed Style Portland?s Cinque Portate Festa at Luce
What: A Five Course Italian Feast at Luce, chef John Taboada's new East Burnside restaurant, to benefit Modified Style Portland, a local group that supports nonprofits through art and fashion. Dishes will be prepared by chefs Taboada and John Wills (formerly of Navarre), and will be paired with selections from Angel Vines Wines. The event will also feature an opportunity to purchase designs from previous year's fashion shows.
When: Saturday, November 12th, doors at 6 pm
Where: Luce, 2138-2140 E Burnside St.
How Much: Five course and wines for $95 (which also includes a ticket to the May 2012 fashion show). For tickets, email [email protected] or call 503-679-8177.
Red Ridge Farms Pre-Holiday Taste Fest
What: A pre-holiday open house at this popular one-stop shop in Oregon's wine country. Sample local olive oil from the Oregon Olive Mill, flights of wines from Durant Vineyards, culinary lavender, one-of-a-kind salts from The Meadow, gourmet appetizers, and treats from artisan producers from Oregon and beyond. The event will feature themed food tables and plenty of free samples to get you in the mood for gift giving—think roasted squash soup topped with smoked sea salt and hazelnuts, sundried tomato and porcini pasta, specialty hot chocolate, and lavender cookies.
When: Sunday, November 13th from 1 to 4 pm.
Where: Red Ridge Farms 5510 NE Breyman Orchard Road, Dayton, Oregon.
How Much: $10 per person, including a flight of Durant Vineyard wines, plenty of appetizers, and 10% off everything in the store.
PoachedJobs.com Portland Food and Drink Industry Job Fair
What: A job fair for the foodiest among us. Ever wanted to do more than read about Portland's food scene? Get into the action yourself at the PoachedJobs.com Jobs Fair, connecting food service industry types with the bar and restaurant jobs that suit them. Meet directly with and get valuable resume tips from hiring reps from Portland's top restaurants, coffee shops, bars, caterers, and more—and apply for your food handler's and OLCC permits on-site. Representatives from Olympic Provisions, Produce Row, Por Que No, Clyde Common, Broder, Biwa and more will be on hand to answer your burning employment questions.
When: Monday, November 14 from 6 to 8 pm.
Where: Spirit of '77 500 NE Martin Luther King Jr Blvd
How Much: Free
Portland Food Adventures at Cocotte
What: Next up in the popular Chef's Choice dinner series from Portland Food Adventures, an interactive six-course meal with chefs Kat Liebman and Zoe Hackett of NE Killingsworth's Cocotte. Diners will enjoy the modern and cozy French eatery's signature flavors—think housemade charcuterie, escargot, braised pork belly, and the milk-fed Poulet en Cocotte—and chat with the chefs about their favorite Portland eateries.
When: Wednesday, November 16 at 6:30.
Where: Cocotte 2930 NE Killingsworth St.
How Much: $125 per person, including all food, drinks, and gift certificates to DOC, Yakuza Lounge, Brasserie Montmartre, Grain & Gristle, and Broder. More information and tickets available here
Serratto Winemakers Dinner with Belle Pente
What: An autumnal pairing feast from Serratto chef Tony Meyers featuring seared scallops with buckwheat blini and caviar, quail stuffed with chanterelles, sausage, and apples, and Bouef Bourguignon braised in Pinot Noir. Winemakers Jill and Brian O'Donnell of Belle Pente Winery will be on hand to answer questions about their origins and this year's surprising harvest.
When: Wednesday, November 16, 2011 6:30 p.m.
Where: Serratto 2112 NW Kearney St.
How Much: $60 per person, including all food, wine, and gratuity. For reservations call 503-221-1195.
Cruzroom Taco Night with Dishcrawl Portland
What: A special taco night at this NE Alberta hub—including an appetizer, three tacos, and cocktail pairings, all for $20. Cruzroom dishes up what they call "Portland-style" tacos, a blend of Mexican, Asian, and Northwest cuisines (like the Outsourced Taco with green curry chicken with Peruvian Aji slaw or the Green Acres Taco with roasted pork belly and apple slaw with cotija cheese) along with house-infused cocktails (think double fig scotch, blueberry and black tea vodka, and cucumber soju. Cruzroom is teaming up with local foodie party-planners Dishcrawl Portland for a night of unique eats and drinks.
When: Wednesday, November 16 at 8 pm
Where: Cruzroom 2338 NE Alberta St.
How Much: $20 for a starter, three tacos, and cocktail pairings. Tickets are available here.
Know about a great event coming up that should be on our radar? Shoot me an email at [email protected] or give me a shout over on Twitter at @allisonejones. Now get out there and start eating!