SNEAK PEEK
Get Ready for Oven and Shaker
Three reasons to get excited about Portland's soon-to-open pizza and cocktail experiment.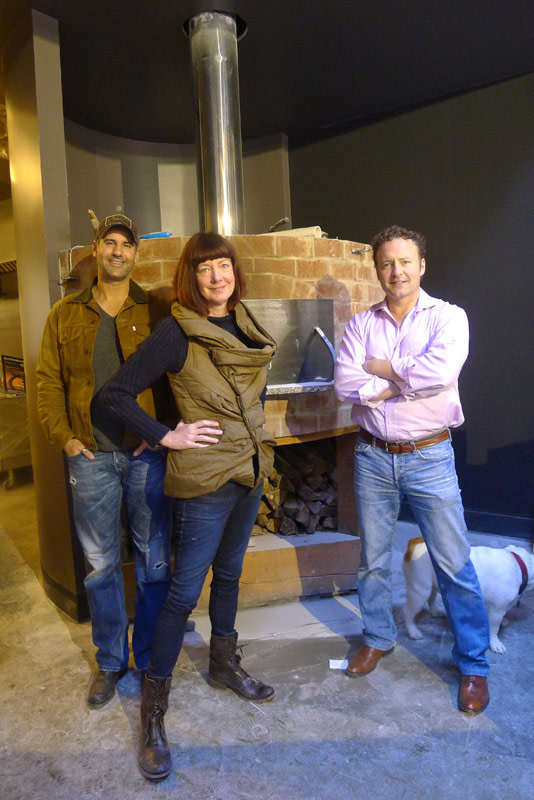 In two weeks, an intriguing partnership will unveil a glimpse of the next iteration of Portland restaurants: dream team collaborations. Oven and Shaker is finally set to open November 29 at 1134 NW Everett Street in the Pearl District, with a new take on Italian-noshing, cocktailing, and think-tanking led by diverse talents bringing a specific expertise to the table.
The new enterprise comes from pizza goddess Cathy Whims of Nostrana, new-think restaurateur Kurt Huffman (whose ChefStable indie talent-scouting company is hotter than a wood fire), and cocktail mover and shaker Ryan Magarian, co-founder of Portland's Aviation Gin and a booming bar consultant.
We peeked inside their hearts and minds and work-in-progress space to glimpse what we might expect. To begin, that includes 3,200-square-foot space framed by obsidian-colored walls, the backsplash to neatly tucked retro motel banquettes, a whopping 45-foot-long bar, free-floating tables to hold elevated pizza stands, and burning bright in the corner, the Bentley of Italian wood ovens.
Here's three other reasons to put Oven and Shaker on watch:
1) Cathy Whims at the deep fryer! In all her years of cooking, including a reign at Genoa and her home kitchen, Whims has never owned a deep fryer. For the first time, she's stepping into the world of crispy crusting goodness, taking immersion in Sicily as inspiration. The results? The menu will host a world of frito mistos and arancini (crispy saffron rice balls) that that will eventually extend to the dessert arena.
2) Playful Neopolitan pizza; hold the scissors: Whims is sticking by her slow-rising, sourdough-tingling, Neapolitan crusts—the tastiest in town. But Oven and Shaker is her fun lab, not simply a showcase for classical treatises. From a changing list of nine or so pizzas, that means imaginative Oregon market-meets-Italy combos like fresh pear and ham or roasted squash, escarole, spiced walnuts, and cream cheesy Crescenza Stracchino cheese. Also gone is Nostrana's authentic but maddening cut-your-own tools. No more knives big enough to frighten Jack Bauer or scissors. These pies will be sliced to order. Sometimes un-authentic is OK.
3) The return of fruit-loving drinks: though he consults on bar openings around the country and helped train some local standouts like St Jack's Kyle Webster, Magarian, for the first time, is shaking his own vision and not his clients'. He knows (and honors) Portland's cocktail history, from the fun, fruit-forward style favored by early pioneers like Saucebox and Mint to the more austere, intellectual style of today's "mixologists." Magarian is looking for the fairway between the two, but sights balance and food-friendly as his key ingredients. We'll drink to that.