Beer Bulletin
Hail, Hail Winter Ale
Holiday Ale Festival and then some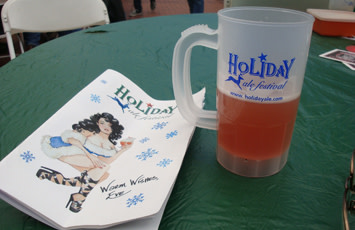 Here's a phrase I never get tired of writing: The 16th annual Holiday Ale Festival gets under way this afternoon at Pioneer Courthouse Square. When the clock strikes two, winter beer worshippers will queue up to get their first tastes of robust brews such as Cascade Brewing's sour sensation Sang Noir, Fort George's Kentucky Girl Coffee Stout (aged in Maker's Mark barrels and infused with Astoria Coffee Company's Working Girl blend), Upright Brewing's Provision (a biere de garde or "beer for keeping" farmhouse-style lager), and Widmer's Peppermint Paddy Porter, enriched with locally sourced peppermint and cocoa powder and cacao nibs.
I'm looking forward to getting reacquainted with Hopworks' Kentucky Christmas, which was among my most cherished chugs from last year. It's a brawnier version of their Abominable Winter Ale, which is aged in bourbon barrels in a secret location guarded by a phalanx of gun-toting rednecks. I'm likewise pleased to see a few lighter offerings this year. Lompoc's Cherry Christmas (5.6 percent ABV), Ninkasi's Little One (5.7 percent), and Breakside Brewery's Cranberry Biere de Table (a modest 3.3 percent) will be on tap to serve as a welcome change of pace from the brutal majority of 8-10 percent ABV woolly mammoths that the fest is famous for. There will also be 16 or so highly coveted limited-edition small-batch beers that will come and go very quickly, including Hair of the Dog's Jim, a blend of four of brewmaster Alan Sprint's finest beers.
Let's not forget the fundraising component of the Holiday Ale Festival. Proceeds from the bag and coat check, a "need not be present to win" raffle, and tips from sips for Crater Lake Root Beer, will all go to the Children's Cancer Association.
Need a break(fast) from all that tippling? On Sunday from 11-1, you can try to wrangle a spot at the 2011 Beer Brunch, which takes place at the upper Sky Bar tent. Here, you can tarry over an assortment of cheeses from Willamette Valley Cheese Co, fresh fruit platters, raspberry croissants, an assortment of pastry, granola, yogurts, and, of course, more exclusive ales.
Normally, five days of strong suds would be enough for anyone, but if you find yourself still hankering some additional hops, be advised that Saturday, Dec 10 is Amnesia Brewing's own Winter Ale Fest, a smaller shindig with several specialty brews from Amnesia, as well as pours from Burnside Brewing, Lucky Lab, Migration, and Double Mountain, among others. Good tidings, for sure!