OPENING WEEK
Inside Boke Bowl's Brick-and-Mortar
After a year of pop-up events at hot restaurants around town, the ramen masters are settling down in Portland's Industrial Southeast—and they're ready for the crowds.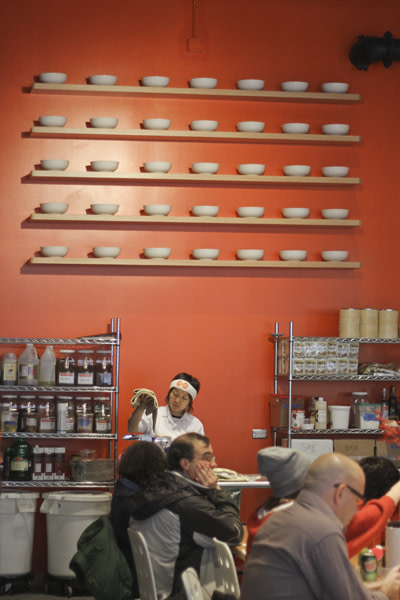 Add another tally to the Industrial Southeast's column on the big chalkboard of so-hot-right-now neighborhoods, because Boke Bowl's brick-and-mortar is open for business at 1028 SE Water Avenue (next-door to Bunk Bar and around the corner from Water Avenue Coffee).
They've timed their opening perfectly with the seasons—what could be better on a rainy Portland afternoon than a hot bowl of broth, homemade noodles, and customizable comfort-food toppings? The 1,620 square foot, 50-seat eatery features casual counter service, communal tables, and open kitchen, and live noodlemaking so you can place your order, grab a seat, and watch the magic happen before digging into steaming bowls of ramen with seemingly endless flavor combos. The signature handmade noodles and generous servings of seasonal veggies mean this is certainly ramen to write home about.
Team Boke—including Patrick Fleming, Brandon Riceci, and Tim Parsons—have been busy dreaming up plenty of complementary bites to go along with the big bowls of ramen, including pork and eggplant steamed buns, seasonal pickles (like the ultra-addictive pickled Shiitake mushrooms) and desserts like vanilla bean miso soft serve ice cream and housemade miso Twinkies.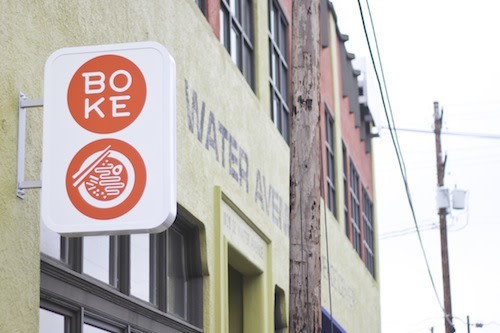 In this food world of micro-bistros and food carts, it is certainly refreshing to see a casual dining spot with truly quality food open up in a space that can seat more than twenty diners. With fast service, ample seating, and an every-diet-friendly menu (with vegan, gluten free, kid-appeasing, and carnivore pleasing options) you can actually get in and get out on your lunch hour—and that's a tasty thing indeed.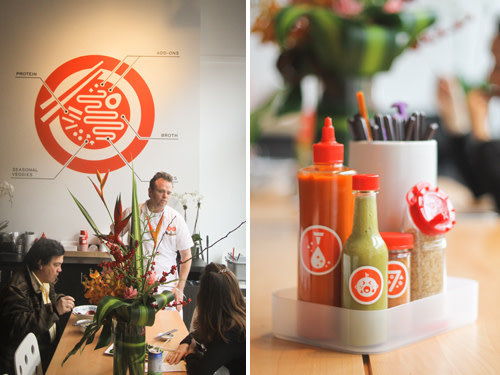 The cohesive orange-powered space and branding work was painstakingly produced by Portland-based designers Tyler and Elsa Lang of Always With Honor. They tackled everything from the giant what-goes-in-ramen wall art to the crying baby labels on the housemade hot sauce.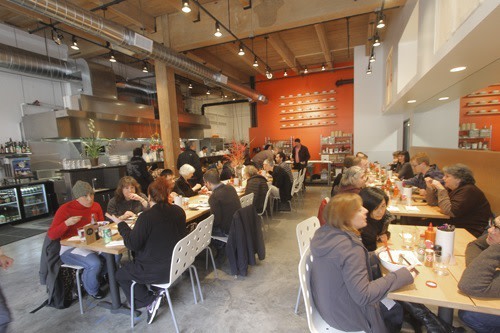 The ramen eatery is starting with lunch service only, open 10 am to 3 pm Monday through Saturday, but a once-a-week Korean fried Chicken night will be taking over the space on Thursdays from 5 to 10. Think brined, smoked, fried, and sauced birds covered in ginger garlic sauce, served family style. Yum.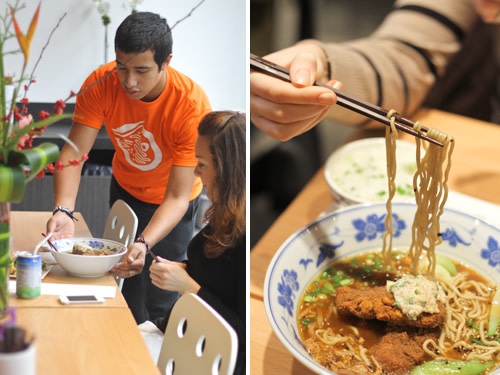 Boke's wall-sized menu allows dinners to choose their broth—seafood miso, pork-and-chicken, or vegan caramelized fennel—and customize their add-ons including eggs, pork belly, cornmeal-fried oysters, Korean fried chicken, and housemade tofu. Bowls start at $8.50, with add-ons ranging from $1-3.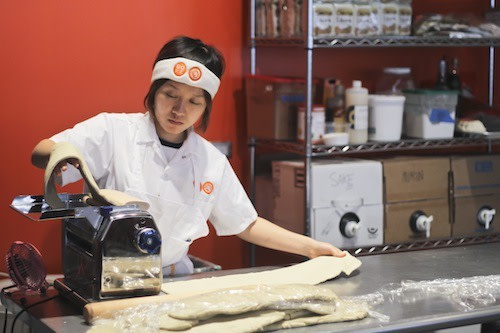 Boke Bowl's noodles are handmade daily, bringing their ramen to new heights only dreamed of by college dorm noodle-in-a-cup nukers.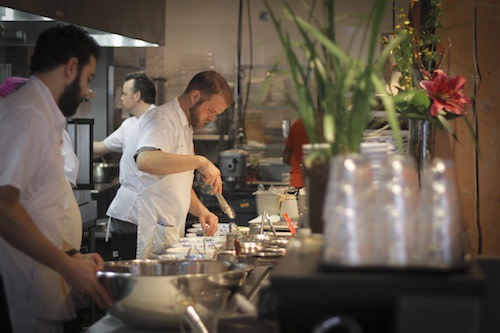 With an assembly-line kitchen staffed with talented cooks, Boke Bowl is able to whip out bowl after bowl of customized ramen, cutting down on wait times (a boon for the diner and the owners).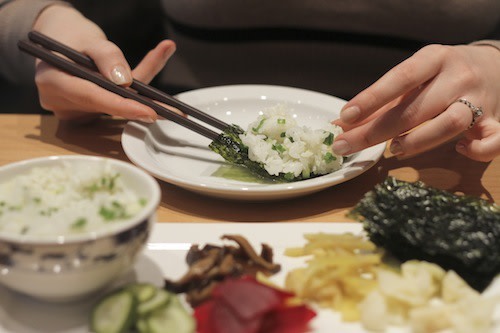 For just $6, you can get a DIY treat—a big plate filled with Boke's signature rice, a variety of seasonal pickles, and glistening sheets of laver seaweed to make handheld rolls that are a little salty, a little sour, and a lot delicious.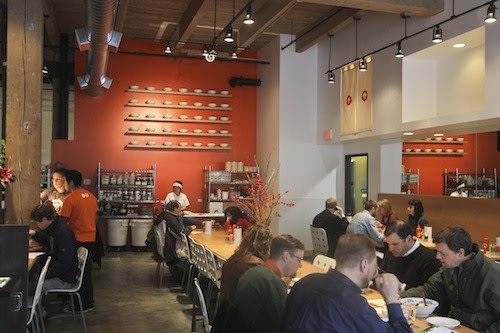 Boke Bowl
1028 SE Water Avenue
Portland, OR 97214
Lunch: 10 to 3 Monday to Saturday
Sign up for the Boke Bowl newsletter to be notified when the Boke Bird fried chicken nights are set to launch.