NEIGHBORHOOD NEWS
Neighborhood News
Top food news stories from around Portland, including the opening of Tanuki 2.0 in Montavilla and "Ace of Cakes" Duff Goldman in Boring, Oregon.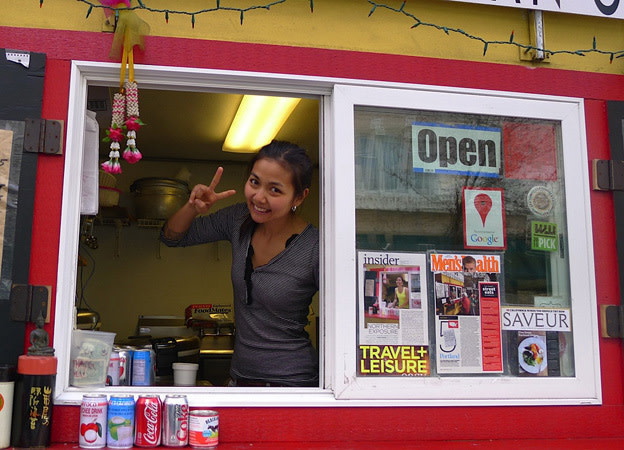 Southwest
PSU – As promised earlier this month on Eat Beat, the second location of Nong's Khao Man Gai is now open at the PSU cart pod (411 SW College Street). Owner Nong Poonsukwattana is extending her signature one-item menu to include dishes like vegetarian khao man gai and a chicken and rice with peanut sauce. The new cart will be open weekdays for lunch, 11am to 4pm.
Southeast
Montavilla – Tanuki is back! Chef Janis Martin's izakaya reopened in its new location at 8029 SE Stark St last week. The new space boasts pinball machines, a retail counter (touting kimchi and bacon-stuffed croissants) and a full liquor license, and will be open Wednesday through Saturday, 5 to 10.
North
Killingsworth – Mextiza, the second eatery from Autentica chef and owner Oswaldo Bibiano, opened for lunch and dinner on Monday at 2103 N Killingsworth (in the same building as the Old Gold bar). The space will serve regional dinner specialties and $8.50 lunch specials (think traditional chicken enchiladas in guajillo sauce, rotisserie chicken, and fried lengua sandwiches) seven days a week.
Mississippi – The opening of Interurban, the new tavern from John Gorham (of Toro Bravo and Tasty N' Sons), Dan Hart (of Prost!) and restaurateur Kurt Huffman, has been delayed due to an electrical fire on Sunday Morning. The space at 4057 N. Mississippi Ave sustained over $100,000 worth of damage, and the December 1st opening will be pushed back at least a week (and could be delayed as much as a few months). Stay tuned for more info as it comes in.
'Burbs
Boring – This one's just too weird not to share, so stay with me here. Old Navy will be throwing a big (free) party in Boring, Oregon at 1 pm this Sunday, December 4th. They're bringing in Duff Goldman (star of Ace of Cakes) to make a giant funfetti cake and funk musician Bootsy Collins to jam with the Boring Elementary School Band, all while giving away Old Navy fleece. Seriously. Head to Boring Middle School's Athletic Field (27801 S.E. Dee St., Boring, OR) to check out the insanity.
Got a food news tip? Send it my way at [email protected]!