SNEAK PEEK
Noisette
Next week, former Portland star chef Anthony Demes unveils his anticipated new restaurant Noisette in Northwest Portland. Here's our field report on what to expect.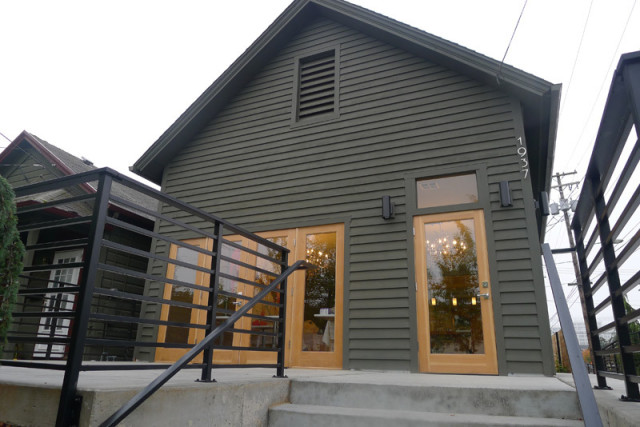 Last time we saw Anthony Demes he was cooking his heart out at Couvron on SW 18th Avenue, with seven-course contemporary French tasting menus and towering dishes constructed like Frank Lloyd Wright's harmonious walls. From 1995 to 2002, Couvron stood as Portland's premier special-occasion destination, the kitchen's $75-a-head baroque food parade as expensive as it got in these parts. By the time Demes bolted for bigger pastures a few years later, he had more awards than Patton: perfect Zagat scores, four diamonds from the AAA, Wine Spectator awards of excellence.
Now, after cooking detours in New York, Michigan, and, most recently, Washington (at the micro-seasonal temple the Herbfarm), Demes is back in Portland. Noisette, his new 40-seat restaurant, opens next week at 1937 NW 23rd Pl. The makeover space, an elevated "house" bordered by car-zooming Vaughn Street and still under construction, boasts a new interior of abstract art, wood floors, and blingy chandeliers. Previously, a couple doomed restaurants made a run at this location.
Demes left here as a major talent, when the city was blossoming as a farm-to-table stronghold led by Paley's Place, Higgins, Castagna, and Wildwood. Now it's a new ball game, with more competition and higher expectations. Anticipation is also high, as Demes stakes out turf still up for grabs: a taste of luxury. Noisette just might be the New Hurley's.
An early menu draft hints at Demes' new thinking. Contemporary French, with plenty of small plates (around $7–14) as well as blow-out pre-fixe menu options. The approach is more flexible and more modern than it was at Couvron. I noted plenty of rooty purees; reduced red wine and cognac sauces to pair with duck and short ribs; and the welcoming possibility of old-school soufflés, a rarity in this town. But there are also newer influences, like fluke ceviche with roasted walnuts and breadcrumbs, and barley "risotto" with miso and green onion butter.
From the a la carte list of "cold" and "hot" dishes, diners will set their own pace. Noisette plans to welcome the diner in search of one dish and a glass of wine as well as the blow-out eater willing to plunk down $40–70 to let the man go to town on five or seven courses.
"I don't want it to feel super expensive," says Demes. "But it's not far from what I've done. Not too weird, not crazy flavors. It's my food, what I eat."