FOOD CART WATCH
Nong's Khao Man Gai at PSU
With a new location, Portland's famed Thai vendor debuts new dishes and soon, Nong's Khao Man Gai Sauce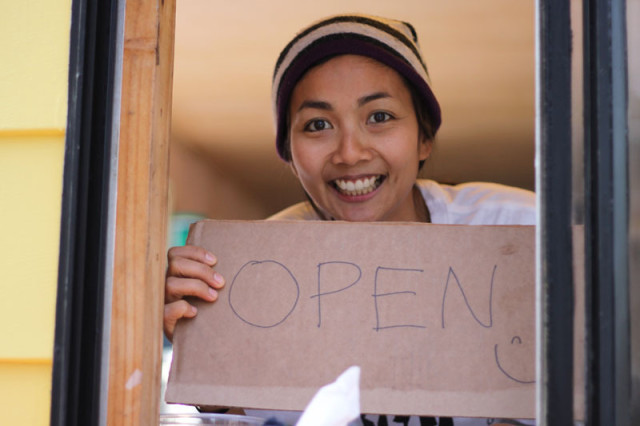 The power drills were still humming, and the closed windows looked desperate to slide open and breathe fresh air on SW College Street. On Monday, the new outpost of Nong's Khao Man Gai looked as dead as a Thanksgiving turkey at noon. But steps around the corner on SW Fourth Avenue, a cardboard sign with a hand-drawn smiley faced announced "Open," and Nong Poonsukwattana popped her head out of a tiny take-out window, looking super excited—and positively terrified—over her food cart expansion. "Thank you for coming," she called out to a cluster of regulars while flashing peace signs and saying to no one in particular: "The kitchen is soooo big, you won't believe it."
As Eat Beat reported in November, Nong Poonsukwattana, the heart-warming face of Portland's DIY food cart scene, has taken her ambition and famed Thai chicken-and-rice show to the student-friendly nexus known informally as the "PSU food cart pod." Nong's V.2 is the launching pad for Poonsukwattana's long-simmering dream: Nong's Khao Man Gai Sauce. The colorfully labeled jars contain the secrets to the concentration of garlic, heat, and heaven that makes Nong's paper-wrapped bundles so addictive. The jars will brighten up the cart in a couple of weeks.
The bright yellow trailer is at least twice the size of Nong's teeny, one-dish operation at SW 10th Avenue & Alder Street. The roomy quarters mean more than elbow room: the new Nong's is a kind of test kitchen for the five-dish brick-and-mortar Poonsukwattana still hopes to open one day.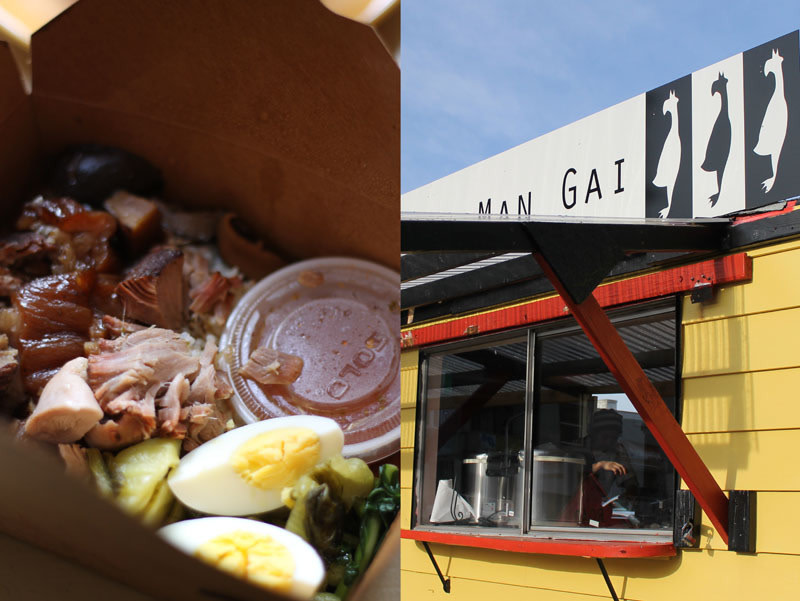 The menu kicks off with Nong's signature khao man gai, but also includes vegetarian khao man gai, khao kha muu (hunks of fatty-edged Coca Cola-braised pork sided by rice, hard-boiled egg quarters, pickled mustard greens, and a potent, add-your-own vinegar sauce), and "Thai Basketball Mom's Chicken Wings" (a homey stew of fall apart meat in slow-cooked tomato sauce with a gentle tingle of sriracha and garlic heat and a mass of rice to soak up the juices).
All dishes are $6.50, but fried chicken skin, a delicacy prized by Nong's regulars, is yours for a buck.
Nong's Khao Man Gai
PSU
411 SW College St
503-432-3286
Downtown
SW 10th Ave & Alder St
971-255-3480
Both locations: Mon–Fri 10–4 or until sold out