BREAKING FOOD NEWS
Nong's Khao Man Gai Grows
Portland's prominent food cart plans a late November expansion with a second cart at the PSU pod and a sauce line.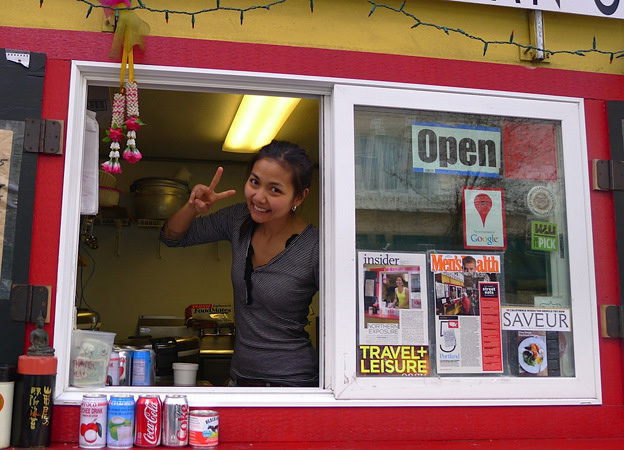 As winter looms, Portland food carts are seeing a spate of shuttered windows, some on winter hiatus, others throwing in their tiny kitchen towels.
But one cart is thinking big, rain or not: Nong's Khao Man Gai.
Eat Beat has learned that star cart owner Nong Poonsukwattana is taking her outstanding Thai chicken-and-rice show to the student-friendly nexus at SW College Street & Fourth Avenue, known informally as the "PSU food cart pod." Tentative opening date is late November.
According to Nong, an ever-beaming presence, the new cart will take a space formerly housed by the Burger Jerk, nearly double the space of Nong's teeny downtown operation at SW 10th Avenue & Alder Street. Nong's V.2 will act as the springboard for Poonsukwattana's long-simmering dream: Nong's Khao Man Gai Sauce. The colorfully labeled jars contain the secrets to the concentration of garlic, heat, and heaven that makes Nong's paper-wrapped bundles so addictive.
While Nong's has been known as a one-dish wonder, the PSU menu will expand slightly, with a vegetarian khao man gai and a chicken and rice crowned by peanut sauce.
Poonsukwattna's long-time search for a brick-and-mortar eatery has been fruitless so far. She's eager to grow her business, and feels a connection with the student population, especially the young Asians who now ride the street cart from the campus to SW Alder Street.
"I'm ready to grow, to do it my way," say Poonsukwattana. "I don't want to be underground forever."
Judging by Nong's loyal fans and growing media attention, including yesterday's visit from The Food Channel's Unique Eats, she need not worry.