Feature
First the Dishes, then the Revolution
In the midst of Occupy Portland's chaos, a vibrant communal kitchen exemplified the protest's boldest goals.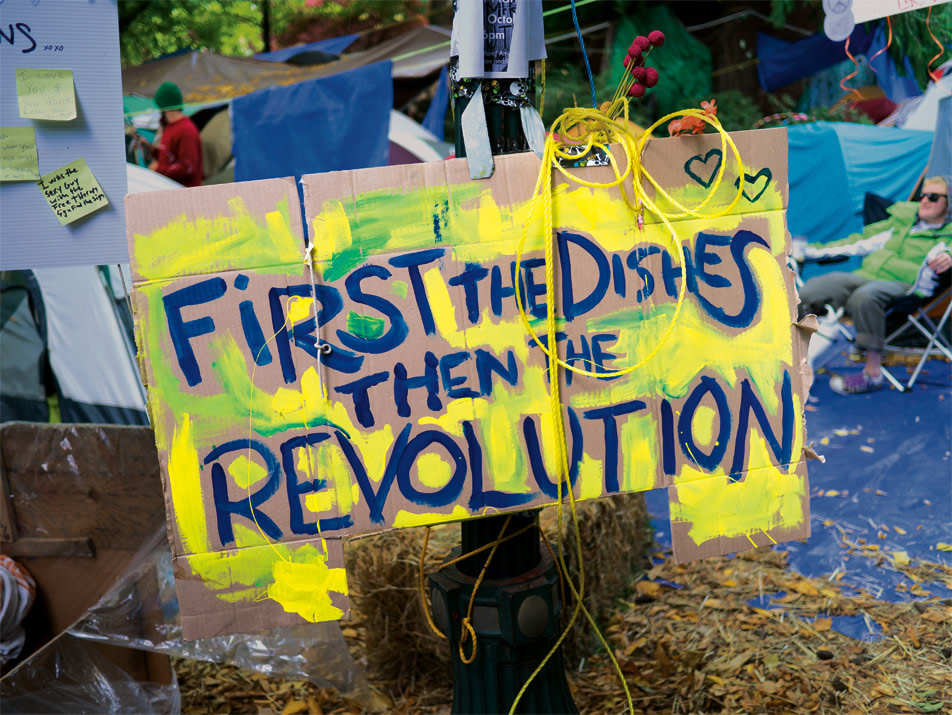 ON THE EASTERN EDGE of downtown Portland's Chapman Square, a statue called The Promised Land rises, a cast-bronze pioneer family striking out for frontier Oregon. Early one evening this October, this intrepid family found itself redecorated with a spatula, the American flag, and a halo of Christmas lights. Nearby, a cardboard sign duck-taped to a lamp read, "First the dishes then the revolution."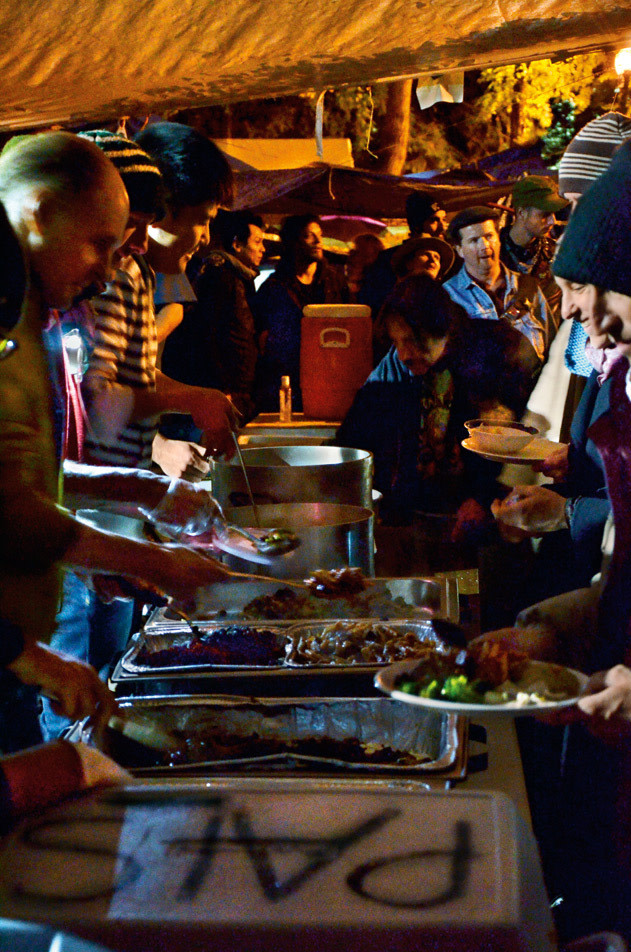 Around the sculpture, volunteers worked in the communal kitchen at the center of the temporary village called Occupy Portland. This night, dinner consisted of a rainbow salad of tomatoes, daikon, olives, and cucumbers; miso soup with bok choy; ginger squash soup; mashed potatoes; and homemade peach applesauce sprinkled with granola. A klezmer punk band warmed up its accordions, a line formed, and dinner arrived on Tupperware lids, chipped ceramic platters, and out-of-season plastic plates featuring Easter eggs and Christmas trees.
The local offshoot of the global movement that began with New York's Occupy Wall Street had transformed Chapman and Lownsdale Squares, ordinarily quiet parks within sight of City Hall, into a dense tent city of several hundred people, complete with library, 24-hour medics, and kids' area. The global Occupy movement's core grievances—financial misdeeds and the increasingly unequal distribution of wealth—struck a chord with millions. As this magazine went to press, however, Mayor Sam Adams served the camp an effective eviction notice, citing drug overdoses and public-safety concerns. Whether Occupy Portland's presence would end in a confrontation with police or in a peaceful evolution of the movement remained to be seen.
What is certain is that at the center of this temporary city, the Occupy Portland kitchen fed the assembled multitude five meals a day—a real achievement, both logistical and culinary. The kitchen's mission statement could have originated in one of Portland's finest restaurants or with Multnomah County's own recent Food Action Plan: to "create and maintain a sustainable food system free from corporate control whose primary goal is the health and well-being of the community, the farmlands, and the water system."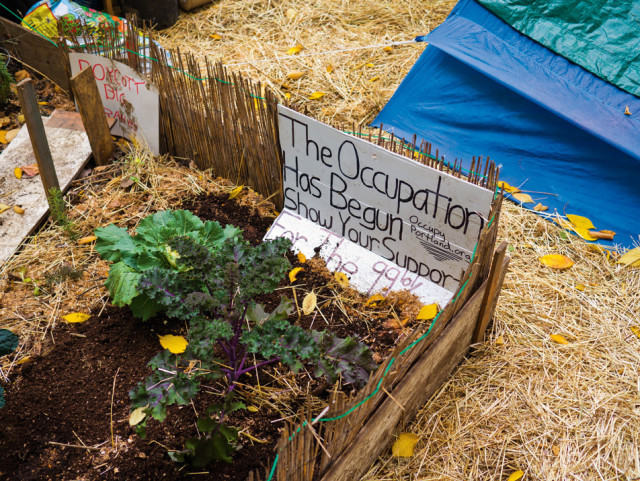 And, yes, the dishes got done afterward. However "the revolution" works out, Occupy's mealtimes emerged as a moment, if a brief one, when this global vision's idealism became manifest.

AFTER Occupy Portland's first march, on October 6, brought thousands of Portlanders to the streets, a smaller group settled at the twin parks. In the heart of downtown's cluster of government buildings, the camp's kitchen boiled vegan whiskey beans over propane-powered spider burners. A core volunteer team staffed the kitchen, some pulling 21-hour shifts. With a never-repeated menu that included everything from rice pilaf to cinnamon and sugar pretzels, the galley fed as many as 1,000 people on any given day.
The ever-changing crew included a Hot Lips Pizza kitchen manager, a Cordon Bleu culinary student, a farmer from outside Beaverton, activists from the long-running cooperative movement Food Not Bombs, and urban-foraging enthusiasts. Between them, they recruited volunteers, shuttled supplies from two off-site storage areas to the parks, and kept the stoves burning. Chris Clich, who helped coordinate the food storage sites, explained the dynamic: "It's been a scramble since day one. We believe everyone has a right to food, so we're feeding everyone."
The kitchen's 25-square-foot floor was made from nailed-together wooden palettes and carpet scraps. A conference table propped up by a barricade street sign held the dish station. A spice rack stocked with sea salt, oregano, and mustard bottles full of vinaigrette dressings leaned against The Promised Land's wagon wheel. A military-surplus tent served as a larder, stocked with pasta, beans, fresh produce, canned vegetables, bread, rice to outlast Armageddon, and dog food.
This bounty came from many sources. Local businesses, like the Spunky Monkey café and the restaurant Portobello, donated everything from coffee to quinoa. One woman baked a huge quantity of apples into two pies in deep-dish pizza pans. An anonymous secretary dropped off leftovers from her company's boardroom during her lunch breaks. A batch of fresh-baked cookies arrived with a note: "This is what democracy tastes like." With no consistent power source, the kitchen tried not to accept perishable goods that could not be used quickly. Waste became compost, picked up daily and dispatched to volunteers' home gardens. Gray water went down the toilets at the parks' public bathrooms.
Occupy's messages free-ranged, from abolishing corporate personhood to taxing financial transactions to ideas far, far beyond. The national movement created no shortage of controversy, including some Portland occupiers' decision, as October rolled into November, to spar with previously tolerant cops and city officials by trying to take over other local parks.
But as the local version of the movement strived to redesign society, the first brick in the new foundation, in true Portland tradition, was a shared meal. The Thomas Jefferson quote at the bottom of the pioneer statue—"We are all now of one family, born in the same land, and bound to live as brothers"—made a fitting hearthstone for a kitchen that held together a village.
"There's a million different ways to connect with people," Clich says. "One of them is putting out healthy food every day. When you're standing in the food line, it doesn't matter how much money you have in your pocket, you're human. And that's an awesome thing."