OPENING NIGHT
Opening Night: Mextiza
Oswaldo Bibiano's second eatery offers regional Mexican cuisine in family-style portions on North Killingsworth, and we've got the photos and first tastes.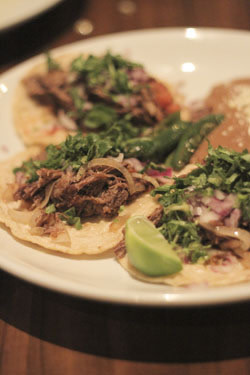 Oswaldo Bibiano's Autentica in Northeast Portland tops many lists of the best Mexican restaurants within Portland city limits, but his second restaurant Mextiza is about to put up a fight for the title.
Set back from the street in the Overlook neighborhood of North Portland, Mextiza feels like the cooler younger sibling of Autentica, the little brother who loved tequila so much he backpacked through Mexico picking up bottles and recipes from home cooks along the way.
While Autentica's menu explores the cuisine of Bibiano's home state of Guerrero, Mextiza offers a delicious tour of the country with dishes from Toluca, Sinaloa, Mexico City, Oaxaca, and more. The result? An all-over-the-map menu of plates that are meant to be shared, with small dishes and generously-portioned entrees that blend spicy, creamy, crisp and tender without missing a beat.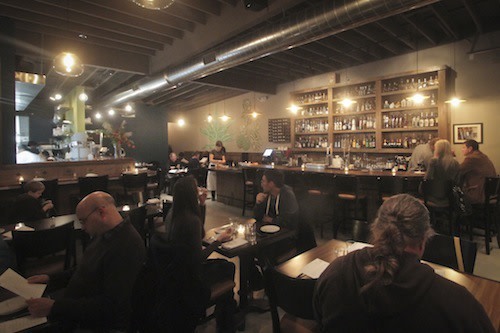 The name Mextiza is a linguistic mash-up of Mexico and the Spanish word mestizo, meaning "of mixed decent". Bibiano's menu offers "Pieces of Mexico", representing the diverse heritage of the country's history, people, and cuisine.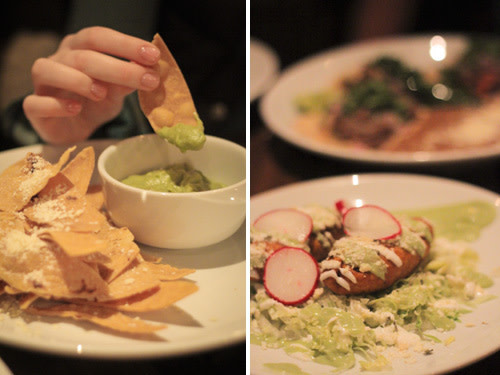 For starters, share an order of Guacamole Oaxaqueño and crunchy tortilla chips, but save some of the green stuff to top off the rest of your order. Another good bet? The Molotes, Oaxacan fried dumplings stuffed with beans, potatoes, spicy chicken, crema and avocado chile sauce ($9).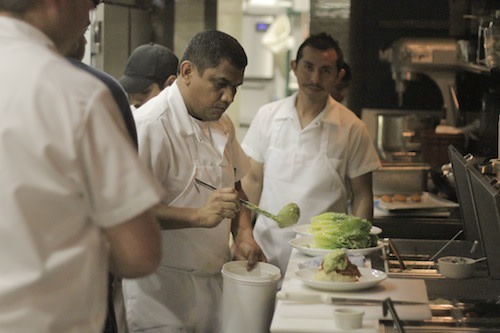 Definitely more fine dining than food cart, the James Beard Award-nominated chef's dishes offer bold flavors and traditional techniques for lunch and dinner. Mextiza's lunch menu is stocked with signature dishes, each for just $8.50.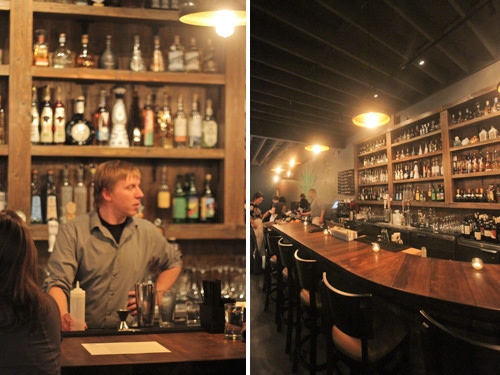 The bar program at Mextiza boasts a never-ending list of tequilas (blancos, anejos, and reposados), tequila cocktails, seven varieties of Mezcal, and a well-curated list of wines and draft beers picked to pair with flavorful Mexican dishes.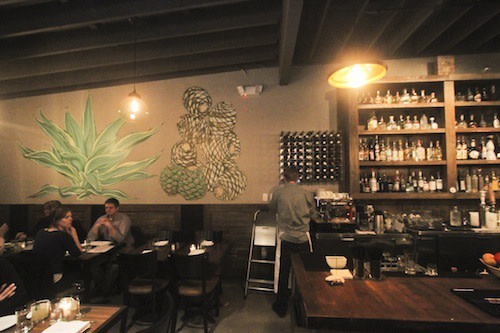 The mural in the rear dining space was painted by local artist Rachel Oleson, who also created the stunning Mexico Tradicional mural on Autentica's patio.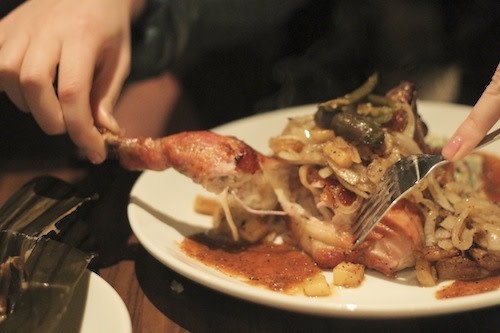 Standout entrees include the braised beef rib tacos (pictured above, served in threes with some of the best refried beans in town for $12) and the fall-off-the-bone rotisserie chicken, served with potato salad and grilled pineapple ($16).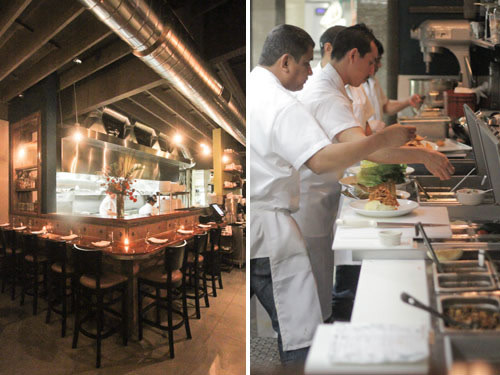 Snag a seat at the chef's counter for a front row view of Bibiano and his team dishing out plate after plate of home-style delights. Insider tip: Grab a tequila cocktail and watch a few rounds of dishes come out, then flag down your server when you see something that makes you drool. It's like a live-action version of those menus with pictures.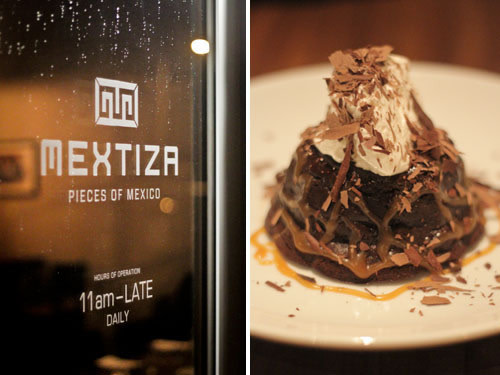 Before you head back into the rain, you've got to try Mextiza's flourless chocolate caramel cake ($7). The eatery's pastry chef is still settling on the dessert menu and trying out different dishes nightly, but this decadent treat is a winner. Grab a few spoons and some friends, because this one's definitely for sharing.
Mextiza
2103 N Killingsworth, 503-289-3709
11 am until late, seven days a week.