FOOD AND DRINK EVENTS
Party Pics: Beaujolais Nouveau at the Heathman
Eat and drink vicariously through my photos of the epic annual celebration of the everyman's French wine—and the rooms of food that came with it.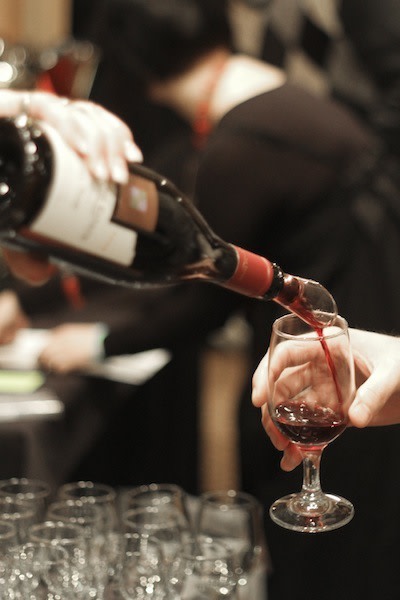 Le Beaujolais Nouveau Est Arrivé!—and I've got the pictures to prove it.
Every year, at midnight on the third Thursday of November, restaurants, wine bars, and bistros around the world open the first of 65 million bottles of fresh and fruity Beaujolais Nouveau—and Portland hosts one of America's largest parties.
Last Friday, hundreds of thirsty revelers packed into the tea court, mezzanine, and banquet rooms of the Heathman Restaurant & Bar for the 10th Annual Portland Beaujolais Nouveau Fête, a collaboration between the French-American Chamber of Commerce and the Alliance Française of Portland.
The event was truly bacchanalian, with food piled high and freshly-pressed wine flowing freely. Mark your calendar for next year's event, Friday, November 16th, and for now, eat up some pics: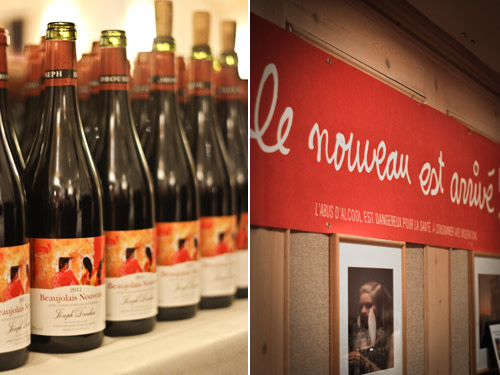 Featured wines include the latest releases from Joseph Drouhin and Georges Duboeuf, and guests will also be able to sample some of Oregon's top wineries, including WillaKenzie Estate Winery and Evening Land.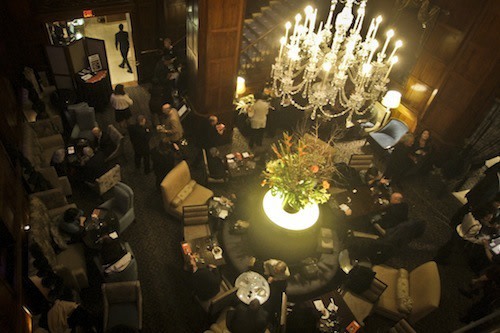 The Heathman's Tea Court was packed with extra chairs and tables to accommodate the revelers, as well as stations set up with wine pours and appetizers (why anyone would need appetizers given the food that was to come is still a mystery to me).
The Heathman's kitchen prepared a whole suckling pig stuffed with house-made chorizo and chicken apple sausage, sliced to order.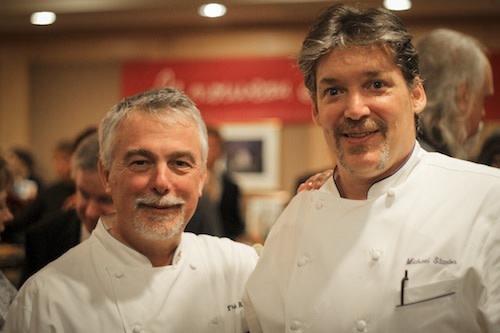 Executive Chef Michael Stanton and Culinary Director Philippe Boulot of the Heathman Restaurant and Bar oversaw the entire culinary production of the night, from the seared foi gras and crispy sweetbreads to the giant pan of paella and aforementioned suckling pig.
An entire room was filled with tables of charcuterie—ham, salami, chorizo, and prosciutto—and dozens of wheels of French cheese, from melty brie to crumbing bleu.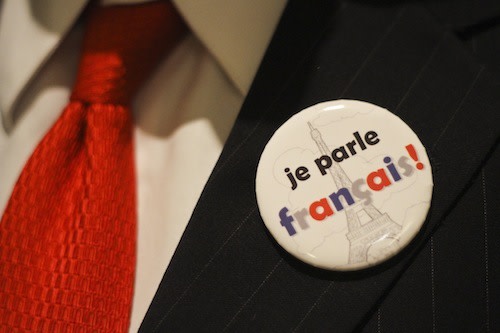 French speakers were given these pins to show their superiority—the event was sponsored by the French-American Chamber of Commerce and the Alliance Française of Portland after all—and non-speakers like me were given kindly pitying looks and another glass of wine.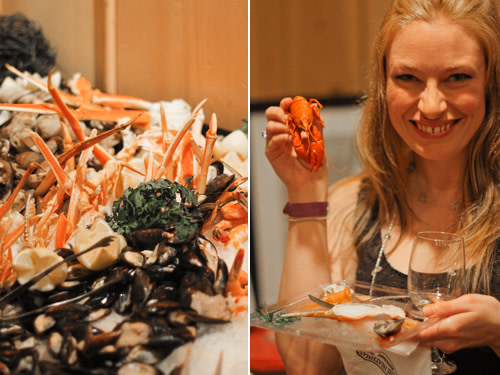 Another room was set up with piles of fresh seafood—huge shrimp, crab legs, mussels, shucked oysters on ice, and crayfish—along with house smoked salmon and a truly giant pan of paella.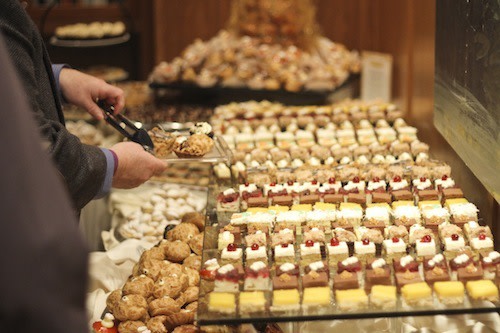 I'm still having dreams about this dessert room. Yes, dessert room. Pix macarons, a spun sugar-clad croquembouche from Saint Honore Bakery, made-to-order Crepes Suzette, mini-cupcakes, and row after row of petits fours of every imaginable variety. I'd like to think Heaven has as good of a dessert selection.
All Images © Allison E. Jones