FESTIVE FOODIES
Pix Patisserie Holiday Tea
Each weekend through the holidays, Pix will be pulling out the fine silver and filling plates with sweet and savory tea-time treats.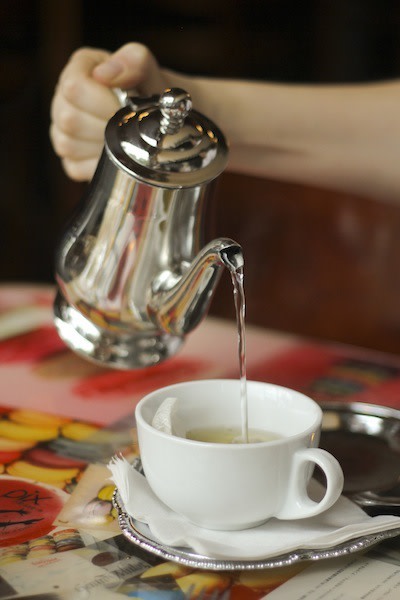 Every once in a while we catch word of a special menu offering that is so cool, it transcends the local/tourist divide. Pix Patisserie's Tea Time is one of those offerings—ideally suited for a group of Portlanders, a gaggle of visitors on a Portlandia pilgrimage, or a combination of both species.
Here's the deal: Each Sunday, Pix is pulling out the schmancy silver, pouring dainty cups of Townshend's Tea, and dishing up a huge plate of sweet and savory tea nibbles, all for $30 a person. The price may seem steep at first, but this isn't your average tea and biscuits—the silver tray of top-of-the-line goodies from Pix and Cheese Bar will fill you up far more than any brunch in town, and you'll feel oh-so-sophisticated as you pour tea from your own personal silver tea pot.
Guests have a whole tea menu to choose from, including Vanilla Rooibos, Créme de la Earl Grey, Market Spice (infused with orange oil and dried orange peel), Kir Royale (a mixture of fruits and berries with a distinct black currant flavor), and plenty more. The tea is presented on personal silver trays with your choice of cream, sugar, honey, lemon, or all of the above, and the hot water keeps on comin'—perfect for a rainy Portland afternoon.
While the tea is everything a hot beverage should be, the real draw here is the feast of festive edibles. Savory treats include soft-boiled quail eggs skewered and wrapped in prosciutto, warm, cheesy gougeres, Marcona almonds, smoked salmon brioche sandwiches and—my favorite—mushroom vol-au-vent. There are even classic crust-less cucumber sandwiches and a healthy portion of cheese from Cheese Bar (which goes very well with Pix chocolates).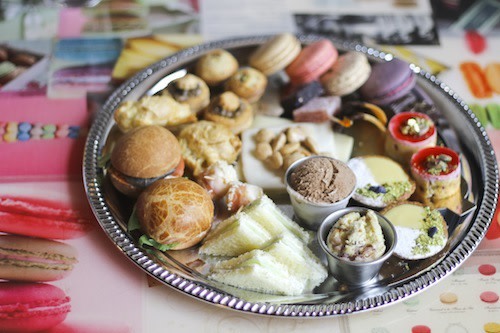 On the sweet side, tea time features a few of Pix's famous macarons, almond financier, chocolate chaud, madeleines, chocolate bon bons, raspberry mousse cake, pate de Fruit, tarte au citron, chocolate-dipped sesame tuile, and even ice cream. They'll keep the ice cream in the freezer for you so it won't melt by the time you're finished with the rest of the platter—but take it from me—once you get to the ice cream, you may want to take it to-go.
If you're feeling extra fancy, Pix has a large selection of sparkling wines and grower Champagne. Yes, tea time is an indulgence, but what else are weekends for? This tea service would be a really fun treat for out-of-town visitors—situated in the heart of North Portland in case you're in the mood for after-tea shopping—and even if you don't have friends or family coming in for the holidays, you can probably think of something to celebrate every weekend.
Time for Tea: Sundays from 11 am to 3 pm at the North Pix Location (3901 N Williams Avenue). Reservations are required, so mark your calendars early. Call 503-282-6539 or email [email protected] before 3 pm each Friday to save your seat.
(Plan ahead: For the month of December, tea will be offered Saturdays and Sundays.)