FOODIE TRAVELOGUE
Andy Ricker's Postcards from Taiwan
When Pok Pok chef Andy Ricker, Portland's foremost Asian food authority and noted street-food-hopping explorer, mentioned he was invited on a tour of the food-loving island of Taiwan, we knew we wanted to hear about every last bite. Ricker created a serie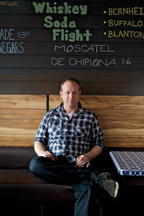 This August I was fortunate enough to be invited on a press junket to Taiwan along with a couple of magazine writers and chef types. This was my second trip to Taiwan, the first being a broke-ass backpacking stopover on my way to Thailand about 10 years ago, during which I did not get a good feel for the place due to my budget constraints and lack of insider knowledge. This time it was the polar opposite: luxury hotels, luxury transport and luxury dining courtesy of the Taiwan Tourism Board. In one week we covered a lot of ground, seeing some beautiful natural wonders (Taroko Gorge), eating dinner half a mile up (Taipei 101) and being marched from place to place on a strict itinerary by our intrepid guide, Johnson. I was impressed by the level of cooking, in flavor, freshness, and presentation. One of our group, Taiwanese Chef Jan, reckoned that during the Cultural Revolution in China most of the best chefs fled the mainland for Taiwan, hence the overall high quality of food. I don't know if this is true or not, but it makes sense to me, and he should know: he grew up apprenticing himself to some of those very chefs. These postcards should give you a little taste of what we were subjected to during the trip. I recommend you go see and taste for yourself. —ANDY RICKER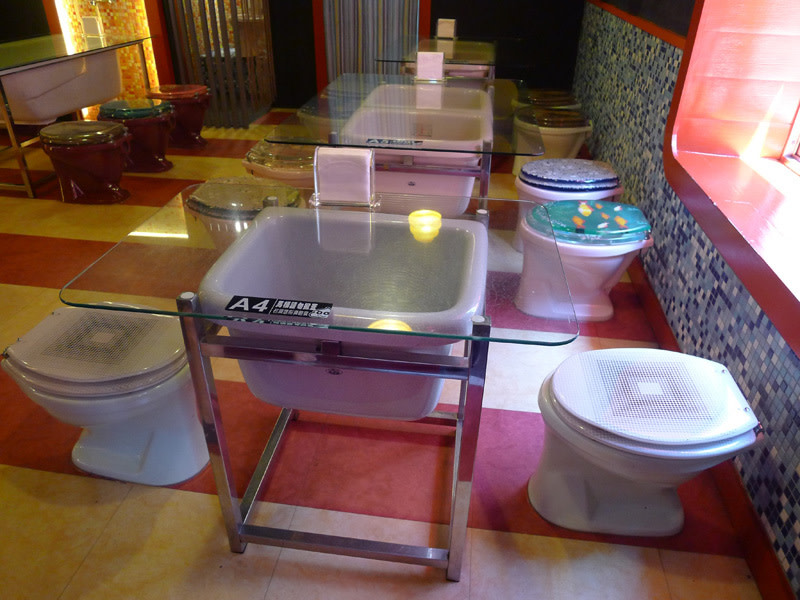 1. After a 36-hour trip from NYC to Taipei, we (all five of us) were immediately herded onto a tour bus, a BIG one, and whisked away for some sightseeing—a ritual that was to repeated over and over during our weeklong stay, despite our suggestions of a minivan or a taxi. Our first stop was Modern Toilet, a restaurant the likes of which I am pretty sure will never become an international chain. Everything including décor, furniture, fixtures, artwork, drinking vessels (in the shape of a bedpan) was toilet-themed. I didn't dare look at the menu, but judging from the illustrations of the daily specials on the wall, I'm sure that was a shit show, too.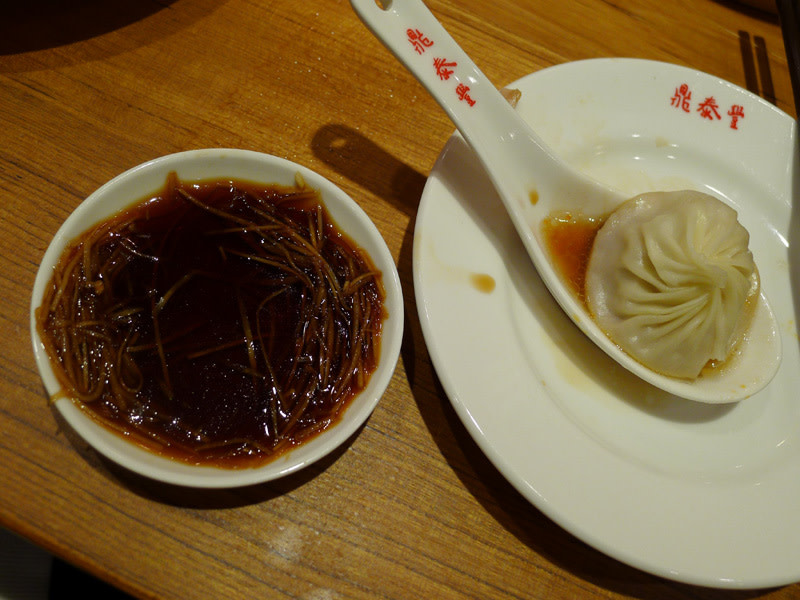 2. Next stop, Taipei 101. Until recently the tallest building in the world (overtaken by the Burj Khalifa in Dubai), T101 is truly impressive to see, and in the basement is the latest branch of Taiwan's most famous restaurant, Din Tai Fung. Soup dumplings are the specialty of the house and are delicious, exquisitely handmade, filled with things like pork and shrimp and duck and truffle, and served with a gingery soy dipping sauce. The good news is that there is a branch in Seattle. The T101 branch alone sells thousands a day. They gave us a keychain with a rubber soup dumpling on it.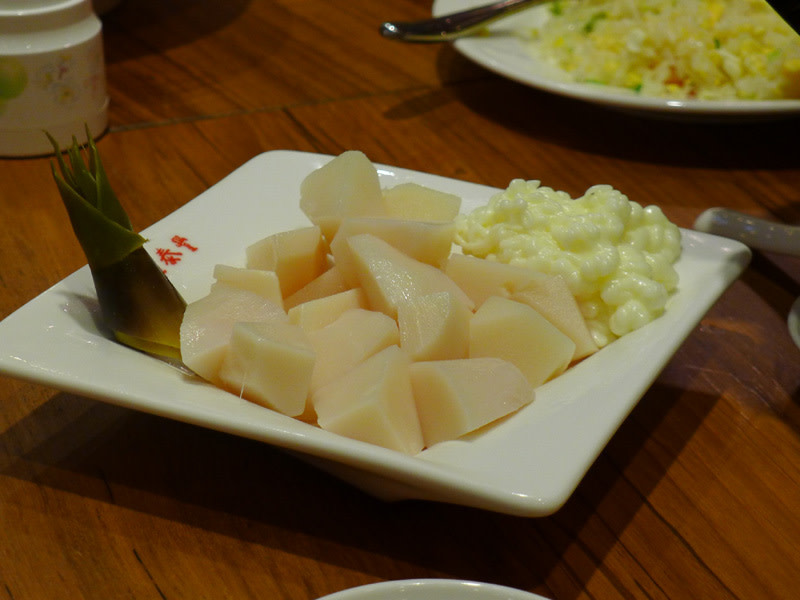 3. Another pattern was to emerge on this trip: we kept on encountering the same dish, restaurant after restaurant, as if the Taiwan Tourism Board had called ahead and dictated the menu. Luckily, most everything was really good. The best example of this phenomenon was the appearance of fresh bamboo shoot, in season then, served with mayonnaise. Bamboo shoot is one of my favorite things, and this is one of the best versions I have had, even with the mayo. Crunchy, mild, juicy with just a hint of that bamboo funk I have acquired a taste for over the years of travel in Asia.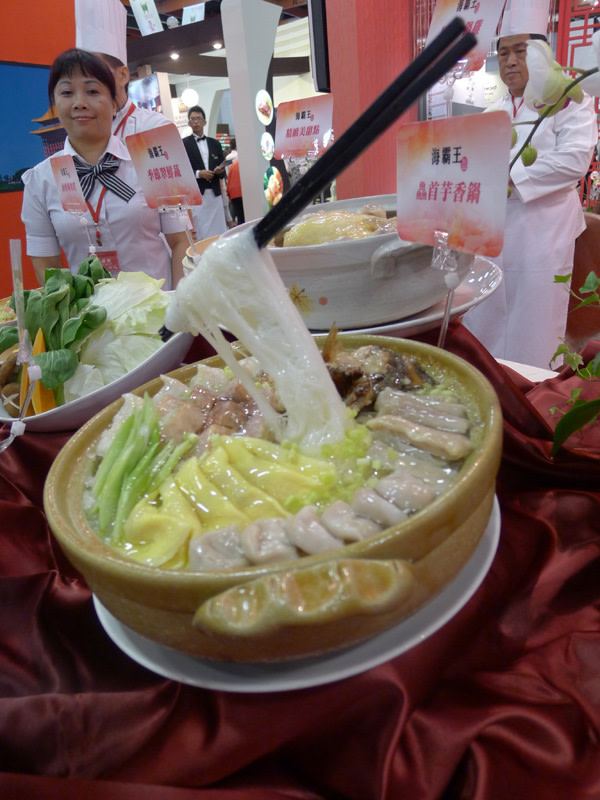 4. The fancy food show, which was more or less the impetus for the junket, turned out to be mostly a showcase for big-name restaurants to advertise their menus and sell cut-rate coupons for full meals. To this end, there were a lot of injection-molded and aspic-covered dishes fantastically plated and meticulously arranged to draw attention. This noodle soup display caught my fancy. Notice the ghost-controlled chopsticks.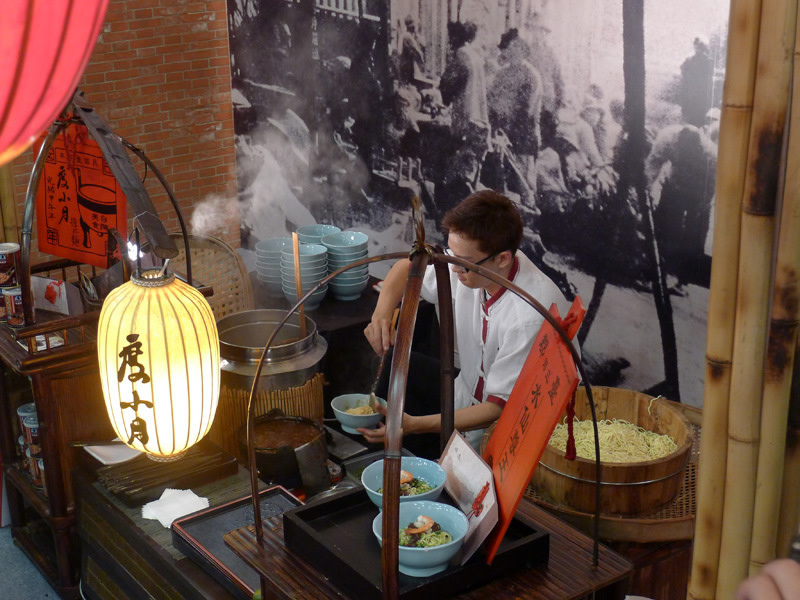 5. Du Hsiao Yueh turned out to be one my favorite stops on this trip. I saw this guy—who turned out to be the owner's son, I believe—demonstrating the noodles they specialize in, Dan Tsu stewed pork noodles, and I immediately requested a change in the itinerary to go to the restaurant. Ended up going twice, actually, and both times the signature dish satisfied with chewy noodles and rich umami-packed pork stew, each bowl made to order by a single worker squatting on a tiny stool in front of a preparation area. You can buy their pork in a can to take home.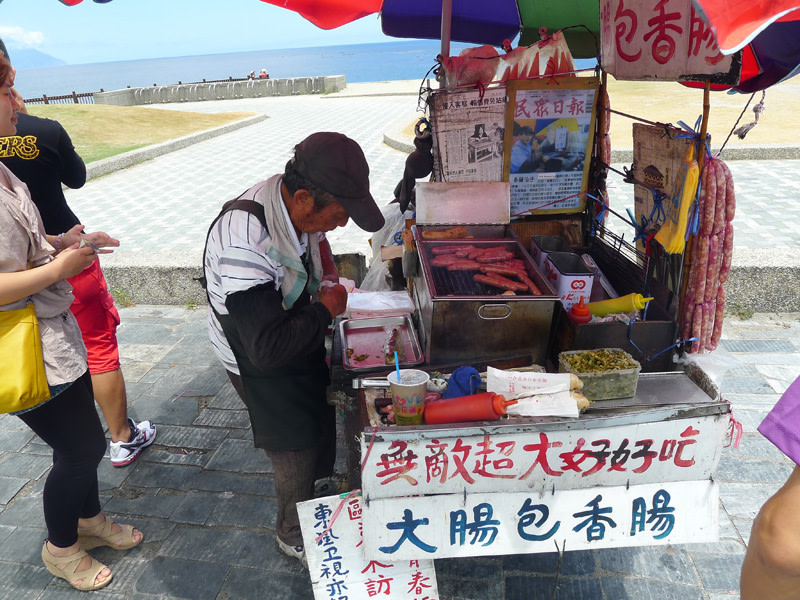 6. This guy had my number. Seaside, check. Sausages, check. Folk art menu and local magazine article cutouts, check. Old dude rocking out the same dish over and over, with style and passion, check. Da Chang Bao Xiao Chang, or sausage-in-a-sausage, turned out to be the most memorable food of the trip, predictably (if you know me). He started by pulling a big sausage, made only from Taiwanese short grain rice and maybe a bit of pork fat, off the grill, setting to work slicing open the rice tube lengthwise, squirting with a bit of sweet chile sauce and a tong-load of garlic-sautéed pickled mustard green, and then nesting the smaller sausage inside the sausage-as-bun, wrapping it in a plastic bag and a paper bag before presenting it for the $1 tariff.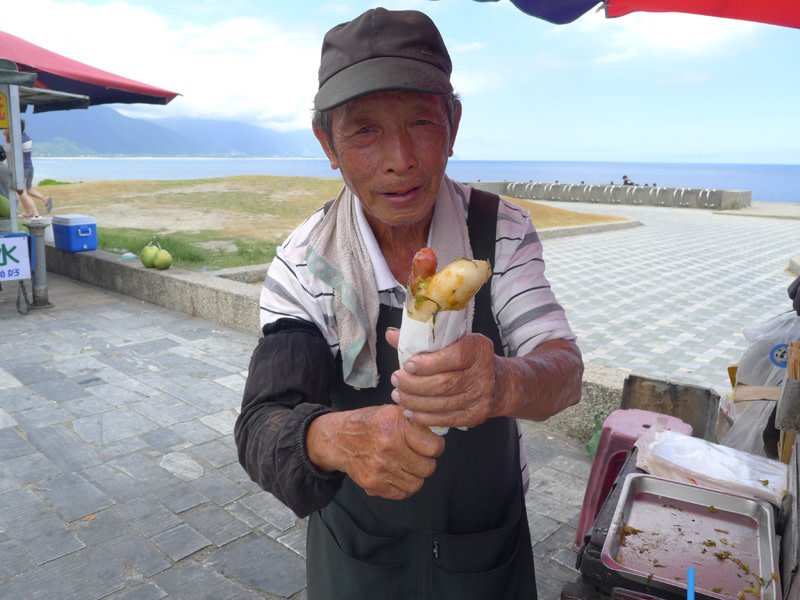 7. This is a piece of art, IMO, and dude is an artist. Sweet, salty, tasting faintly of five spice and possessing the snappy texture of hand-worked emulsified meat, the pork sausage was good on its own. But when jammed inside that rice kielbasa like some sort of Taiwanese street turducken (so wrong, yet so right), the whole became more than the sum of its parts. I'd fly back another 36 hours just to eat this again.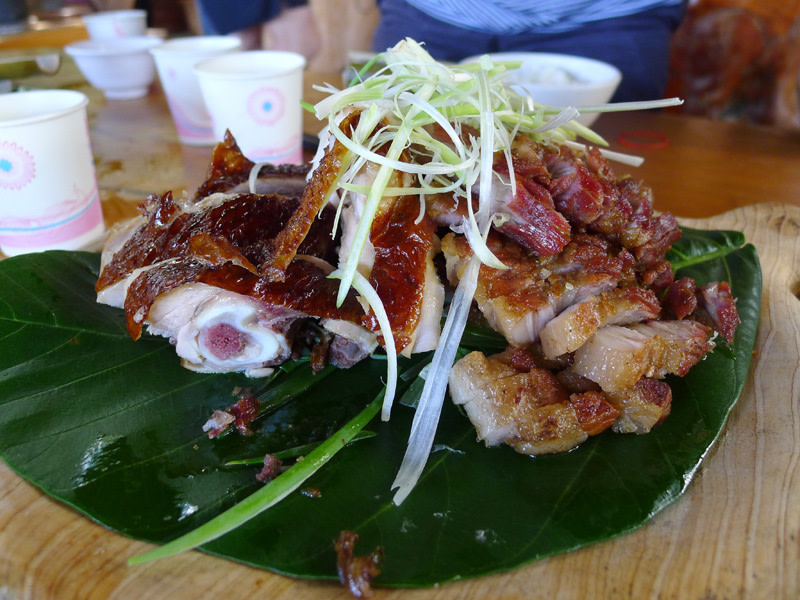 8. Two hours by train from Taipei is the Taroko Gorge near Hua Lien on the east coast, home of the indigenous folks known as the Truku, but called "aborigines" by the Hakka people who make up the majority in Taiwan. The scenery is stunning, and the food of the locals is pretty darn interesting. The best was a black sugar smoked chicken and pork dish, served with stir-fried fern shoots and steamed fish. Gotta figure out that sugar smoking technique…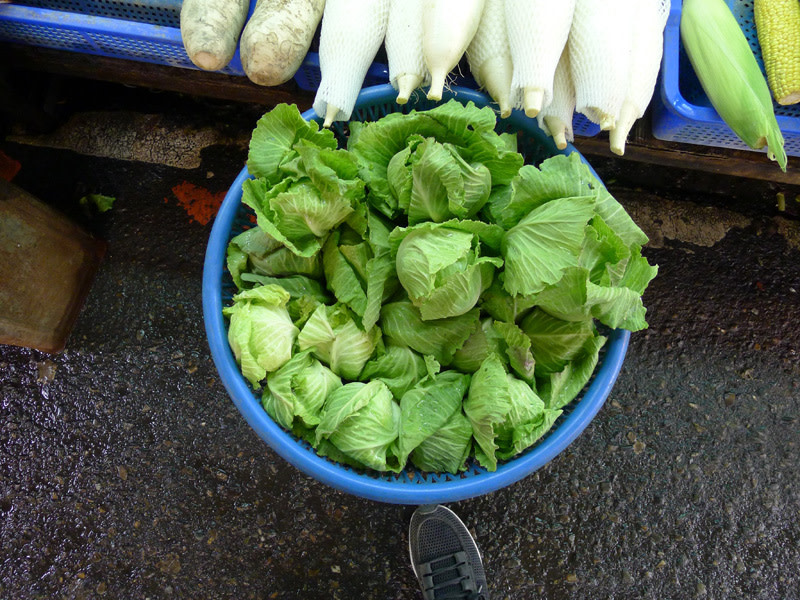 9. I love visiting the market wherever I go in Asia; you can learn about the local cuisine, have a nice chat, get a snack, and find some beautiful produce. These cabbages were gorgeous and very similar to what I often find in Thai markets; softer heads that cook up tender when broken apart by hand. Wish I could find them here in Portland.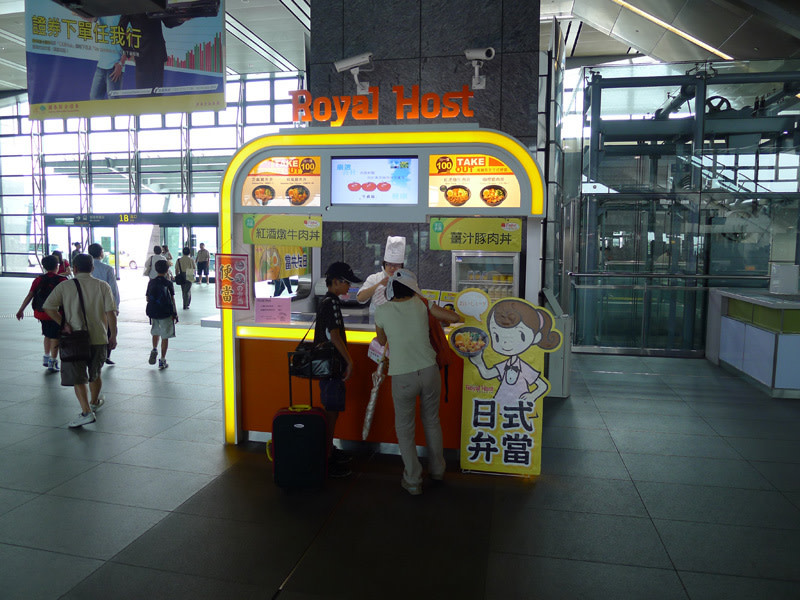 10. Train station food in most of the Western world is kinda sucky; not so in Asia. Even tiny kiosks like this, obviously a chain, often have tasty, quick, and affordable eats. Note the cameras above: they were everywhere we went, watching our every move.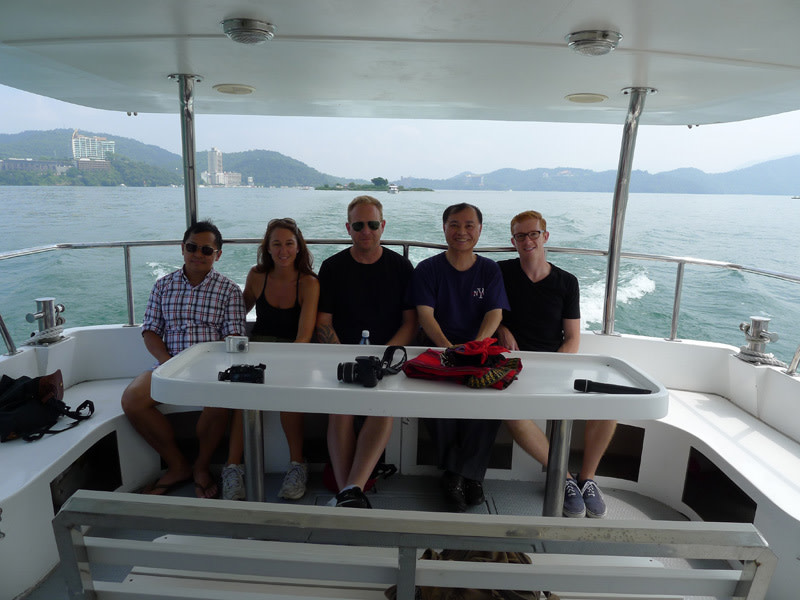 11. Gratuitous group shot, one of hundreds we had to pose for during the trip. From left to right: Pichet Ong, pastry maven from NYC and group leader; Gina Varolli, freelance writer; yours truly; Chef Jan, a well-known Taiwanese-born chef who has opened dozens of Chinese restaurants in the New York area; Ben Mims, of Saveur magazine and perfectly coiffed hair no matter the weather or wind.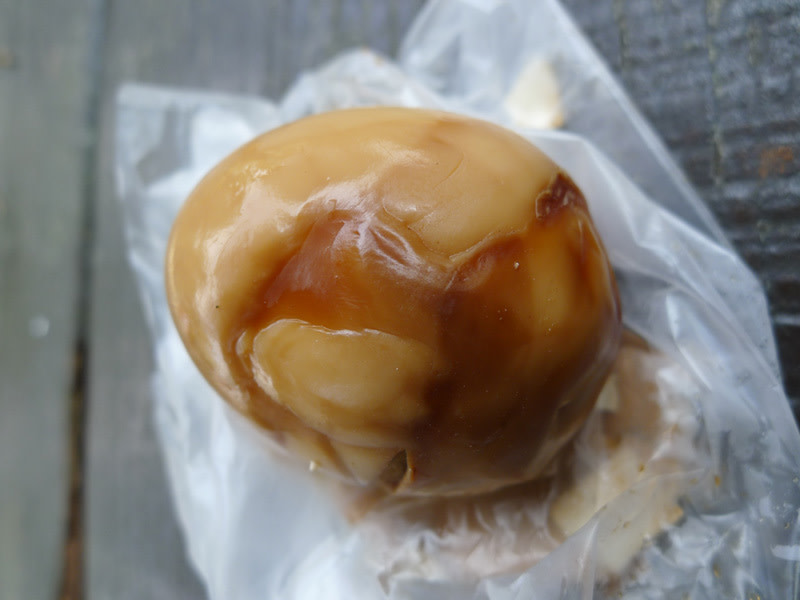 12. Famous Granny's Tea Eggs on Sun Moon Lake, reportedly a favorite vacation spot of Chiang Kai-shek. I love tea eggs. We serve them at Ping. You didn't think I'd go the whole piece without a plug, did you?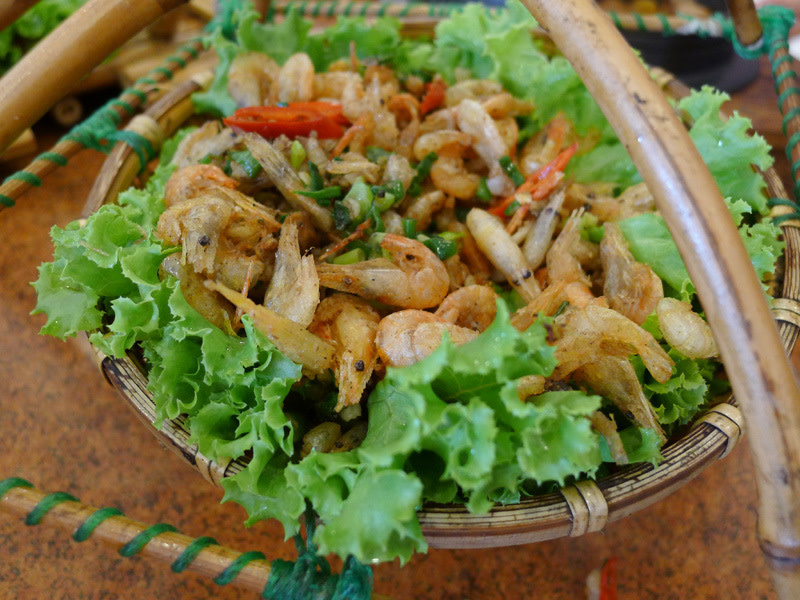 13. At a storefront restaurant on a city street on Sun Moon lake we were served one of, if not the, best meals of the journey. Dish after dish of beautifully prepared local food landed on the table and was devoured despite our forced-march restaurant fatigue. This basket of deep-fried tiny shrimp coated in a mixture of salt and white pepper, another constant on the Taiwanese table, was lovely, mixed with fresh chiles and green onion. I suspect this is what all of the Chinese "salt pepper shrimp/squid/whatever" dishes that appear on menus here are supposed to taste like in a perfect world.