SNEAK PEEK
Sneak Peek: Via Tribunali
We've got the first look at Bruce Carey's new pizzeria, Via Tribunali, dishing out Neapolitan-style pies next to the original Voodoo Doughnuts. Here's our preview of what to expect.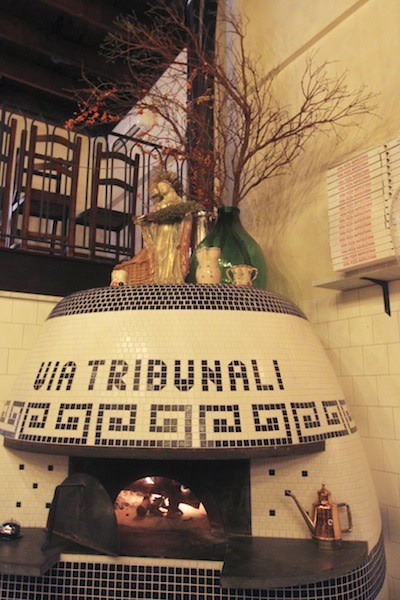 In the glow of the neon Voodoo Doughnut sign on SW Third, another light has started to shine. Blue letters spelling "PIZZERIA" hang vertically from the side of Bruce Carey's latest venture, Via Tribunali, an offshoot of the popular Seattle Neapolitan eatery. Portland's version of the brick oven pizza spot has set up shop on one of the busiest corners of downtown, a collaboration between Carey (restaurateur supreme responsible for Saucebox, 23Hoyt, Clarklewis and the newly re-born Bluehour), Caffe Vita founder Mike McConnell, and musician Jason Finn.
The new pizza spot—set to open to the public on Tuesday, November 15 after nearly two years of taunting—will dish out Neopolitan-style pizzas in a brick oven made from Vesuvian ash.
Eat Beat's First Look at the final menu shows a whopping 23 pizza varieties from $10-$17, like the Zucchine with fresh mozzarella, green zucchini, yellow squash, grana padano, and basil, the Puttanesca with fresh mozzarella, anchovies, capers, olives, picante olive oil, and basil, the Porchetta, with pomodoro, fresh mozzarella, porchetta, roasted onions, red bell peppers, and basil, and the loaded Via Tribunali, with pomodoro, mozzarella di bufala, smoked provola, fresh mozzarella, ricotta, cherry tomatoes, grana padano, and basil.
The menu also features three calzones (salami, prosciutto, and prosciutto with oven-roasted mushrooms), two pastas (lasagna with veal ragu and a wood-fired spin on mac and cheese), and a selection of antipasti including Caesar and arugula salads, salumi plates, oven-roasted clams in white whine, and handmade veal meatballs.
On the liquid side of things, Via Tribunal will offer a full bar and an impressive selection of Italian wines (11 by the glass, over 80 by the bottle) perfect for pairing with pizza, including top-notch and affordable Barbera, Montepulciano, Chianti, and Primitivo (the Italian Zinfandel).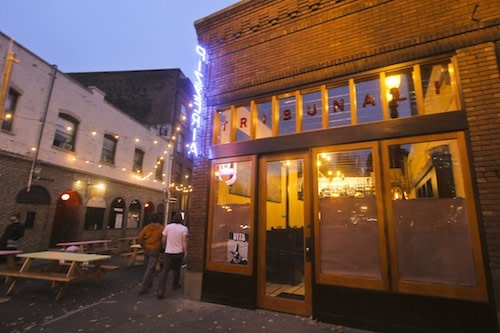 The Via Tribunali mini-chain is on it's way to empire status—it's rumored that founder Mike McConnell is looking to export the brand to New York, Los Angeles, and Chicago in the near future. For now, Portland's outpost is part of a pizza renaissance right here in the Rose City, with Cathy Whims' Oven and Shaker and the second location of Sizzle Pie debuting in the next few weeks. Will pizzerias be the new French Bistro in Bridgetown? Grab a slice and stay tuned.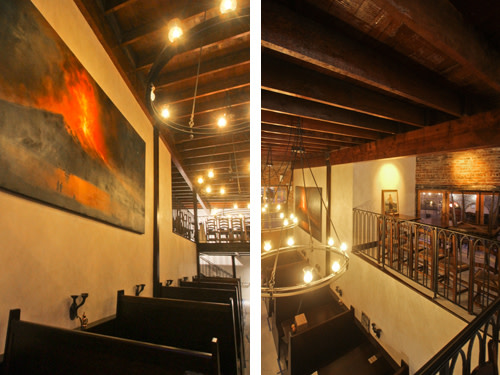 The 1,500 square-foot space at 36 SW 3rd Avenue (on the southeast corner of 3rd Avenue and the now car-less Ankeny Street) features cozy wooden booths, hand-blown light fixtures, and an upstairs mezzanine with extra seating and a great view of the pizza-slinging action downstairs.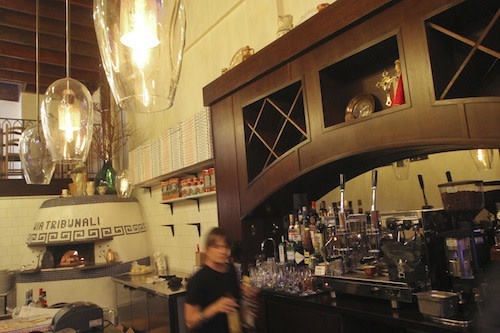 With no true kitchen to speak of, the majority of the restaurants dishes will be prepared at a small salad station and in the brick oven itself. Via Tribunali Portland's Neapolitan pizzaiolo (that's Italian for pizza maker) Gennaro Nasti will fire the thin crust pizzas in a brick oven made from Vesuvian ash.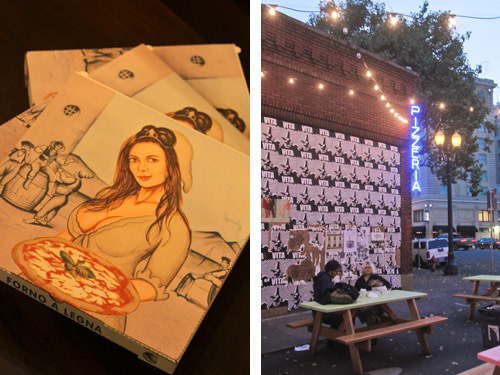 The pizzas aren't the only saucy things at Via Tribunali: this buxom beauty graces each pizza box at the SW Third location.
Via Tribunali Opening November 15, 2011.
36 SW 3rd Avenue
4pm to midnight Tuesday through Thursday and Sunday; 4pm to 2am on Friday and Saturday.