Happy Hour
Happy Hour: Sniff Cafe
Of hops and hounds…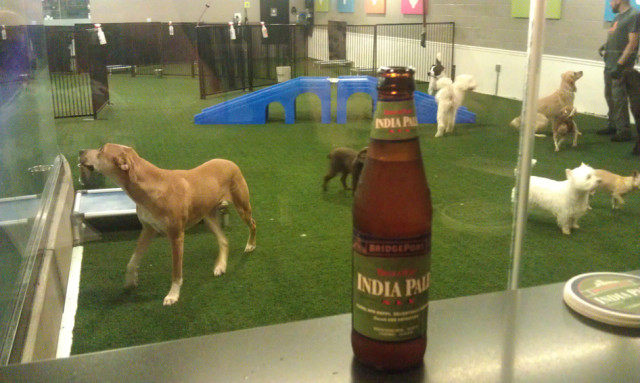 What: Sniff Cafe
Where: 1828 NW Raleigh St.
When: Happy Hour is 5-7, Mon-Sat. Specially priced food and drink items
Why: For dogs and the humans who love them (or just love to watch them) this is your spot. In exchange for a two-drink minimum, your hound can mingle with the mongrels in a supervised 2000 square-foot indoor space for two hours while you look on, dallying over snacks and suds.
I don't watch sports as much as I used to and it appears my love of canines has filled the void. Seriously, when Super Bowl Sunday is on the horizon, I get excited for the Puppy Bowl on Animal Planet. Maybe it's because I never really had a dog of my own until recently, but I now drive my friends crazy by pointing wildly out the windows of moving cars and yelling, "Look! It's a dog!" The upshot of this newfound enthusiasm is an endless fascination with bowwow behavior, particularly in large groups of assorted breeds. So Happy Hour at Sniff Cafe is a wonderful thing. The fact that I can sip a craft beer and watch dogs wrestle, chase, jump, and frolic, beats the hell out of ESPN's Sports Center. And now with the NBA season cancelled, the dog-watching at Sniff is poised to explode.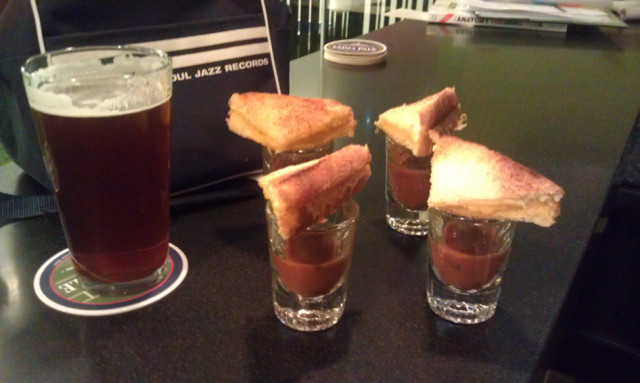 Usually there are four or five taps happening at Sniff. Nothing too exotic, but you'll find Bridgeport, Rogue, and Deschutes among the offerings, with pints running at a reasonable $3.75.There's also regional wines by the glass ($6-8) or bottle ($22-28). The chow is generally bite-sized nibblers for optimum shareability. I had a pepperoni flatbread pizza cut up into squares ($9) while my friend Lucy made short work of a grilled cheese sandwich that was sliced into quarters, and served alongside four tomato soup shooters ($6.50). Hummus and pita ($4), chips and salsa ($3), and bruschetta topped with blue cheese and honey ($7) round out the selections. The food isn't brilliant by any means, but it's perfectly serviceable. The cafe itself, which is attached to the Sniff Dog Hotel, is essentially the snack bar, while the packs of poodles, Pomeranians, and Pekinese rolling and tumbling across the turfed surface, is the featured attraction.