FOODIE FREEBIES
StarChefs.com Rising Star Gala
Eat Beat's snagged a pair tickets to Monday's Rising Star Chef gala—and we're just itching to give them away.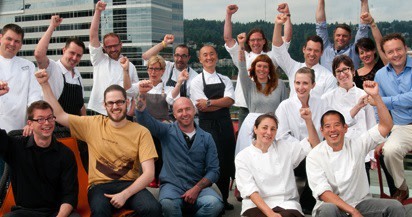 Looking for a chance to hobnob with the hot shots of Portland's culinary scene? The StarChefs Rising Star Portland gala is taking over the Nines Hotel on December 5, and the guest list is a crash course covering Portland food in 2011—kind of like a face-to-face version of our Best Restaurants Guide, with more snacks.
The winners in most of the Rising Star categories were announced in October, and three more categories (Coffee Roasting, Distilling, and Craft Brewing) will be announced at Monday's gala. Among the recognizable faces at the gala? St. Jack's Aaron Barnett, June's Greg Perrault, Beast's Naomi Pomeroy, Jory's Sunny Jin, Olympic Provisions' Elias Cairo, Lincoln's Jenn Louis, Little T's Tim Healea, Aquariva's Andy Arndt, Bent Brick's William Preisch, Chefstable's Kurt Huffman, Le Pigeon's Gabriel Rucker, Castagna's Jack Hott, Sugar Cube's Kir Jensen, Paley's Place's Kristen Murray, Clyde Common's Jeffrey Morgenthaler, and Aviary's Sarah Pliner, Kat Whitehead, and Jasper Shen.
Want to party with the pros? Monday's $85 tasting party will feature the dish that earned each chef their win, including Naomi Pomeroy's glazed pork belly with rhubarb chutney, Gabriel Rucker's foie gras profiteroles with caramel sauce, Kristen Murray's black pepper cheesecake with green strawberries, and Aviary's coconut rice with crispy pig ear and Chinese sausage. Get your tickets for the gala here.
Foodie Freebie: Want to score a free pass to the season's hottest culinary party? Eat Beat's snagged a pair tickets to give away to our readers, and they just might have your name on them. Send me an email at [email protected] with "StarChefs.com" in the headline by Friday, December 2 at 5 pm, and I'll pick a winner at random for a night of eat-and-greets you won't soon forget.