Happy Hour
Happy Hour: Swift Lounge
It's dark, low-key, and drinks come in jars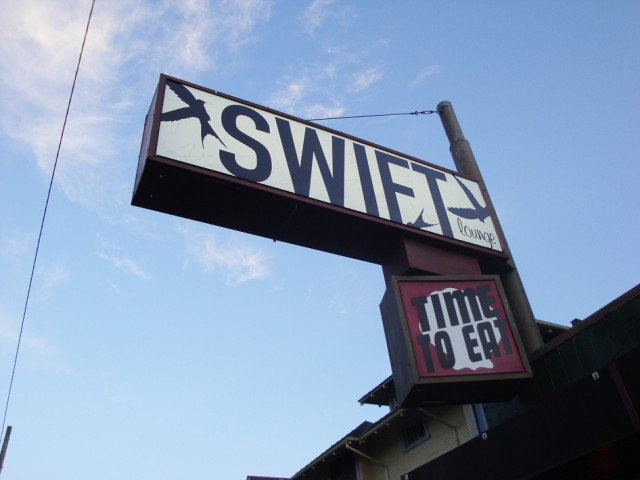 What: The Swift Lounge
Where: 1932 NE Broadway (former home of Colosso)
When: Jolly Hour is 4-8 Mon-Sat and all day Sun. Selected eats $2-5. Selected drinks $3-6.
Why: For an unpretentious, odd, and genuinely cozy hole-in-the-wall look no further. The black and red decor is cheerfully brooding, the music is none-too-loud, and the regulars are friendly. (One of them boldly started a conversation with me! And it wasn't a horrifying ideal!)
They have their own way of doing things at Swift Lounge. You will have to adjust to the quirkiness of the house. The surprisingly large menu is a hoot; cocktails are listed as "Dranks" and the word "fer" is used in place of the needlessly formal "for". Oh, and Happy Hour is called "Jolly" Hour. The cheap chow ranges from the usual suspects (sliders, fries, mac & cheese) to foreign intrigues (kimchi and brown rice, $2! Luke's Bowl—Cuban beans, brown rice, pulled pork—$5!). I had the sliders (2 for $5) and found them juicy and delicious, with the sweet pickle slice giving it extra bite. The fries were crispy ($2 for a small bowl) and a tad greasy, but nothing we couldn't handle. I didn't see it on the menu, but somehow my friends were served a big pile of cauliflower. How strange.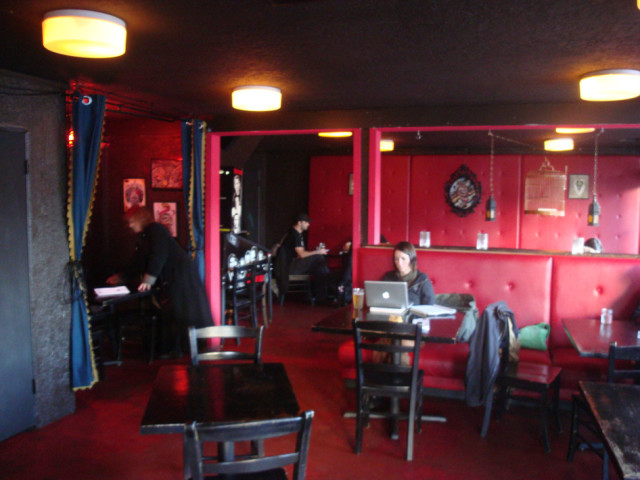 Obviously the bartender has a sweet tooth. The Malus Manhattan comes with apple cider-infused whiskey and a graham cracker-coated rim. I ordered the "Seasonal Jar" which turned out to be pumpkin-infused vodka, homemade apple cider, ginger syrup, and bourbon whipped cream. My teeth cried out in pain, but my taste buds were too busy dancing the cha-cha-cha to care. There are a half-dozen drinks in jars listed under the heading "Masons." My friend Lucy ordered the Kentucky Blackbird (a mason jar of Old Crow, peach syrup, peach bitters, and mint, $8) and announced to the table that this was the only drink she'd have to order for the whole afternoon. There are also five cocktails that use beer as an ingredient and they have a decent selection of Belgian beers and ciders. I know! Weird, right?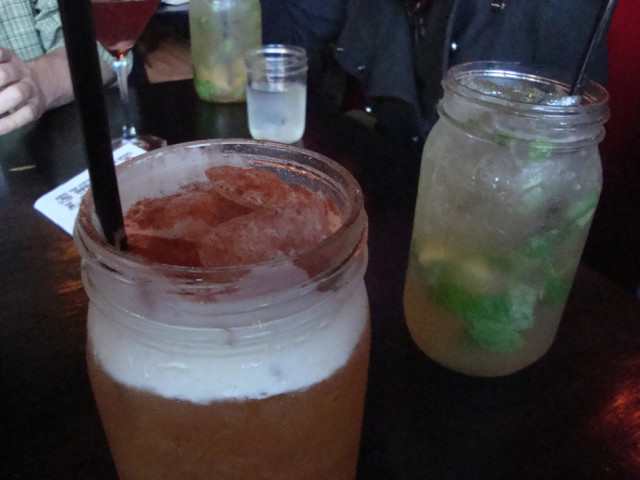 As it turns out, the thing I like most about Swift Lounge is its brazen eccentricity, a fierce individualism wielded like a scimitar in a world of cookie-cutter conformity. It's not a spot that will please everybody (it's divey, but clean) but for the born iconoclast, it could be your tribal watering hole.