HOLIDAY EATS CHEAT SHEET
Thanksgiving: Eat In and Take Out
Our picks for the best ways to celebrate with turkey and all the fixin's this Thanksgiving, whether you want to dine out or bring home the feast.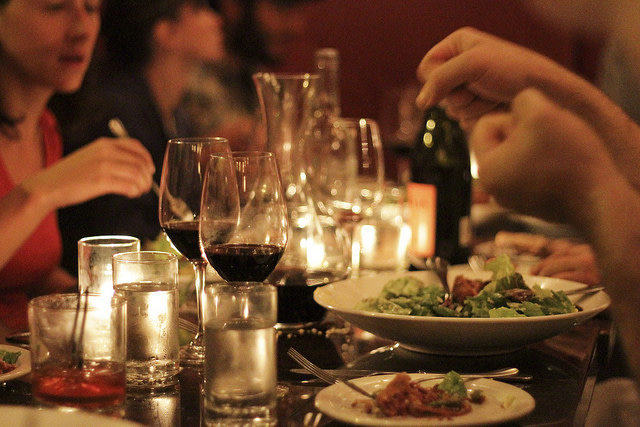 This Turkey Day (aka the foodiest holiday of the year), Portland restaurants are defrosting the turkey and setting the table for you. Here's our list of the best places to dine this Thanksgiving—plus a few handy options for take-out so you can sit back and actually enjoy the day off!
The Country Cat 7937 SE Stark
Adam and Jackie Sappington will be dishing up a comfort-food feast at their Montavilla Neighborhood eatery this Thanksgiving from 2 to 8 pm. Dishes are set to include brined and smoked turkey, veggie and pecan-stuffed crepes, pumpkin cheesecake, and plenty of appetizers and ambiance (count on leftovers).
$45 per person. To make a reservation (for up to 12 people) call 503.408.1414.
Aquariva 0470 SW Hamilton Court
Executive Chef Andy Arndt will be serving up Thanksgiving dinner along with views of the Willamette River. The set dinner menu will include sage-roasted turkey, cornbread stuffing with hazelnuts and wild mushrooms, roasted garlic potatoes, candied yams, cranberry chutney, and pumpkin pie or roasted apple budino. The regular menu will also feature a la carte Italian dishes with a Thanksgiving spin (think sweet potato tortellini with goat cheese and walnuts).
$28 for adults, $14 for kids 10 and under. For reservations, call 503-802-5850.
Urban Farmer 525 SW Morrison, 8th floor of The Nines hotel
A three-course Thanksgiving dinner will be served from noon to 9 pm, including cauliflower soup with lamb and lemon confit, shrimp risotto with roasted squash, honey and spice roasted turkey, Painted Hills New York strip steak with blue cheese gnocchi, roasted Brussels sprouts with almonds, cornbread stuffing, cinnamon maple candied yams and more.
$49 per person, children's menu available. For reservations, call 503.802.4630 or book online.
Portobello Vegan Trattoria 1125 SE Division St
Go meatless this Thanksgiving with a vegan and (mostly) gluten-free three course meal at Portobello from 4 to 8:30 pm. Dishes are set to include seitan roast with brussels sprouts and gravy, wild mushroom and root veggie-stuffed cabbage, pumpkin soup, roasted beet salad, and pumpkin pie. Give thanks for truly gourmet vegetarian food!
$35 for 3 courses, call 503-754-5993 for reservations.
Oliver's Camas 401 NE 4th Ave. Camas, WA
Grab your seat for one of two seatings for a three course meal at Oliver's at the Camas Hotel this Thanksgiving. Dishes include Pleasant Ridge cheese crusted onion tart, sweet potato and pear soup, roast turkey with cranberry sauce and gravy, ham with orange, pineapple, and quince sauce, savory brioche pudding, bourbon glazed yams, potato pure?e cream braised Brussels sprouts, and pumpkin pie, chocolate bourbon pecan pie, meyer lemon bars, or caramel apple monkey bread for dessert.
$35 per person ($20 for kids 12 and under). Seatings at 12:30 and 4:00. Reservations can be made online or by calling 360-210-4037.
Wildwood 1221 NW 21st Ave
This NW Portland institution will serve Thanksgiving Dinner from 2 to 7:30 pm. Chef Dustin Clark is offering tandoor-roasted turkey breast and a whole menu of a la carte dishes, both traditional and exotic (think chanterelle mushroom stuffing, shaved Brussels sprouts, grilled carrot and beet salad, oyster bread pudding, and potato gnocchi with aji peppers and roasted pumpkin).
For reservations call 503.248.9663 or visit the Wildwood website.
The Heathman 1001 SW Broadway
Culinary director Philippe Boulot and Executive Chef Michael Stanton are dishing up a prix fixe menu fro 11 am to 9 pm and a holiday buffet from 11:30 am to 5 pm. Dishes are set to include including roasted turkey, roast prime rib, roast pork loin, and bouillabaise.
Grand buffet: $46.50 per adult and $18 per child under 12; Prix fixe dinner: $46.50 for adults and $18 per child under 12. For reservations, call 503-790-7752.
Paley's Place 1204 NW 21st Ave
This Thanksgiving, enjoy spit-roasted turkey breast and turkey confit, savory bread pudding, mashed potatoes, cranberry-orange compote and traditional desserts from pastry chef Kristen Murray from 2:30 to 8:30 pm,. The regular dinner menu will also be available.
For reservations, call 503-243-2403.
Andina 1314 NW Glisan
Put a Peruvian spit on your Thanksgiving with a special dinner from 1 to 11 pm, including Pavo al Horno con Calabaza y Salsa de Saúco—heritage turkey dusted with a tres ajíes rub and slow roasted, served with quinoa-hazelnut stuffing, mâche salad, caramelized squash and elderberry gravy. The event will feature live music from Toshi Onizuka and the Danny Romero Trio
$50 per person. For reservations, call 503-228-9535 or visit Andina online
Trader Vic's 1203 Northwest Glisan
This tiki-tastic Pearl District eatery is offering a Thanksgiving Day prix fixe dinner, with Chinese-oven smoked turkey breast, sweet Hawaiian bread stuffing, thyme gravy, and garlic mashed potatoes (plus kabocha squash crème brûlée for dessert).
$30, 3 to 11 pm. Reservations recommended, call 503-467-2277.
Kenny & Zuke's
The popular downtown deli is offering to-go orders of Thanksgiving dishes like roast turkey breasts stuffed with mushrooms, cornbread and chestnut stuffing, giblet gravy, butternut squash and hazelnut soup, mashed potatoes and more. Everything is available by the pound, so you can customize your servings for groups of two to twenty! The K&Z bakery is also making plenty of pumpkin, apple and pecan pies for your desserting pleasure.
For prices and ordering info, call 503-222-3354 or visit the Kenny & Zuke's website. Order by November 21 at 3 p.m.
Irving Street Kitchen Executive Chef Sarah Schafer is willing to keep a secret—she and her staff are dishing out complete to-go dinners that you can put on your table without your guests knowing you spent the day somewhere other than the kitchen. The dinner includes a half of a 12 hour brined organic turkey, gravy, potatoes, collard greens, and buttermilk biscuits with red pepper jelly. Each order feeds 2 to 3 people, so stock up for a big party. You can also order additional sides like andouille sausage and oyster stuffing, sweet potato and Brussels sprout hask, cranberry sauce, and butterscotch pudding.
$50 dinners to go. Download an order for at the Irving Street Kitchen website. Orders must be placed by November 18.
Petunia's Bakery
Got gluten-free and/or guests and need something sweet to finish the meal? Grab a gluten-free, vegan dessert from Petunia's Pies & Pastries. Choose from Pear Frangipane Tarts, Pumpkin Pecan Pie, Caramel Apple Pecan Pie, Maple Ginger Spice Layer Cake with Molasses Cream Cheese Frosting, or Pumpkin Cheesecake with Gingersnap Crust.
Prices range from $39-45. Place your order by November 15. To order, email [email protected]
Salt and Straw
Pick up one-of-a-kind ice cream pies coated with chocolate ganache and topped with Salt & Straw ice cream for your holiday party! Flavors include Bourbon Pecan Pie (pecans, molasses, brown sugar and "Oregon Whiskey" from Stone Barn on Portland's Distillery Row), Mince Meat (cinnamon clove ice cream with currants, ginger-candied oranges and shortbread cookies), Blood Orange Cranberry (Oregon cranberries and blood orange marmalade) and Pumpkin Cheese Cake (Oregon pumpkins, brown sugar, spices, and chunks of cheese cake).
Available online, by calling 503-208-3867 2035, and at the scoop shop (2035 NE Alberta St.) now through November 24.
Pix Patisserie
Pre-order your Thanksgiving desserts like Ichabod Crème (crisp crust filled with spiced almond cream, curried pecans, caramel and topped with a pumpkin crème brûlée), Le Tigre d'Epice (gingerbread mousse with cognac butter-cream and cognac macerated dried winter fruits), The Nutcracker (tart packed with pecans, Spanish almonds, cashews, hazelnuts and bittersweet chocolate chips), or a Chocolate Port Fig Tart (chocolate mousse surrounded by port-soaked figs, chocolate ganache, all atop a chocolate flour-less sponge cake soaked with port).
For prices and orders, call 503-282-6539 or visit one of two Pix locations: 3901 N. Williams St. or 3401 SE Division St.
Also, check out our round-up of the city's best pies to-go. Get your orders in before it's too late!
Dining at home? If you're like me and actually relish the chance to cook an eleven course meal for your family, you can still reap the benefits of Oregon's holiday festivities with the Willamette Valley's Wine Country Thanksgiving events.